A few weeks after releasing version 19.4 beta, developer topjhonwu has now released stable Magisk 20.0, along with Magisk Manager 7.3.5. The latest stable version brings several major changes and improvements like new System-as-Root implementation, support for devices running Android 10 Q, Product partition support, and more.
You can download the latest Magisk 20.0 stable version and Magisk Manager 7.3.5 APK from below. We have also provided instructions on how to install it, or update it if you already have a previous beta or stable version installed on your Android device.
If you're new to the Android customization scene: "Magisk" is the most powerful and commonly used open-source customization solution for Android devices in 2019, developed by XDA Recognized Developer topjohnwu (John Wu). It was first introduced a few years ago to help users apply modifications to Android devices systemless-ly (That is, without touching or altering the /system partition). One of the many features that Magisk offers is the ability to root a majority of Android devices systemless-ly, irrespective of the manufacturer.
It worked up its way to being a unified interface for various parts of Android customization, including but not limited to root, SELinux patches, AVB/Force-encrypt removals, hiding root, adding new features or customizing the OS via Magisk Modules, etc. To know more about how Magisk came into existence, go through this story published by its creator himself.
Table of Contents
What's new in Magisk 20.0 & Magisk Manager 7.3.5?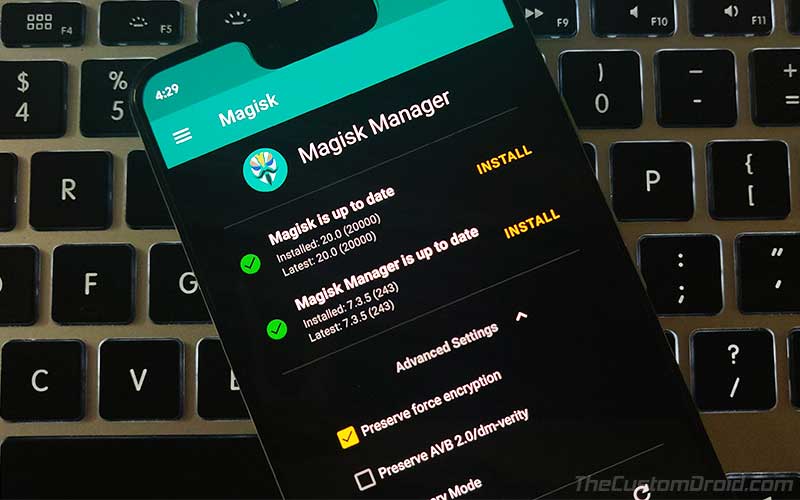 Magisk developer topjohnwu made the official announcement over at Twitter. According to the official release notes, the following are the major new changes and features that Magisk 20.0 and Magisk Manager 7.3.5 brings, along with the complete changelog.
1. New System-as-Root Implementation
Google first released system-as-root (SAR) with the original Google Pixel and Android 7.1 back in 2016, to accommodate seamless updates using the A/B partition scheme. If you do not what SAR is and how it affects the Android rooting scene, then read this tweet story by topjohnwu.
Android devices with A-only partition using System-as-root created complications for Magisk since the ramdisk was no longer a part of the boot.img (/boot partition). However, John Wu succeeded in creating a solution for such devices, which is indeed a bit complicated but works well.
Now with Android 10, Google further improvised the System-as-root implementation using 2-stage Init (2SI), making things even more complicated for the root community. From now onwards, Magisk 20.0 (and above) will use Google's implementation of SAR and mount ["/"] instead of ["/system"], as the root directory. This means a lot of work has to be done on part of the root app and kernel developers.
2. Full Support for Android 10 Q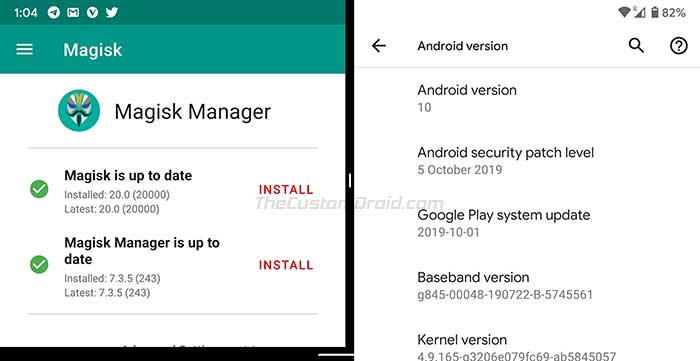 Due to Google's new SAR implementation, A-only devices running Android 10 weren't supported in the previous version 19.4 Beta of Magisk.
But now with stable Magisk 20.0, all devices running Android 10 Q are fully supported. These include devices like the Google Pixel series and Essential Phone that use the A/B partition scheme, as well as Galaxy S10 series that use the A-only partition system.
3. Support for Product Partition
Google introduced the concept of a new Product partition in Android 9 Pie, to aid manufacturers to provide their own customizations like apps and features in a separate partition instead of including them in the system partition.
With Android 10, several apps have been moved from the /system partition to the /product partition. With Magisk v20.0, developers of Magisk Modules can now easily modify files in the ["/product"] partition.
4. Root for A-only Devices using System-as-root
Lastly, Android devices that use the A-only partition layout with System-as-root (Like Galaxy S10, Galaxy Note 10, etc) will need to install Magisk to the ["/recovery"] partition. That's because ramdisk is no longer a part of the boot.img.
If you own such an OEM device, then make sure to follow the newly updated installation guide. Samsung Galaxy S10/S10+/S10e users can follow this step-by-step detailed guide written by us.
5. New 'Recovery Mode' and Improvements in Magisk Manager
Carrying over from version 7.3.4, the latest Magisk Manager 7.3.5 app is now fully written in Kotlin. This makes it easier for the developer to maintain the code and is completely interoperable with Java. If you're an average Android end-user, this change probably doesn't mean much to you.
Apart from that, there are some other changes as well, as listed below:
First, is the new 'Recovery Mode' option in the 'Advanced Settings' menu of Magisk Manager. This new option is probably only meant for A-only System-as-root devices.
Second, the installed modules are now sorted by name, which is better when it comes to improving the overall usability of the app.
And third, this latest version of Magisk Manager also fixes potential crashes when patching .tar files.
Now before you download stable Magisk 20.0 and Magisk Manager 7.3.5 APK, go through the complete changelog as mentioned by topjohnwu on XDA.
Magisk 20.0 (Stable version)
[MagiskBoot] Support inject/modify mnt_point value in DTB fstab
[MagiskBoot] Support patching QCDT
[MagiskBoot] Support patching DTBH
[MagiskBoot] Support patching PXA-DT
[MagiskInit] [2SI] Support non-A/B setup (Android 10)
[MagiskHide] Fix bug that rejects process names with ":"
[MagicMount] Fix a bug that cause /product mirror not created
Magisk Manager v7.3.5
Sort installed modules by name
Better pre-5.0 support
Fix potential issues when patching tar files
Changelogs of older builds/versions can be found in this post.
The developer has surely made some massive improvements and changes in this latest Magisk update. We duly appreciate his hard work and the time he has and is devoting to the Android community.
Download Latest Magisk 20.0 Stable and Magisk Manager 7.3.5 APK
The latest stable Magisk 20.0 version is available as a flash-able zip, that could be installed via any custom recovery like TWRP. The link to download the latest Magisk Manager v7.3.5 APK is also provided if you wish to update the app manually or want to use the Boot Image Patching method to install Magisk on your device.
Latest stable version: Magisk-v20.0.zip | MagiskManager-v7.3.5.apk (Or, download from APKMirror)
Below, we have also provided links to the previous versions should you need them in any case.
How to Install Magisk 20.0 Stable?
There are two different methods to install Magisk on your Android device. The first method is by flashing latest Magisk 20.0 ZIP via TWRP recovery, which is the most direct way of installing Magisk.
The second method is by patching the stock boot image using Magisk Manager 7.3.5 app and then flashing the Magisk Patched Boot Image to your device via fastboot. All you will need is the stock boot image for your device. You can extract it either from the stock OEM Factory Image or full OTA update package or try downloading it from firmware.mobi. This method could be useful if there's no TWRP recovery available for your device. It is also a good choice if you want to easily install OTA updates on your rooted device.
Before you install, we strongly recommend taking a full backup of all your data on the device. This shall prevent any data loss situation should any issue arise after the installation. Further, for the second method, you must also install the required Android platform-tools on the PC.
We have covered both the methods in full-detail in the guide linked below.
— How to Install Magisk Universal Systemless Interface
How to Update to Magisk 20.0 Stable?
In case you already have the previous version installed, then you can simply update Magisk 20.0 by following the steps listed below.
Tap on 'Update Channel' and select 'Stable' (if it is not already selected).
Go back to Magisk Manager's main screen and swipe down to refresh the app.
Tap on the 'UPDATE' button right next to 'Magisk Manager Update'.
When prompted, install the downloaded Magisk Manager v7.3.4 APK by following the on-screen instructions.
Once the app is updated, relaunch it.
Tap on 'Install' and select the 'Direct Install' method.
The installer will automatically install Magisk 20.0 update on your device.
Once finished, press the yellow-colored 'Reboot' button.
When your device boots, it shall be rooted with the latest stable version of Magisk. You can go ahead and check the SafetyNet status, and it should pass. Now that your phone is rooted, you can also install root-enabled apps, use mods like ViPER4Android, hide root from apps like Pokemon Go using MagiskHide, and install Magisk Modules to enable extra features on your phone.
So, you have just been able to download Magisk 20.0 and Magisk Manager 7.3.5 APK. This latest release is majorly focused on improving compatibility with Google's new  System-as-root implementation in Android 10.
We highly value the efforts of topjohnwu for making it possible for enthusiasts like customization to a whole new level. If you have any questions, please leave them down in the comments.