Download the stock boot and recovery images for your Android directly from Chainfire Firmware Mobi (firmware.mobi) website. Not just that, it also allows you to pack root with your stock image for making the rooting process more efficient. You will read more about it in this post.
Chainfire is well-known for bringing a unique approach to the way we handle Android devices when it comes to customizations. Yes, that could be easily expected from the developer who created the infamous root method for Android – SuperSU. Not just that, Chainfire also has some other great tools and apps for root users, including FlashFire, Recently, CF.Lumen, 500 Firepaper, Pry-fi, DSLR Controller, and much more.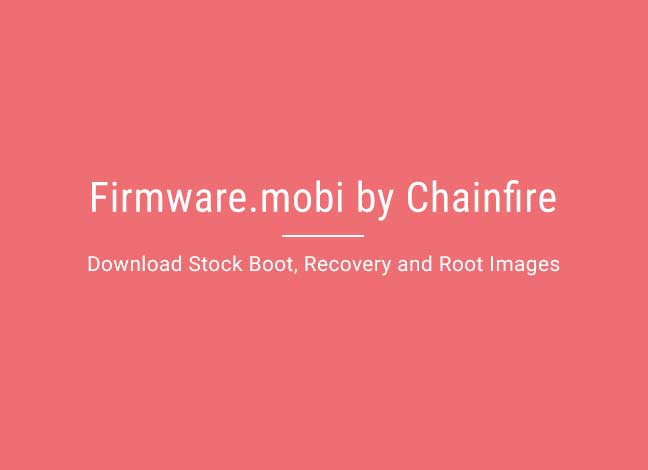 Table of Contents
Firmware Mobi (firmware.mobi) Website by Chainfire
Today, we will be talking about an exclusive new website that Chainfire launched. It's called "Firmware Mobi". It is the destination for all Android users who are looking for the stock boot, recovery, and customizable root images for their devices, irrespective of the manufacturer. For now, only the desktop version of the website is live. So, if you try it on your phone, you will probably see a warning message.
You can access the website at – firmware.mobi
That's again something distinctive that Chainfire has done and it's all for the users' convenience.
Find Stock Boot/Recovery Images for your Device
Finding stock files like the boot (kernel) and recovery image could be troublesome if the OEM has not provided resources from their end. In this scenario, many of you would move to XDA forums to find what you need. Chainfire's Firmware Mobi eliminates all these obstacles and provides you all the files at one stop.

Once you visit the site, you shall see a search box. This is where you will input your device name. For instance, if we want to search for "Nexus 6P", we can try entering different keywords including "6P", "Nexus", "Nexus 6", or even the device codename like "angler". The website will then automatically narrow down the results and provide you the best available match. When you find your device, you can select it and click on the "SUBMIT" button.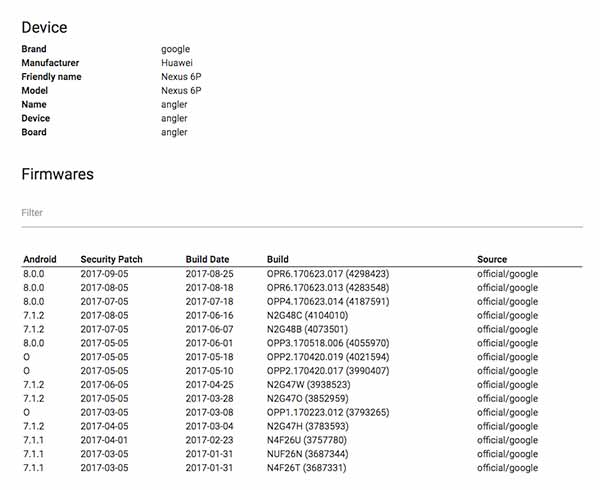 As soon as you submit the selection, the available images for your device will be shown after you. You can choose the specific version and on the next page, you will have the following download options.
Download Boot Image as *.img or *zip formats.
Download Recovery Image as *.img or *.zip formats.
Or, download Boot + Recovery images packed in *.zip format.
The developer duly realizes the security part that might concern the users. For that, he has made sure that you can check the Md5 and SHA1 sums of all the downloadable files, to check their integrity.
Read: How to Root Android Oreo 8.0
CF Auto Root Integration
For added functionality and convenience the website also allows you pack your selected boot image with root. It gets better, once you have selected the file that you want to download, you shall see a "CF Auto Root" button beside all the downloads.
Clicking on this button will give you the opportunity to configure CF Auto Root as per your choice. The available configuration options include root mode (systemless or system), suhide, dm-verity, force-encrypt, package type, SELinux, etc. This makes it easier for you to select your desired options for your OEM device. Finally, just click on "GENERATE CF-AUTO-ROOT PACKAGE" to download the boot image pre-packed with root.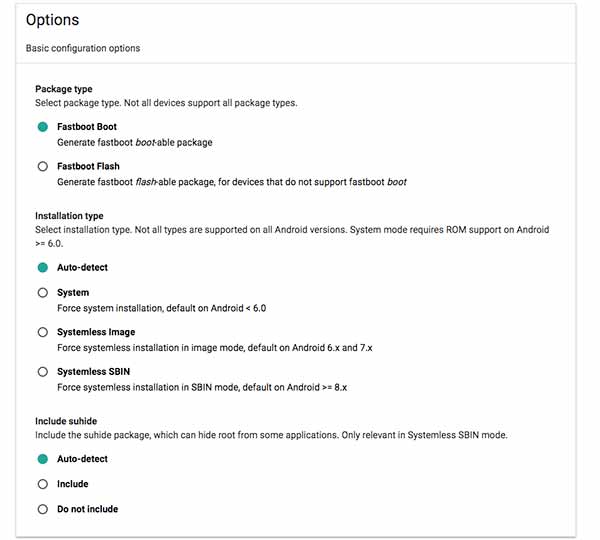 This makes it easier for you to select your desired options for your OEM device. Finally, just click on "GENERATE CF-AUTO-ROOT PACKAGE" to download the boot image pre-packed with root.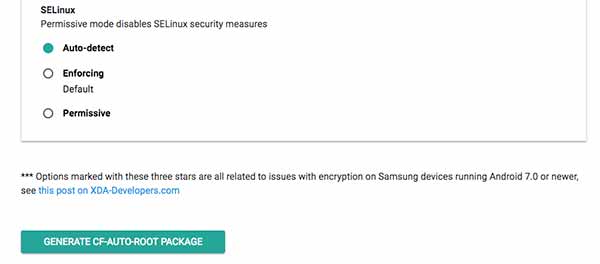 Next, as a user, you can also submit latest or non-available files to the Firmware Mobi project using the "Dropbox" option available on the homepage.
Check out more on Root:
Now go on and visit the site. If you have a file (boot/recovery image) that is not already present in the site repository, we request you to please submit it. Doing this will enable other users to find their required files faster.