OnePlus recently announced the first stable release of Oreo-based OxygenOS for OnePlus 3/3T. Here, we have listed a few OxygenOS 5.0 problems and tips on how to fix them.
Surprisingly, the manufacturer rolled out OxygenOS 5.0 for OnePlus 3 and 3T yesterday. That simply makes OnePlus one of the very few Android OEMs to bring the final Oreo release to their devices. The majority of device owners have already installed the new update and are enjoying the Oreo-exclusive features. However, a considerable amount of users have also reported about facing several issues after the update. If you're tackling an issue too, then follow the simple steps below to fix OxygenOS 5.0 problems on OnePlus 3 and 3T.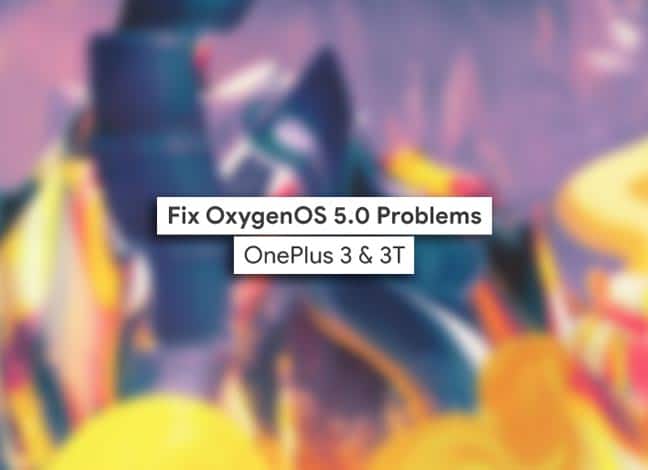 Table of Contents
How to Fix OxygenOS 5.0 Problems
While the OxygenOS 5.0 update is more about new features and better performance, but it indeed has brought a few minor issues with it. We are not sure if the problems that have risen are a firmware issue (bug). Or, if they are triggered at the user-end due to dirty updating (Updating without wiping).
The issues could be subjective and if you're in trouble too, then we are confident that the tips below will help you fix OxygenOS 5.0 problems.
1. Quick Reply In Notification Panel Not Working
Instantly replying to messages from with the notifications panel is quite a handy feature. However, according to some users in the OnePlus Community forums, the 'REPLY' button is not responsive.

Since we have faced this issue personally, we can only suspect that it is the result of a dirty update. To fix Quick Reply OxygenOS 5.0 problems, you can either perform a Factory Reset from the Settings or make a fresh install. If you wish to perform the latter, you can follow our guide on how to manually install OxygenOS 5.0 update.
2. OnePlus Launcher Crashing
For some users, the stock OnePlus launcher has been rendering the dreaded 'OnePlus Launcher keeps stopping' error. Which means the launcher app is crashing either while long-pressing on homescreen, while applying the wallpaper, or just randomly.
In order to fix OxygenOS 5.0 problems related to the OnePlus launcher, you will simply need to wipe the cache (Or even Data in some conditions) of the app. You can do it by going to Settings -> Apps -> App info -> OnePlus Launcher -> Storage and tap on 'CLEAR CACHE'.
Several users at the forums suggest that uninstalling any updates of OnePlus Launcher from the Settings and reinstalling them from Play Store has worked for them.
[googleplay url="https://play.google.com/store/apps/details?id=net.oneplus.launcher"/]
3. Notification Dots Are Not Appearing
Several users have been reporting about Notification Dots not appearing on app icons like WhatsApp, Instagram, etc. Though this is not an issue, we thought to include it here.
The OnePlus launcher requires 'Notification Access' permissions in order to scan for them and display Notification Dots in the launcher. The said permissions are disabled by default. So, you will need to go to Settings and provide the required permissions to the OnePlus launcher.
4. Random Battery Drain
This is another one of OxygenOS 5.0 problems that a majority of users have noticed. However, there are no permanent reports and the issue varies from user-to-user. Some reported of low SOT (Screen On Time), while other pointed out extensive battery consumption by 'Cell Standby'.
Almost nobody has yet been able to provide appropriate graphs/reports on the specific issue. And at the same time, users who have made a clean install are not suffering from this issue. So the best way to fix OxygenOS 5.0 problems related to battery drain is by doing a Factory Reset after updating.
5. Recent Apps & Contact Search Not Working
A very small percentage of users claimed that Recent Apps (Multitasking window) and the Search feature in the Contacts app is not functional for them. Both of these seem to be a graphical glitch in the system.

The easiest way to get past this and fix OxygenOS 5.0 problems related to it, is by performing a hard reboot. In most situations, that should fix the problem and you shall not face it again.
6. Android Oreo's Picture-in-Picture (PIP) Mode Not Working
Again, this is not a bug/issue with the software. OnePlus has correctly implemented the feature in the OxygenOS 5.0 update.
Users need to take note that in order for PIP mode to work on YouTube, you would require a YouTube Red Subscription. There are unofficial workarounds, but we strongly recommend that you pay for the service if you're willing to use it.
For users who want to use PIP mode during WhatsApp calling, can simply long-press the Home button when in a call.
7. Other Issues
That's not the end of the OxygenOS 5.0 problems on the OP3 and 3T. People have made several other claims, the majority of which are related to the battery. There were also complaints of the previous Open Beta 27/18 release updated for October 2017 patch level, while the stable release is still holding back to the September security patches.

Also, the new accent color in Quick Settings toggles and the Settings have turned down the experience for several users. Since Android Oreo natively supports Overlay Manager Service (OMS), then you can make use of Substratum to theme your device, without root.
In most cases, the cause of these problems is dirty flashing. So, we strongly recommend you perform a wipe before manual installation or do a Factory Reset after you have installed the update.
We hope, we have been able to help you fix a few OxygenOS 5.0 problems, if not all. If you are facing any other issues, mention it down in the comments. We will try our level best to find you a solution.