Here today, we will guide you on how to unlock bootloader on OnePlus 5T. Unlocking the bootloader will further assist you in installing TWRP recovery and root the device.
OnePlus has proven to be a great brand, not just for the average user but also for the developer community. Its near-vanilla nature has been a bliss for those who look deeply into further customizations like rooting and custom ROMs. All Android phones come with a pre-locked bootloader including the OnePlus 5T, to ensure the device's integrity. It also turns out to be a barrier for those who are willing to customize the device using third-party firmware or tools. If you're going to step inside the customization scene, you must first unlock bootloader on OnePlus 5T. And we are here to help you do that.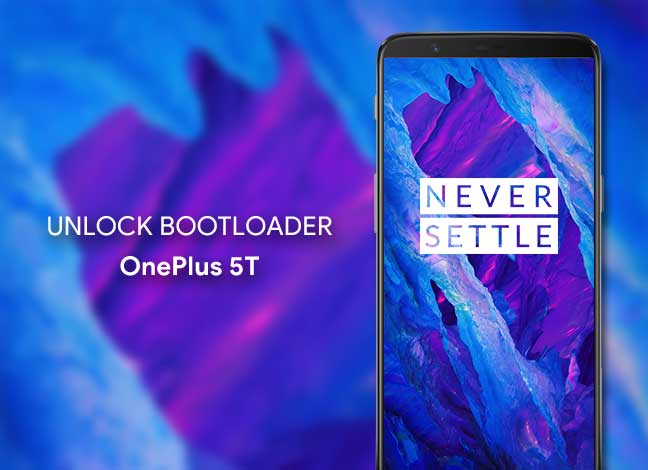 Table of Contents
Unlock Bootloader on OnePlus 5T
According to OnePlus, unlocking the bootloader on their devices does not void warranty. And it is a great news for any power user or developer. So, you can freely perform this procedure without having to worry about official support/warranty.
Unlocking the bootloader will allow you to further modify the device partitions, wipe them, or flash them. It is also a pre-requirement if you are willing to install TWRP recovery or root the device.
Before you get to the steps to unlock bootloader on OnePlus 5T, we are laying down a few advantages. So unlocking the bootloader will allow you to:
So now, if you're keen on taking the road to endless customizations and untie your device from stock, then go ahead.
Disclaimer
Unlocking the bootloader doesn't break the official warranty on OnePlus the device. We shall also not be held liable for damage to your OnePlus 5T. However, we would try and help you to the best of our knowledge if anything like such happens.
Prerequisites
Before you head to the instructions to unlock bootloader on OnePlus 5T, there's a list of few tasks that you must perform.
This process will wipe your device completely, which includes apps, data, and internal storage too. So, make sure that you take a complete backup of your device. You may also follow our guide on how to backup Android phones.
Charge your OnePlus 5T to at least 50-60% battery level to avoid any shutdowns during the unlocking process.
You must install ADB and Fastboot tools. Further, you can also follow our guide on how to use ADB and Fastboot from any directory on your PC.
Instructions to Unlock Bootloader on OnePlus 5T
Unlocking the bootloader is a two-step process. The first step involves enabling the OEM Unlock option on your device itself. The second and the final step involves using a Fastboot command to unlock bootloader on OnePlus 5T.
Step 1: Enable 'OEM unlocking' in Settings
On your phone, go to 'Settings' -> 'About phone'.
Scroll down until you find 'Build number'.
Now, continuously tap on it for about 7 times, until you see the 'You're now a developer!' toast notification.

This will enable the 'Developer options' on your OP5T.
Once enabled, go to 'Settings' -> 'Developer options' and toggle 'OEM unlocking' option to ON.
You can now go ahead and follow the next step to unlock bootloader on OnePlus 5T.
Step 2: Unlock The Bootloader
If you're using Linux or macOS, make sure to add a dot and front slash (./) in front of every command.
Power down your device completely.
Now, boot OnePlus 5T into Bootloader Mode by holding on to the Volume Up + Power button simultaneously.


Boot into Bootloader mode to unlock bootloader on OnePlus 5T

Once your device enters Bootloader Mode, connect it to the PC using the USB cable.
[Note] If you have set up the tools to be used from any directory, then simply skip step #5 and open the PowerShell/CMD or Terminal window on your PC.
Go to C:\adb folder where all the ADB and Fastboot files are present. Press the SHIFT key and right-click on an empty space inside the folder. Then select 'Open PowerShell window here' or 'Open command window here' from the menu that appears.
Now, use the following command to make sure that your device is being recognized properly.

fastboot devices

The command should return a device ID along with the 'fastboot' message.
Finally, unlock bootloader on OnePlus 5T using:

fastboot oem unlock

If the above command doesn't work, use:

fastboot flashing unlock

You will be prompted by the confirmation message on your device's screen.
Use the Volume keys to highlight 'Yes' and press the Power button to confirm the unlock process.

Once unlocked, the phone will reboot back into bootloader mode. Finally, reboot it into the OS by entering the following command:

fastboot reboot
When your phone boots, go through the initial setup by following the on-screen instructions. There you go! You have just been able to unlock bootloader on OnePlus 5T.
If you face any problems during this process, you can simply ask us by commenting below.