Have you already enabled the Always-on display feature? Then today, you have the chance to customize Always-on Display on OnePlus 6, OnePlus 6T, OnePlus 5, and OnePlus 5T.
OnePlus devices are well-known for their flexibility when it comes to third-party customization. But there's not a lot more of visual customization that could be done. At the best, a user can change the wallpaper, add widgets, or change the color accent of the interface. However, one can certainly use utilities like Substratum, to theme almost any part of the user interface. Here today, we will show you how you can easily customize Always-on display on OnePlus 6/6T and OnePlus 5/5T using Substratum overlays.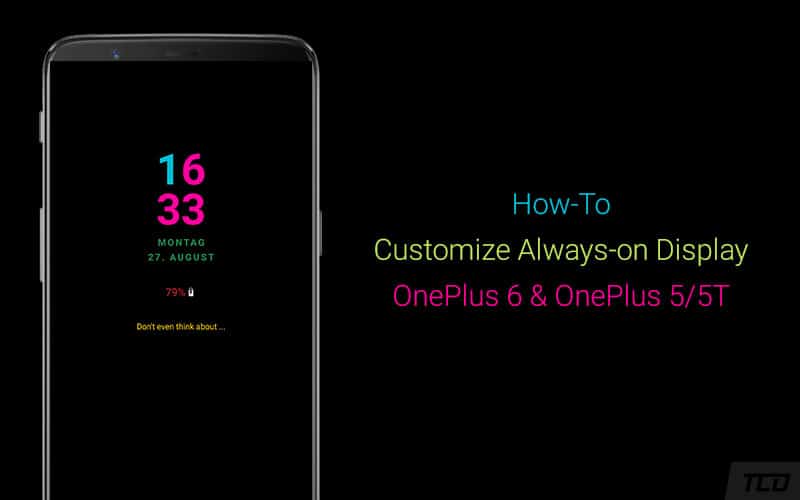 Table of Contents
Always-on Display on OnePlus 6, OnePlus 6T, OnePlus 5, and OnePlus 5T
Do OnePlus devices even support the Always-on Display feature? – Officially, no they don't. But unofficially, yes they do. So, how's that? Well, the answer lies in the context below.
When the OnePlus 6 was released, the OxygenOS software stocked the Always-on Display feature, but the toggle was greyed out. Later, OnePlus rolled out a minor software update that completely removed any trace of the feature from the device settings. However, an XDA enthusiast quickly made a Magisk module that would let anyone with the OnePlus 6T, OnePlus 6 and even OnePlus 5/5T to enable Always-on Display. If you have still not enabled the feature, then you can follow our quick tutorial to enable it right now on your OnePlus running OxygenOS.
OxygenOS AOD Customizer
Considering that you have already enabled the feature, you can further customize Always-on Display on OnePlus 6/6T and OnePlus 5/5T. This could be easily done using OxygenOS AOD Customizer, which is a set of Substratum overlays developed by XDA senior member Udzi.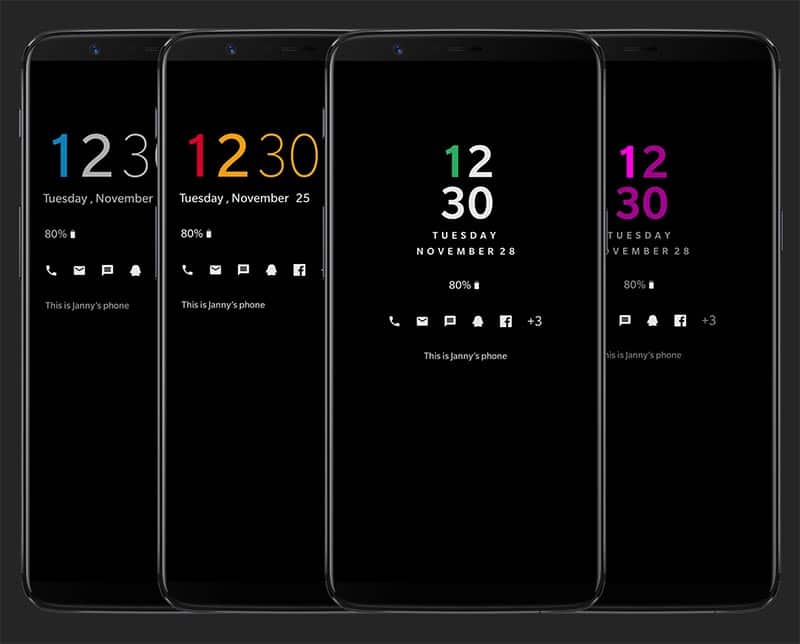 Now, what exactly can you customize on the AOD screen using this module? Well, you will have control over the majority of elements on the Always-on Display screen. The OxygenOS AOD customizer consists of four different overlays for adjusting different parts of the display:
Digit Customizer: that lets a user colorize the Tens Digit/Digit and battery percentage
Text Customizer: that helps colorize the date/owner text and set transparency
Battery Customizer: that lets you colorize or hide the battery icon
Modifier: that lets a user modify LiftUp Time, Notification Time, and hide the Analog clock in the background
According to Udzi, the notification icons are not customizable as for now. However, it might be a thing in the coming time, who knows, right?
Requirements
You can easily customize Always-on Display on any rooted or non-rooted OnePlus 6/6T/5/5T. Rooted users can easily install and run Substratum engine with root permissions. On the other hand, non-rooted users will need to set up Andromeda extension in order for Substratum to work.
It is also required that your phone should be running OxygenOS software based on Android 8.1 Oreo or Android 9 Pie.
Since the provided overlays come in form of third-party APKs, you will need to enable 'Install unknown apps' in device 'Settings' -> 'Apps & notifications' -> 'Special app access'.
How to Customize Always-on Display on OnePlus 6/6T and OnePlus 5/5T
Download OxygenOS AOD Customizer overlays:
Open a file manager app on your OnePlus phone.
Navigate to the location where the APK files were downloaded.
Tap on the files and install them individually.
On the 'Themes' tab, you should see the installed overlays and then tap on the Digit Customizer/Text Customizer/Modifier overlay.
Press the respective drop-down menu for the element that you want to customize.
Press 'Build & Enable' to install the overlays and customize Always-on Display on OnePlus 6/6T/5/5T.
The AOD screen should now automatically show the new modified elements. Simply turn off the display to check it.
If the changes do not reflect instantly, go to Substratum's Manager section and ensure that the overlays are correctly enabled. If the overlays are enabled and it is still not working, then you can also try rebooting your OnePlus device.
We appreciate Udzi for his work! If you have any questions or want to report a bug, then comment below or visit the original XDA thread using the source link below. So, you have just been able to customize Always-on Display on OnePlus 6/6T and OnePlus 5/5T. Go ahead and enjoy a more colorful AOD experience!
Source: XDA-Developers