You can now get Galaxy Note 9 apps on your Samsung Galaxy S9, S8, S7, Note 8, and more. Through this post, you can download Galaxy Note 9 Apps ported for rooted Samsung devices and install them right away.
Samsung unveiled its next mainstream phablet device a few days ago. The Note 9 comes with several major improvements over its predecessor. Starting off by the new Bluetooth-powered S-Pen with a remote functionality, to a 6.4-inches near bezel-less display. The device has improved significantly in some sections and minorly in others. With the all-new features, the Note series finally draws a line from the flagship S-Series phones like the Galaxy S9.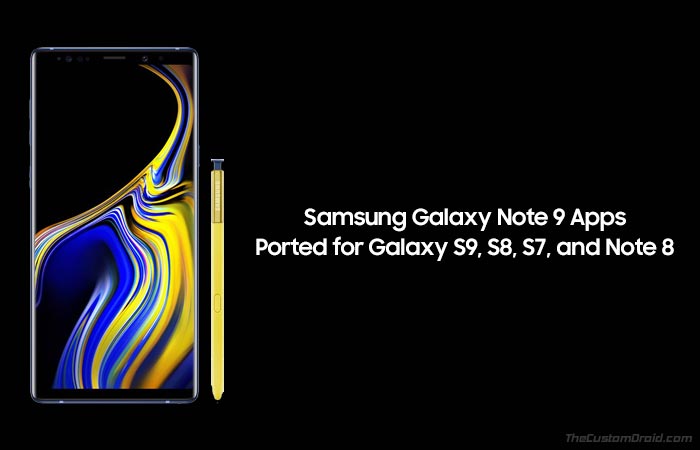 Every time a new phone is released, we give our best to provide things like stock wallpapers and ringtones that would give you the opportunity to add a little of its flavor to your existing device. We already covered a post to download Galaxy Note 9 stock wallpapers. Today, we are here to give you another chance with the Galaxy Note 9 Apps that have been ported for the rest of the Samsung smartphones.
Table of Contents
Samsung Galaxy Note 9 Apps Ported to Galaxy S9, S8, S7, and Note 8
Like any other Galaxy device, the Galaxy Note 9 also comes with all the Samsung stock apps including TouchWiz, Bixby 2.0, Samsung Music, Finder V9 and what not. XDA Senior member Albe96 has managed to port Galaxy Note 9 apps for other smartphones like the Galaxy S9, S9+, S8, S8+, S7, S7 Edge, and Note 8. The original poster has extracted all these apps from the full system dump of the ARG8 firmware. These apps could not be installed like a regular app on your smartphone. So, in order to install Galaxy Note 9 apps port, your phone must be rooted.
Once rooted, you will need to manually copy the individual apps to the /system partition, replacing any/all current applications. Then after setting the required permissions, you should be able to use the ported apps on your phone. According to the original XDA thread, there is a short list of known bugs that you'd face. These are as follows:
Device Maintenance Crashes
Bixby Vision force closes
Now, these issues could be solved in future updates, but don't know it for sure. We will be updating this post to reflect the details. Following is the list of all the Galaxy Note 9 Apps that are available for download:
TouchWizHome
My Files
Gallery
Wallpapers
Clock Package
Calculator
Calender
Samsung Music
Bixby 2.0
Samsung Themes
Galaxy Apps
Weather_SEP9.1
IncallUI
Edge Panels
Samsung Keyboard
Live Drawing
Finder V9
NFused Location
Phone And Contacts
Samsung Email
Video Player
Device Maintenance
That's quite a number of apps that you could enjoy on your Galaxy S9, S8, S7, and Note 8.
Installing Galaxy Note 9 apps on other Samsung Galaxy phones is a two-step process. First, you will need to download the apps and copy them to the corresponding location under the /system partition. And second, you will have to change the permissions of each of the transferred folders and APKs to 'rw-xr-xr-x' and 'rw-r-r' respectively.
Requirements
Instructions to Install Galaxy Note 9 Apps on Other Samsung Galaxy Devices
Download Galaxy Note 9 apps port: Note 9 Apps_Albe96-V1.5.zip
Extract the file on the PC to get the 'Note 9 Apps_Albe96-V1.0' folder.

Within the extracted folder, there will be two sub-folders (app and priv-app) that contain all the Galaxy Note 9 apps.

Connect your Galaxy smartphone to the PC and transfer the extracted folder to the phone's storage.
Disconnect the phone from the PC.
Go to the app drawer and launch Total Commander file manager.
Tap on 'File system root' and grant the root permissions when prompted.

Scroll down and tap on the 'System' directory.
Copy the desired apps from the folder you transferred earlier to the phone's storage.

It is strongly recommended that you back up the apps first before you replace them.
Note: Apps from the "app" folder need to be copied to '/system/app'. Those from 'priv-app' need to be copied to '/system/priv-app'.

Next, you will need to set proper permissions for the folder and APK files you just copied.
We will demonstrate the process using the 'TouchWizHome_2017.apk' file that was copied to '/system/priv-app/TouchWizHome_2017' folder.

To change permissions, long-press the folder or APK file and tap on 'Properties'. Press 'RWX' and change the permissions of the folder/file as stated.

Change the permissions of the 'TouchWizHome_2017' folder to 'rw-xr-xr-x'.
You will need to change permissions of any/all the Galaxy Note 9 Apps that you have copied.
Once changed, restart your device and start using apps.
So there you go! You have just been able to download Galaxy Note 9 apps ported for Galaxy S9, S8, S7, and Note 8. Some of these apps may render bugs, as we stated earlier. But these might get resolved soon. Do you think these apps have got you a real Note 9 experience in terms of the software? Don't forget to leave your opinion below.
Source: XDA-Developers