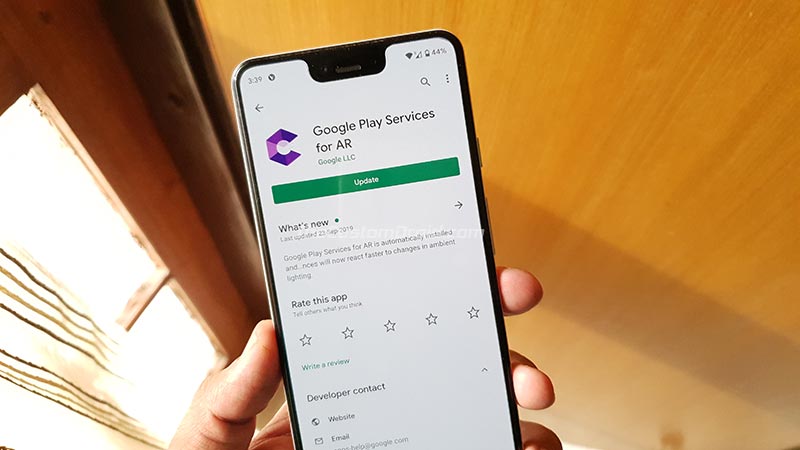 "ARCore" is now officially known as "Google Play Services for AR" in Play Store's listing. However, it is still known as "ARCore" in Google's developer platform. Through this post, you can download the latest v1.17.20042008 version of Google Play Services for AR (ARCore) app as an APK file, along with all the previous versions. Now before you do that, take some time to understand what ARCore actually is and how it works.
What is ARCore?
ARCore is Google's Software Development Kit (SDK) for building augmented reality (AR) applications on various platforms including Android. According to Google, it enables your phone to "sense its environment, understand the world, and interact with information".
So, how does ARCore work? – It uses three fundamental technologies to integrate virtual content with the real world using your Android phone's camera.
Motion Tracking

: It allows your phone to identify interesting points (known as "features") and tracks how these points move over time to understand its position relative to the world.
Environmental Understanding: Using the same technology, it allows your phone to detect a cluster of points (known as "Planes") that appear to lie on a horizontal or vertical surface.  This helps ARCore memorize the size and location of all types of surfaces: Horizontal, Vertical, and Angled.
Light Estimation: It allows your phone to understand the environment's current lighting conditions to provide you with an average intensity and color correction. This allows the AR app to properly light virtual objects according to the environment's lighting conditions to favor realism.
* A majority of the information provided above was taken from this Google's Developer page.
List of Google ARCore Supported Devices (Official)
In order for an Android device to be officially supported by ARCore, it must pass Google's certification process. The process involves checking the device's camera quality, motion sensing capability, and hardware design, to ensure that users get a refined experience when using augmented reality applications.
According to Google, the following is the list of various OEM Android devices officially supported by Google ARCore.
Manufacturer/OEM
Device name
Asus
Asus ROG Phone
Asus ROG Phone 2/II
Asus Zenfone 6 (6z)
Asus Zenfone AR
Asus Zenfone ARES
General Mobile
GM 9 Plus
Google
Google Nexus 5X
Google Nexus 6P
Google Pixel, Pixel XL
Google Pixel 2, Pixel 2 XL
Google Pixel 3, Pixel 3 XL
Google Pixel 3a, Pixel 3a XL
Google Pixel 4, Pixel 4 XL
HMD Global
Nokia 6 (2018)/Nokia 6.1
Nokia 6.1 Plus
Nokia 7 Plus
Nokia 7.1
Nokia 8
Nokia 8 Sirocco
Nokia 8.1
Huawei
Honor 8X/Honor View 10 Lite
Honor 10
Honor V20
Huawei Mate 20, Mate 20 Lite, Mate 20 Pro, Mate 20 X
Huawei Nova 3, Nova 3i
Huawei Nova 4
Huawei P20, P20 Pro
Huawei P30, P30 Pro
Huawei Porsche Design Mate RS,
Porsche Design Mate 20 RS
Huawei Y9 2019
Infinix Mobile
Infinix Note 6
Kyocera
Kyocera Torque G04
LG
LG G6
LG G7 Fit, G7 One
LG G7 ThinQ
LG G8 ThinQ, G8S ThinQ
LG G8X ThinQ
LG G Pad 5 10.1″
LG Q6
LG Q70
LG Q8
LG Stylo 5
LG V30, V30+, V30+ JOJO,
LG Signature Edition 2017
LG V35 ThinQ,
LG Signature Edition 2018
LG V40 ThinQ
LG V50 ThinQ
LG V60 ThinQ
Motorola
Moto G5S Plus
Moto G6, Moto G6 Plus
Moto G7, Moto G7 Plus, Moto G7 Power, Moto G7 Play
Moto G8 Play
Motorola Moto G8 Plus
Motorola Moto G8 Power
Motorola Moto G8 Power Lite
Motorola Moto G Stylus
Motorola One, Motorola One Action, Motorola One Power, Motorola One Vision, Motorola One Zoom
Motorola One Hyper
Motorola One Macro
Moto X4
Moto Z2 Force
Moto Z3, Moto Z3 Play
Moto Z4
OnePlus
OnePlus 3T
OnePlus 5, OnePlus 5T
OnePlus 6, OnePlus 6T
OnePlus 7, OnePlus 7 Pro, OnePlus 7 Pro 5G, OnePlus 7T, OnePlus 7T Pro
Oppo
Oppo R17 Pro
Oppo Reno A
Oppo Reno 10x Zoom
Oppo Reno Z
Oppo K3
Oppo K5
Oppo Reno 2
Oppo Reno2 F
Oppo Reno 2 Z
Oppo F11 Pro
Realme
Realme X
Realme X Lite
Realme X2
Realme X2 Pro
Samsung
Samsung Galaxy A3 (2017)
Samsung Galaxy A5 (2017)
Samsung Galaxy A8, Galaxy A8+ (2018)
Samsung Galaxy A6 (2018)
Samsung Galaxy A7 (2017), Galaxy A7 (2018)
Samsung Galaxy A70s
Samsung Galaxy A71
Samsung Galaxy A30, Galaxy A40, Galaxy A50, Galaxy A50s, Galaxy A60, Galaxy A70, Galaxy A80, Galaxy A90 5G
Samsung Galaxy Fold
Galaxy J5 (2017), Samsung Galaxy J5 Pro
Samsung Galaxy J7 (2017), Galaxy J7 Pro
Samsung Galaxy M30s
Samsung Galaxy Note 8
Samsung Galaxy Note 9
Samsung Galaxy Note 10, Galaxy Note 10+
Samsung Galaxy Note 10 Lite
Samsung Galaxy S7, Galaxy S7 Edge
Samsung Galaxy S8, Galaxy S8+
Samsung Galaxy S9, Galaxy S9+
Samsung Galaxy S10e, Galaxy S10, Galaxy S10+, Galaxy S10 5G
Samsung Galaxy S10 Lite
Samsung Galaxy Tab Active Pro
Samsung Galaxy Tab S3, Galaxy Tab S4, Galaxy Tab S5e, Galaxy Tab S6
Samsung Galaxy XCover Pro
Samsung Galaxy Z Flip
Sharp
Sharp AQUOS R3
Sharp AQUOS sense3
Sharp AQUOS sense3 plus

Sharp AQUOS zero2
Sony
Sony Xperia XZ Premium
Sony Xperia XZ1, Xperia XZ1 Compact
Sony Xperia XZ2, Xperia XZ2 Compact, Xperia XZ2 Premium
Sony Xperia XZ3
Sony Xperia 1
Sony Xperia 1 Professional Edition
Sony Xperia 5
Vivo
Vivo NEX 3
Vivo NEX 3 5G
Vivo NEX S
Vivo NEX Dual Display Edition
Tecno
Tecno Camon 12 Pro
Tecno Phantom 9
Xiaomi
Xiaomi Mi 8, Mi 8 SE
Xiaomi Mi 9, Mi 9 SE
Xiaomi Mi A3
Xiaomi Mi Mix 2S
Xiaomi Mi Mix 3
Xiaomi Pocophone F1 (POCO F1)
Xiaomi Redmi K20, Redmi K20 Pro
Xiaomi Redmi Note 7, Redmi Note 7 Pro
Zebra
TC52 WLAN Touch Computer
TC57 WWAN Touch Computer
TC72 WLAN Touch Computer
TC77 WWAN Touch Computer
What's new in ARCore? – Changelog
Below is the complete changelog for the latest version of Google Play Services for AR app, along with that for the previous versions.
v1.17.20042008 – Released on May 11, 2020
Improved rendering performance on select devices with supporting AR apps.
v1.16.20030204 – Released on March 16, 2020
Improved rendering performance on select devices with supporting AR apps.
v1.15.20012104 – Released on 6 February 2020
Improved rendering performance on select devices with supporting AR apps.
v1.15.20012103 – Released on 3 February 2020
Improved rendering performance on select devices with supporting AR apps.
v1.14.19111810 – Released on 20 December 2019
Smoother AR experiences on Pixel 4 and Pixel 4 XL with a viewfinder frame rate of 60 frames per second.
Bug fixes.
v1.14.19111808 – Released on 12 December 2019
Improved support for multiplayer and collaborative AR experiences.
Lighting estimation for realistic AR experiences will now react faster to changes in ambient lighting.
Download Google Play Services for AR (ARCore) APK
Google introduced ARCore back in 2017 and it was only recently renamed to "Google Play Services for AR" to be a part of the Google Play Services. Android devices that are officially supported by ARCore can install and update the app directly via the Play Store.
However, if the app is not available on the Play Store for your device due to some reason, then you can download the latest Google Play Services for AR APK (courtesy of APKMirror.com) from below and install it manually.
→ Latest version: Google Play Services for AR v1.17.20042008 APK
Below we have also provided download links for all the previous versions of the app as well, in case you need them.
Previous versions:
How to Install Google Play Services for AR (ARCore) APK
In order to install the APK manually, you must first enable the "Install unknown apps" or "Unknown sources" option on your Android device.
On Android 8.0/8.1 Oreo, Android 9 Pie, & Android 10 Q: Go to 'Settings' → 'Apps & notifications' and tap on 'Advanced' to expand the menu. Now go to the 'Special app access' section and select 'Install unknown apps'. In this menu, you will need to grant the required permissions to your file manager app.

On Android 7.0/7.1 Nougat or below: Go to 'Settings' → 'Security' and turn on the 'Unknown sources' toggle.
Once you have enabled the required option, follow the steps below to install ARCore APK on your Android device.
Download the latest Google Play Services for AR (ARCore) APK.
Open a file manager app on your supported Android device.
Navigate to the folder where the APK file was downloaded.
Tap on the APK file to initiate the Android package installer.
Tap on the 'Install' button to install the app on your device.

Once finished, press "Done".
Now that you have ARCore installed, you can go ahead and try several augmented reality apps/features on your device. For instance, you can try Pokemon Go's AR+ mode feature or download Google's Measure app for taking everyday measurements easily. ARCore also enables you to use Playground (AR Stickers) in the Google Camera app.
There you go, you have just been able to download latest Google Play Services for AR (ARCore) APK, along with the list of officially supported devices. Let us know your favorite AR app(s) that you would like to recommend via the comments.