In order to preserve the security of its Android platform, Google has taken another major step. It is now blocking uncertified device users from accessing and using GApps. Well, if Google blocks GApps on your device and you happen to be using a custom ROM, then you can simply whitelist yourself. The instructions below will show you how to bypass the error and keep using GApps on your device with a custom ROM.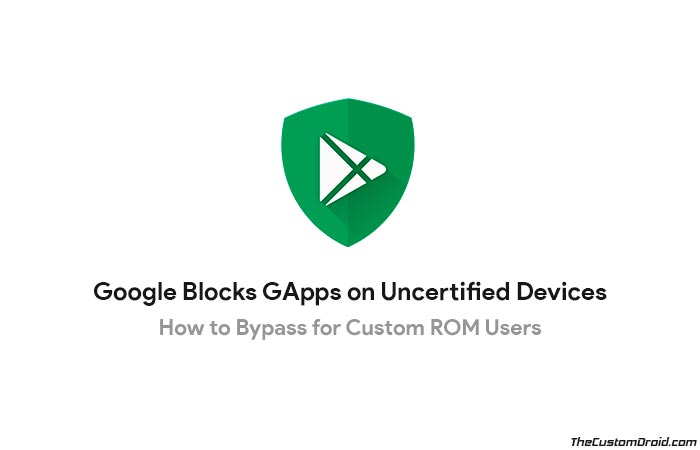 The news first popped up from XDA (source link below), mentioning that they had previously been contacted by an unknown person. The identity claimed to be a part of an Android OEM and tipped that Google has started blocking newly built firmware from accessing any and all Google App services. An Android device would now be required to pass the Compatibility Test Suite (CTS) in order to use GApps on it. The new implementation has allegedly started rolling out since 16th March. As in the screenshot below, you can see that that going to Play Store -> Settings -> About, the device certification is labeled as "Uncertified". If your device shows the same and GApps are blocked for you as well, then there's a simple way to bypass it.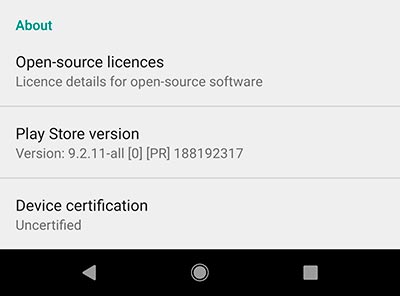 Google Blocks GApps on Uncertified Devices
I personally have the uncertified status on both my Pixel 2 XL and Nexus 6P. But still, haven't received any error or warning. Which means the change is not yet rolling out in the wild. However, it soon will be. XDA senior member Liam_davenport has already received the error after installing phh-Treble Generic System Image on his Google Pixel XL. The error screen will most likely pop up for those who have installed custom ROMs like LineageOS 15.1, Resurrection Remix 6.0, etc built after 16th March. Google Play Services basically checks the build date through "ro.build.fingerprint" value defined in the device properties.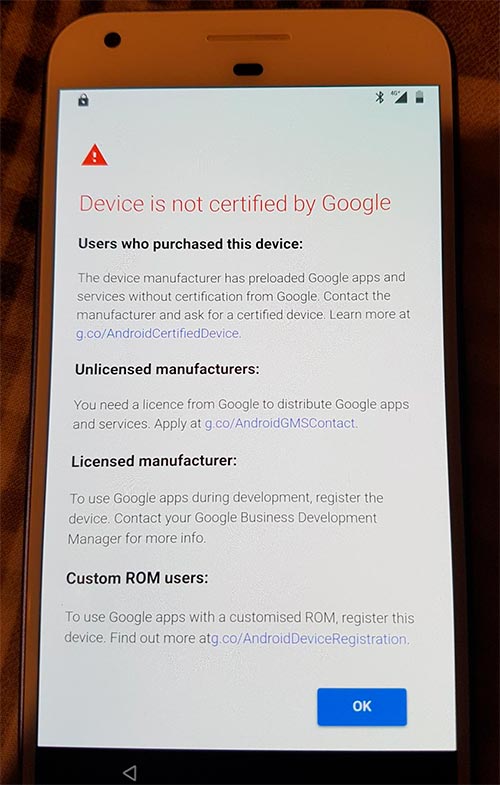 On the other hand, the error screen also provides some important information for unlicensed manufacturers and custom ROM users. We are more concerned about regular custom ROM users, so we will be jumping straight off to it. So if Google blocks GApps on your device as well, then you can use the simple instructions below on how to bypass the error. The solution is simple, Google provides a dedicated registration page for those who are using a custom ROM. On this page, you will be required to enter your Android ID, so that Google can whitelist your device.
Update: According to the source, the registration page doesn't require the Android ID. Rather, you're required to add the device's IMEI number.
Now, if Google blocks GApps on your device, then you may further consider performing the steps below. Note that the counter only allows 100 enteries at max from a single Google account.
Instructions on How to Bypass and Start Using GApps
Open the dialer app on your phone.
Enter '*#06#' in the dialer.
Press the call button.
Note down the IMEI number.
Open g.co/AndroidDeviceRegistration in the browser.
Input the IMEI in the provided 'Android ID' field.
Finally, click on the 'Register' button.
You shall now be able to login into the Google account on your device with a new custom ROM. Although Google blocks GApps on Uncertified devices now, you will still be able to use them on your device using the simple method above. We are still waiting to see, when and if the wider rollout occurs in future. For any questions or opinion, please drop a comment below.