The latest Google Camera 5.2 mod brings HDR+ and Lens Blur support to older Nexus devices. Through this post, you will be able to download Camera NX 7.4 APK and install it on your device.
Google Camera is probably one of the most used camera apps across various devices, especially those running on the close-AOSP firmware like Moto, Nokia, and the Google Pixel and Nexus phones. Almost more than a week ago, Google Camera v5.2 was announced with new settings icons, dirty lens warning, and a few more features. While the features alone would be enough to get the users excited, most of them were limited to the Pixel phones.
On the other hand, developer Charles Chow announced Camera NX 7.4 that brings the latest Google Camera features to older devices. Users can easily sideload the APK and get Google Camera 5.2 features on their phone.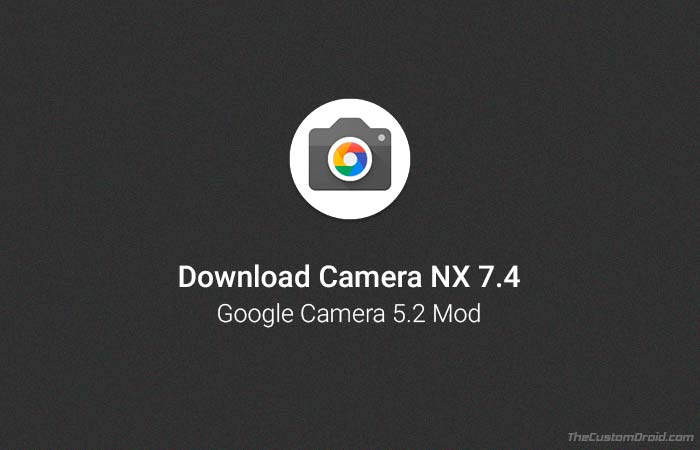 If you have already tried installing Google Camera v5.2 on your Nexus 6P/5X, you'd notice that HDR+ controls and Lens Blur are missing completely. Well, that's quite expected since the new version is aimed at Android P. The new version also exposed traces of experimental features and certain performance variables.
Camera NX 7.4 (Google Camera 5.2 Mod) Changelog
Camera NX is pretty popular Google Camera mod available for older Nexus phones ever since the launch of Google Pixel series in 2016. The app developer (Charles Chow) has reworked the official app and modified it to support Nexus devices like the 6P and 5X. The new version 7.4 brings all the features from the previous release, plus added features from the latest Google Camera v5.2 app.
According to the announcement at Chromloop (Official website for Camera NX), the following is the changelog for the latest version.
HDR+ on Nexus 6P/5X.
Added back Lens Blur mode in the viewfinder.
EIS should be back to normal on Google Pixel 2016 devices.
Use Google Photos to view results again on the enhanced version.
The developer has further provided a few notes before you install Camera NX 7.4 on your device: (1) The NOZSL version is not available anymore; (2) ZSL version may consume more RAM on Nexus devices and may cause crashes.
Download Camera NX 7.4 APK
There are two different versions available – ZSL and ZSL Enhanced. The former is simply the modded Google Camera 5.2 with added HDR+. The latter enhanced version brings additional Pixel 2 features like Motion Photos.
Camera NX 7.4 ZSL (Download Link): The version includes ZSL HDR+, hybrid burst, 240 FPS slow-motion, 60FPS video recording, and other Google Pixel features. This will only work on Nexus devices with Android 7.1.1 Nougat.
Camera NX 7.4 ZSL Enhanced (Download Link): This version includes all the standard ZSL features plus Motion Photos, diet-burst, and Google Photos integration. This will only work on devices with Android 8.0 Oreo or above.
The installation is simple, you just need to download the APK and install it using a file manager application on your phone. Note that installing APKs from outside the Play Store requires you to enable 'Unknown Source' or 'Install unknown apps' options in device settings. The APKs are signed by Charles himself, which means it will not replace the original Google Camera app installed on your device. You shall see a separate app with a different icon.
So this is how you can get Google Camera 5.2 features on your Android device using the latest Camera NX version.