The Pixel 2 brings some cool new features in its stock camera app. You can now get Pixel 2 camera features on your Nexus 6P and 5X using the Google Camera NX V7 update.
Pixel 2 and Pixel 2 XL are 2017 markups from Google. The phones bring in a lot when it comes to both software and hardware. While the latter is not something we can port to our devices, there are software features specific to the Pixel 2 like Launcher and Wallpapers, that we can still enjoy on the older devices. Today, we will be taking the camera-related features into account. Further, we will be discussing, how you can get Pixel 2 camera features on your Nexus 6P and 5X using Google Camera NX.
Also read: Get Android 10 on Nexus 6P with these Custom ROMs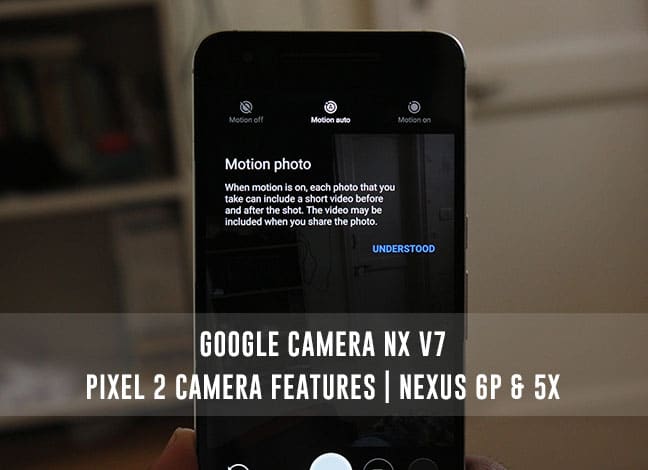 Get Pixel Camera Features on Nexus 6P & 5X with Google Camera NX
Google Pixel devices have always had the privilege of offering some exclusive features, that are unfortunately not a part of older yet capable devices like 2015's Nexus 6P and 5X. Like previously, we have seen ZSL (Zero Shutter Lag), a feature that drastically improved HDR+ mode photography, but was tagged only to the 2016 Pixel devices.
Reports from XDA suggest that the Pixel 2 camera features two new additions – Motion Photo and Face Retouching. The prior takes a short video before and after a photo and allows you to share it. Something like Live Photos on iPhone. The latter is like a beauty mode that cleans up your face's imperfections before taking a photo.
We believe that these will also stay specific to the Pixel 2 devices and at most, the original Pixel and Pixel XL. There's the least chance that we will ever see these features on phones like the 6P and 5X, officially.
But we have to worry less when we have some talented and awesome minds at XDA, who do not feel any limitations when it comes to Android. Last year, XDA member Charles_l brought Google Camera NX, which was a modded Google Camera that brought ZSL to the 6P and 5X. The app is already pretty common among the XDA users. The app was recently updated and brings Pixel 2 camera features.
Download Google Camera NX v7
The Google Camera 5.1.014.171916386 from Pixel 2 landed pretty late on APKMirror. But it seems like installing the latest version didn't have any effect on the old devices. While the latest update brings all the Pixel 2 camera features to the first-gen Pixel series, it seems like the last of the Nexus series was finally abandoned.
But Charles_l did his wonder again and released Google Camera NX v7 update which is based on Google Camera 5.1. The latest update brings all the Pixel 2 camera features to the 6P and 5X including Motion Photo and Face retouching.
The developer has provided 2 different variants.
ZSL variant: Motion Photos, Face Retouching, HDR+, Dirty Lens notice and more first-gen Pixel features.
Non-ZSL variant: Only Motion Photos and Face Retouching, rest stock Google Camera experience.
Charles has also mentioned that some features like Portrait Mode can never be made to work on these devices. This is due to the lack of hardware. Rest, we are still lucky to have the chance of enjoying these features, thanks to Charles_l.
You can download the variant of your choice from below.
You will need to enable "Unknown sources" or "Install unknown apps" option in your device settings in order to install the APK.
Check out the 6P XDA thread and 5X XDA thread for more information, reporting bugs, and discussions. If you have any problems downloading or installing Google Camera NX v7 on your phone, let us know by commenting below.