There are so many cases when we need to revert your Galaxy Note 8 back to its stock/factory state. Through this page, you can download and install the latest stock firmware on Samsung Galaxy Note 8 for unbricking or manually upgrading the software.
Flashing stock ROM resolves several issues in a smartphone. Like if you have soft bricked your smartphone or facing a bootloop issue then you can download and install Galaxy Note 8 stock firmware to unbrick it and get out of the situation. Installing the stock firmware serves another purpose for those who have rooted their Note 8, and want to unroot their device completely. So, if your device has any of the problems mentioned above or if you want to unroot, then you can restore and install Galaxy Note 8 stock firmware using this guide.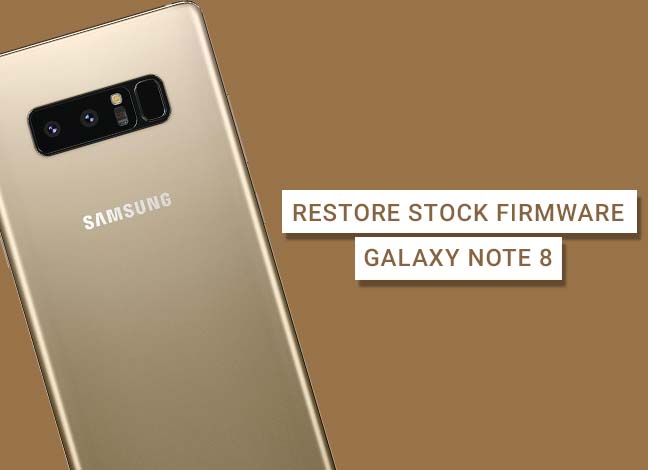 Restoring or flashing back factory (stock) ROM on your Note 8 is almost identical to any other Samsung device. All you have to do is download the stock firmware package and then flash it to your phone using the Odin program. That's even easier when you get familiar with the whole process. You do not need any sort of expertise to perform this procedure.
Below, we are providing the download links of Galaxy Note 8 stock firmware for different models (Snapdragon and Exynos). You will need to check your Galaxy Note 8's model number to download the correct firmware. You can check your model number by navigating to Settings > About. Further on the download page, make sure to select the file for your region.
Before we head over to the instructions to install Galaxy Note 8 stock firmware, let us go through a list of few benefits of using stock firmware and why it is useful for a user.
Benefits of Using Stock ROMS:
You can unbrick your Galaxy Note 8 if it's bootlooping and is stuck at the Samsung logo during a reboot.
You can upgrade your Galaxy Note 8 to a newer Android version.
Restore Galaxy Note 8 to factory state.
You can completely unroot your phone.
Downgrade your Note 8 to a lower build/Android version.

NOTE: You can only downgrade to a lower software version if the Bootloader revision is the same, regardless of the Android version.

You can remove custom recovery like TWRP and CWM, if installed, on your Galaxy Note 8.
Now, if you want to do any of the above, you may proceed ahead and follow the instructions to restore and install Galaxy Note 8 stock firmware.
Table of Contents
Prerequisites
Go through the list of requirements below and make sure that you meet them all.
This guide is especially dedicated to download and install Galaxy Note 8 Stock Firmware. Do not try this on any other device or variant.
Charge your Note 8 to at least 50-60% battery level to avoid any hiccups during the process.
Restoring stock firmware will delete all the apps and data on the device. So, take a full backup of your Note 8: Tutorial
Make sure you have downloaded and installed Samsung drivers on your PC: Link
Disable Samsung Kies on your PC before you start Odin to flash the firmware.
Also, enable USB debugging on your Note 8.
Download Galaxy Note 8 Stock Firmware
You will first need to download the ROM package for your model in order to install Galaxy Note 8 stock firmware. Make sure to download the correct firmware for the variant (Exynos or Snapdragon), model, and region.
The quickest and easiest way to download the stock firmware file for your Note 8 is through the Frija Tool. Simply download the tool, launch it on your PC, and then enter your phone's details like the model number and CSC to get the latest stock firmware package.
Exynos Galaxy Note 8
Snapdragon Galaxy Note 8
Steps to Install Stock Firmware on Samsung Galaxy Note 8
Once you have downloaded the appropriate firmware package for your device, you can follow the steps below to flash the stock firmware on your Galaxy Note 8 using Odin.
Download the latest version of the Odin Flash Tool from here and extract the ZIP file to an easily accessible location on your PC.
Extract the firmware package (e.g. N950FXXU1AQIA_N950FOWA1AQI7_CRC.zip) to the "Odin3 v3.14.4" folder that was extracted in the previous step.
Open the folder where the Odin program has been extracted and double-click on Odin3 3.14.4.exe to run the program.
Boot your Galaxy Note 8 into Download Mode:

Power off your device completely.
Press and hold the Volume Down + Bixby + Power buttons until you see a warning screen.
When you see the warning message, press the Volume Up key to enter Download Mode on Galaxy Note 8.

Now connect your Galaxy Note 8 to the PC using the USB cable.
The Odin window should show a highlighted ID:COM port for your device and also an "Added" message in Odin message box. If the ID:COM port doesn't light up, then there could be some issues with drivers. So, make sure to properly install Samsung USB drivers, then reboot your PC and try again.
Now, to flash and install Galaxy Note 8 stock firmware, select the following files for the corresponding slots. Note that the filenames below will change according to the model/region firmware. The ones mentioned below are only for your reference.

BL: BL_N950FXXU1AQIA_CL12007350_QB15109599_REV00_user_low_ship.tar.md5
AP: AP_N950FXXU1AQIA_CL12007350_QB15109599_REV00_user_low_ship_meta.tar.md5
CP: CP_N950FXXU1AQI7_CP7553962_CL12007350_QB15036794_REV00_user_low_ship.tar.md5
CSC: CSC_OWA_N950FOWA1AQI7_CL12312518_QB15052826_REV00_user_low_ship.tar.md5

Make sure that only "Auto Reboot" and "F. Reset Time" options are selected.
Now simply press the "Start" button.
The firmware flashing process will begin. Do not disturb the process by disconnecting the phone.
You will see a "PASS!" message on the Odin window when the process is complete.
The phone will automatically reboot into the stock firmware. You may exit the Odin program on your PC and complete the initial setup on your phone.
So, you have succeeded to install Galaxy Note 8 stock firmware and restore it to factory settings. If you have any questions regarding this procedure, you can comment right away.