Samsung has released an update for Galaxy S8, S8+, and Galaxy Note 8, which will let users alter the function of this side-mounted Bixby button. If you are a Galaxy S8, Galaxy S8 Plus or Galaxy Note 8 user, subsequently one of the most irritating things on your phone has been addressed by Samsung. Now you can completely disable Bixby button on the side.
If you would like to map this dedicated button to a different action, I am sorry to say, but that wouldn't work. The Bixby button is linked to Samsung's voice-powered digital assistant, which was introduced alongside the Galaxy S8 phones. The dedicated button may be used in 2 ways. A quick press starts Bixby Home, while a very long press starts Bixby Voice for the vocal commands. You can't remap the button to some other action, but you can now disable Bixby button, followed by an update to the Bixby app.
Now, the update will let users easily disable the Bixby button. However, it will not allow for complete customization or button remapping of any sort. Most of the users are irritated with it, as accidentally launches Bixby home; hence the update will undoubtedly be welcomed with open arms.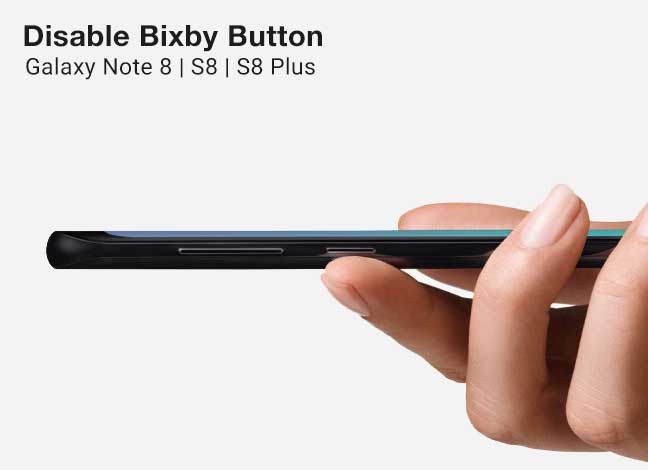 Table of Contents
Sadly, Bixby Home as a service isn't going to leave your phone, it can still be retrieved by swiping to the home display. And Bixby Voice may still be activated by pressing and holding down the button. That is not surprising because Samsung is positioning Bixby as a competitor to rival assistants including Amazon's Alexa, Apple's Siri, and Google's Assistant. So disabling it entirely wouldn't be in Samsung's best interests, irrespective of how users feel about it.
One of the biggest frustrations With the Bixby button is its positioning; the button is right beneath the volume Keys and almost directly opposite the power buttons. On bigger phones like the Galaxy S8+ and Note 8, this frequently Contributes to accidental presses and unintended Bixby starts, especially if double-pressing the power button to start the camera.
Update!
Although this tutorial allows you to disable Bixby button, and pressing it will no more launch the Bixby Assistant. But, long-pressing the button will still enable Bixby Voice and wake up your phone's display. The latest Bixby app and service updates now allow a user to completely disable the button, so it won't wake your device anymore if pressed accidentally or deliberately.
You can directly update by going to Galaxy Apps on your S8/S8 Plus/Note 8 device. Alternatively, you can download the latest Bixby and Bixby Service, and install the APKs on your phone.
Read: How to set up Samsung Pay on Galaxy Note 8
In case if you are using the latest version of Bixby 2.0.03.3, then it's quite easy for you to disable the Bixby button. Just follow the following steps to disable Bixby button on Galaxy Note 8, S8, and the S8 Plus.
First of all, press the Bixby button to start it.
You may be lucky and get a prompt to update your Bixby. (Don't worry if not prompted, you can use alternative steps as below).
Now when you have successfully updated the Bixby, you will see a toggle button on Bixby screen. Simply set it off to disable Bixby button.
And you are done with disabling the Bixby button. Now it will not open Bixby by the accidental press. Cheers!
Alternative Way
But, in case if you have not prompted to update Bixby and cannot get the toggle button on the right top corner when you open Bixby, follow the instructions below. This can happen because your app can be updated without giving you a prompt. So you will need to manually turn off the Bixby button from the settings.
Simply press and start the Bixby application.
On the top right corner, you will see a three-dot menu.
Tap on the three-dot menu and then tap on settings option from there.
In the settings section, scroll down to the Bixby key option and Tap on it.
Now to disable the Bixby button, select the 'Don't open anything' option from the list.
So, in this way, you can easily disable the Bixby button on your Galaxy Note 8, S8, or S8 plus.