It turns out that now you can enable Always On Display on any Samsung device running Nougat. The best part of the deal is that you don't even need root or any other special tweaking.
Samsung introduced the Always On feature in the Galaxy S7. It allows you to interact with the phone without even using it. The Always On Display (AOD) feature shows the clock, notifications, date, and battery percentage on the screen, while the rest of the screen is turned black. Indeed, it is a nice and fast way to get tiny bits of information without switching on the display and waking up the device. This useful feature was carried over the next generation of devices including the Galaxy S8, S8 Plus, and Note 8.
And you can now easily enable Always On Display on Samsung devices running Android Nougat.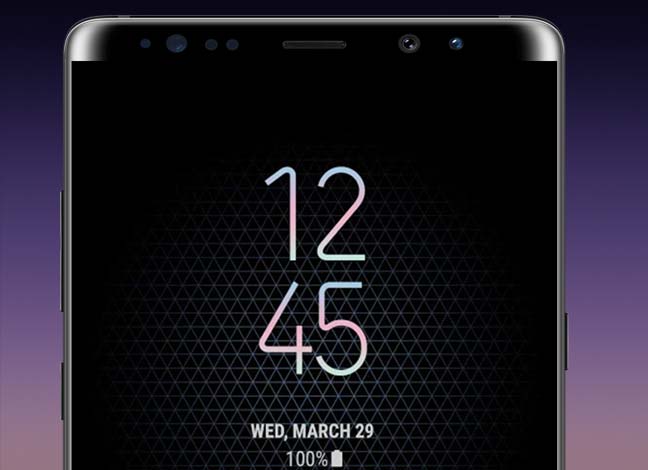 Table of Contents
How to Enable Always On Display on Samsung Nougat Devices
Always On Display is a part of Samsung devices that have an AMOLED display. It doesn't mean that every device from the OEM that offers AMOLED display also has this feature. The feature has been kept limited to devices like S7, S7 Edge, S8, S8 Plus, and Note 8. This is because the older and cheaper phones lack the required hardware optimizations, which would eventually lead to battery hogging.
Thanks to XDA member Sachin Kumar53, you can now enable Always On Display on Samsung Nougat devices. The way to do it rather very simple and does not require root or any other set of special ADB commands. The developer has mimicked the AOD feature and made it available as an app. The app simply enables the feature in the device's display settings (As easy as that).
Before you simply head over to the downloads, there are a few things that you should first take note of.
There are two apps – AODService.apk and AOD_PluginService.apk
You need to install both the apps in order to enable Always On Display feature.
You can enable this feature only on Samsung devices running Nougat 7.0 or above.
It only supports Stock ROMs (Experience/TouchWiz).
This feature will not work on AOSP-based custom ROMs.
Since your Samsung device is not officially supported by the feature, you may observe a bit more drain in battery once you enable this feature.
Now that you're informed about the app, you can go ahead and download the *.apk files and install them manually on your device.
Screenshots
Downloads
Download the following APK files from this XDA thread.
AODService.apk
AOD_PluginService.apk
Before you install the apps, it is important for you to first go to Settings -> Lock screen and security and enable the Unknown sources option. Once done, use the file manager and install both the apps.
After you have installed the apps, you can easily enable Always On Display feature by going to Settings -> Display. The feature is highly customizable and allows you to choose from 6 different clock layouts, colors, backgrounds, and more. So tweak it all according to your taste.
Check out more Tips and Tricks for Samsung:
Now enjoy this new feature. If you have any problems installing or customizing AOD on your Samsung Nougat device, feel free to ask us through the comments.