Want to upgrade your Nexus 6P to Android 10? Then you should consider installing a custom ROM on it. In this post, I have listed some of the best custom ROMs for the Nexus 6P, based on Android 10. These ROMs will be characterized on the basis of  – Stability, Performance, Updates, and Special Features.
Huawei's Nexus 6P was the last phone from Google's Nexus series and truly the end of a generation of a budget-friendly, yet flagship-level lineup. The phone, in its time, proved to be a strong contender against the top OEM flagships (apart from the infamous bootloop issue), be it in terms of the hardware or 3 long years of consistent software support.
Speaking of that, the Nexus 6P received its last official software update back in December 2018 which was based on Android 8.1 Oreo. Unfortunately, it never received the official Android 9 Pie support from Google. Well, since Android is open source, that shouldn't stop you from updating your phone, should it? No, I would not be asking you to compile your own ROM from the AOSP code. Rather, you can just install a custom ROM based on Android 10.
The goal of custom ROMs is not just limited to allowing you to run the latest Android version on your phone. It extends way further. Custom ROMs can offer you a lot of flexibility and options to customize your phone's software according to your needs, both visually and performance-wise.
If you own the Nexus 6P and haven't crossed paths with custom ROMs till now, then this is the best time to dive in. Not only will these help you get the latest Android version and security patch on your phone, but it will supply you with features that the stock software doesn't.
So without any further ado, let's get to it.
Table of Contents
List of Best Custom ROMs for Nexus 6P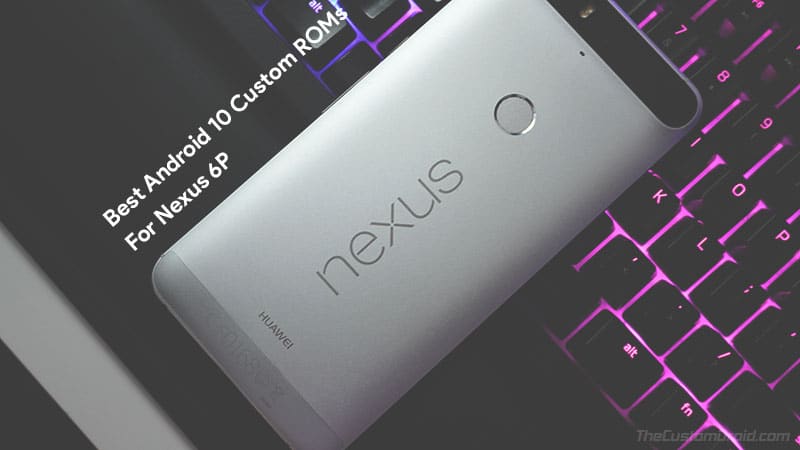 Devices from Google have always been the most development-friendly and easily customizable and the Nexus 6P isn't any different. Since its release in 2015, there has been a multitude of different custom ROMs available for the phone. But how would you know which is the best? To be honest, there isn't one.
Unlike with stock software/ROM, you have a lot of choices when it comes to custom ROMs and each one will be different in its own ways. And you wouldn't need to install each and every one of the ROMs to find the best one, as this has already been done for you.
So to help you with it, I have put together this list of best custom ROMs for the Nexus 6P. Like I mentioned earlier, all these ROMs have been chosen on the basis of four different factors – Stability, Performance, Updates/Support, and Special Features. 'Battery life' is another characteristic that I would have considered, however, I didn't because it can be subjective of the usage, degradation of hardware, and several other factors.
1. LineageOS 17.1 ROM (Android 10)
Developer: PixelBoot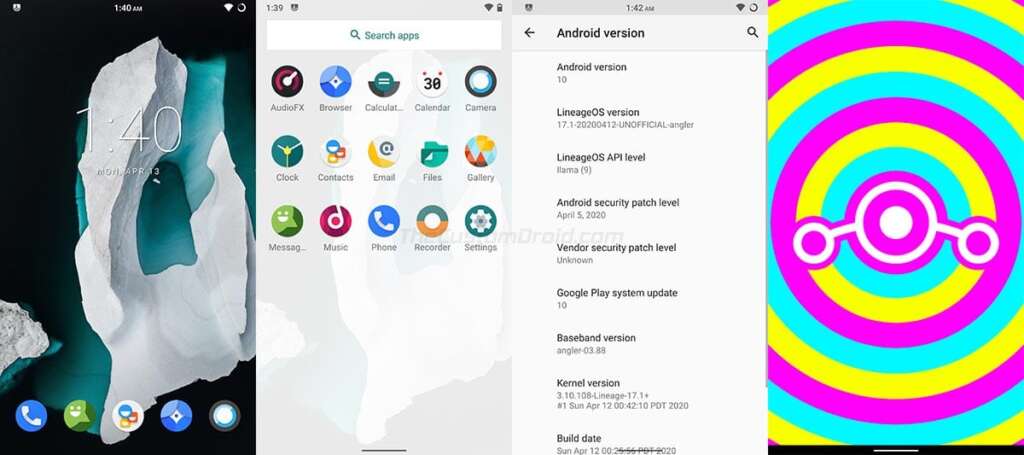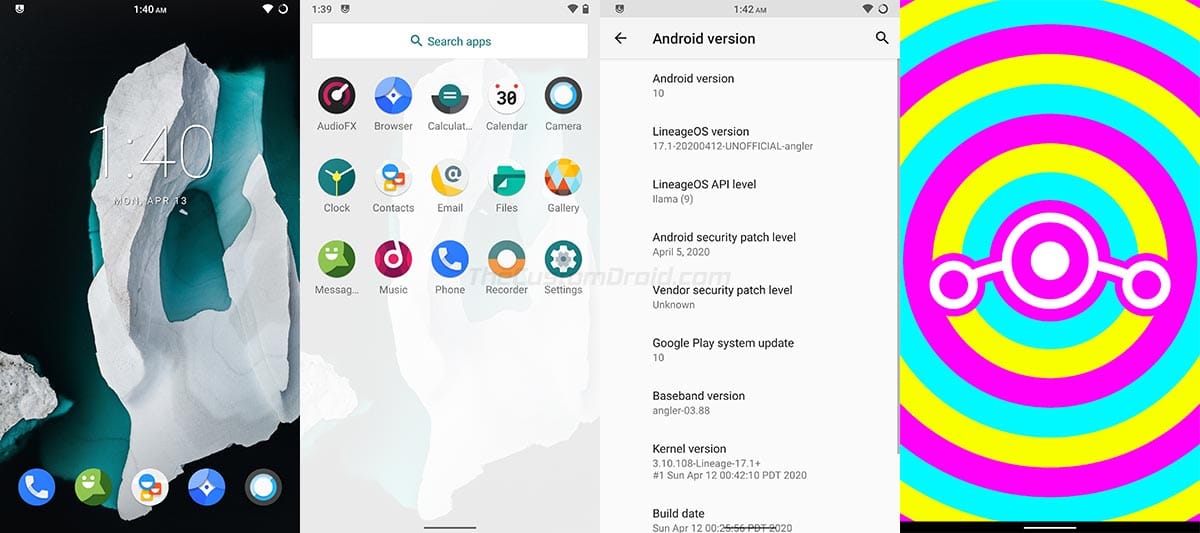 Coming from the roots of CyanogenMod, LineageOS is considered one of the best custom ROMs for Android. It is well recognized among the community and is known for offering an optimal balance between special features and stability. The unofficial port of LineageOS 17.1 for the Nexus 6P is bought to us by XDA Developer PixelBoot.
The ROM lets you get Android 10 on your Nexus 6P with all the new features like the system-wide dark theme, improved gesture-based navigation, smart reply in notifications, and much more. LineageOS 17.1 also includes a bunch of special features to help you customize parts of the software as per your needs. But unlike a lot of ROMs that filled with gimmicks, LineageOS offers features that users would actually use.
For instance, you can easily customize the status bar, quick settings, hardware keys, and gestures using the in-built settings. The in-built Trebuchet launcher in the ROM also features its own modified version of Google's theme engine as seen on Pixel devices, and it's certainly much more flexible and offers more customization.
The overall performance on this ROM is par from excellent, especially If you're coming from stock Android 8.1 Oreo. You wouldn't notice even the slightest of lag when compared to some other Android 10-based ROMs for the Nexus 6P. The same goes for the software's stability as well. In my personal testing, I didn't experience even a single random reboot or UI freezes.
Although the ROM is currently available as an unofficial port, it is still getting consistent updates from the developer including the latest Android security patches. The ROM also includes an in-built OTA updater that will help you update your phone to the latest version when it's released by the developer. For using the unofficial OTA updater, please refer to the instructions shared by the developer here.
Official LineageOS 17.1 support for the Nexus 6P can be expected soon as well, given that its predecessor (Nexus 6) has received the support recently.
Download LineageOS 17.1 ROM for Nexus 6P
2. PixelDust ROM
Developer: PixelBoot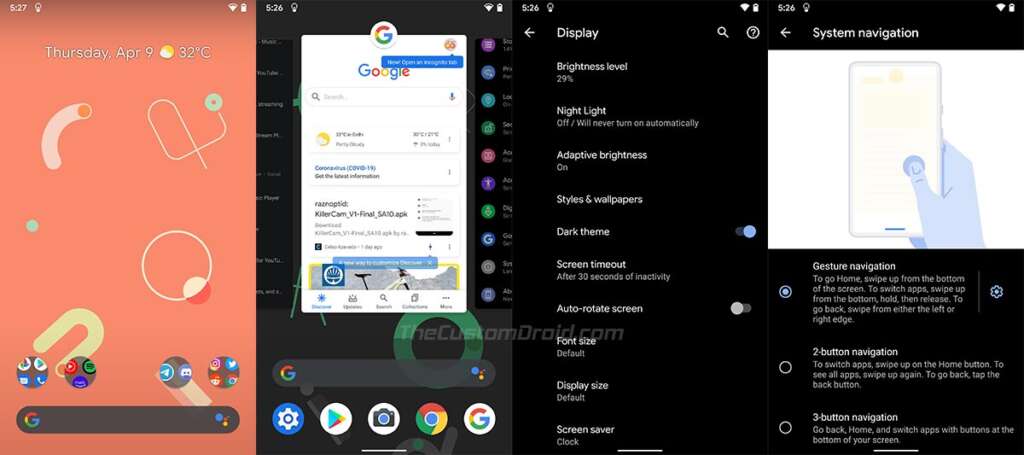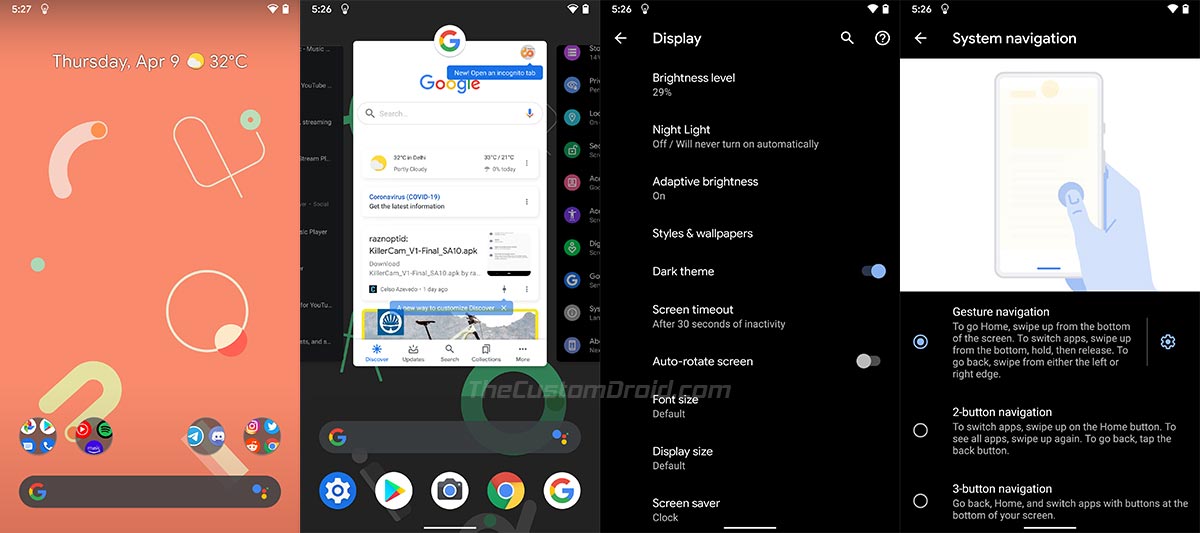 PixelDust is the newest Android 10 custom ROM for the Nexus 6P. It has been created by XDA Recognized Developer PixelBoot, who is the same person that ported LineageOS 17.1 and Pixel Experience to the phone.
Beginning with the features, since the ROM is based on Android 10, it offers all the new OS features like the system-wide dark theme, new gesture navigation, privacy and location controls, and much more.
But that's the tip of the iceberg. Things get really interesting when it comes to the special features that this ROM offers and according to the developer you "would've been missed if they hadn't been included". These features reside under the 'PixelDust Settings' menu and include everything you'd need for customization. Some of the major ones include:
Always-On Display
Edge Lighting for notifications
Pixel Themes: Accent colors, icon shapes, fonts, and more
PixelDust launcher
Customizable Lock screen shortcuts
Customizable status bar clock, battery, date, and more
Double-tap to Sleep in status bar and lock screen
Advanced Reboot Menu
And these are just a few to name. The ROM is filled with some very useful customization features that you'd enjoy. PixelDust ROM also comes with pre-installed Google apps from the Pixel phones and you can also download and install the Pixel 4 apps on your Nexus 6P.
Although the ROM runs the stock kernel built directly from AOSP, it offers optimal performance and fluidity throughout the OS. I have personally not felt any major lags in any sections during my testing and regular usage. The same goes for the overall stability of the system as well.
On the development/update front, PixelDust ROM would be regularly updated with the latest monthly security patches. This means you can be relieved when it comes to security and privacy.
Download PixelDust ROM for Nexus 6P
Latest ROM Build: Download Link
Original XDA Thread: Link
Telegram group for support and discussion: Link
3. Pixel Experience ROM
Developer: PixelBoot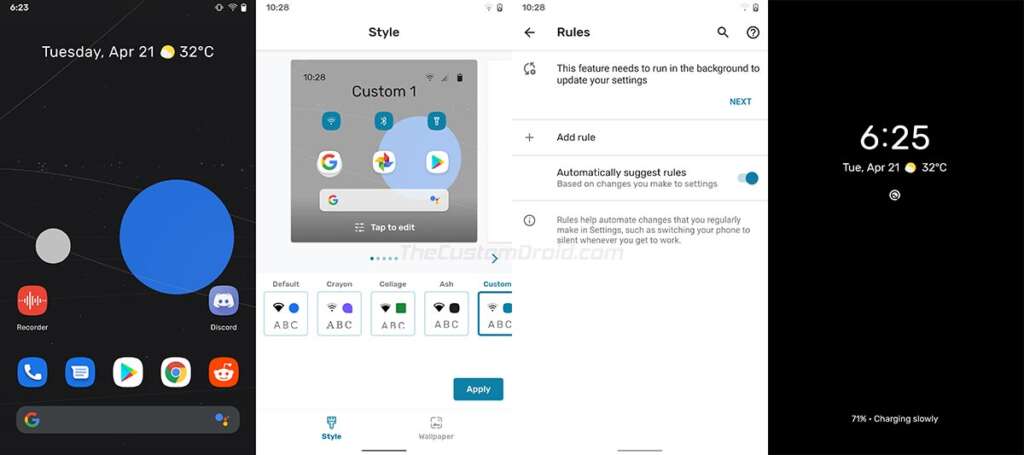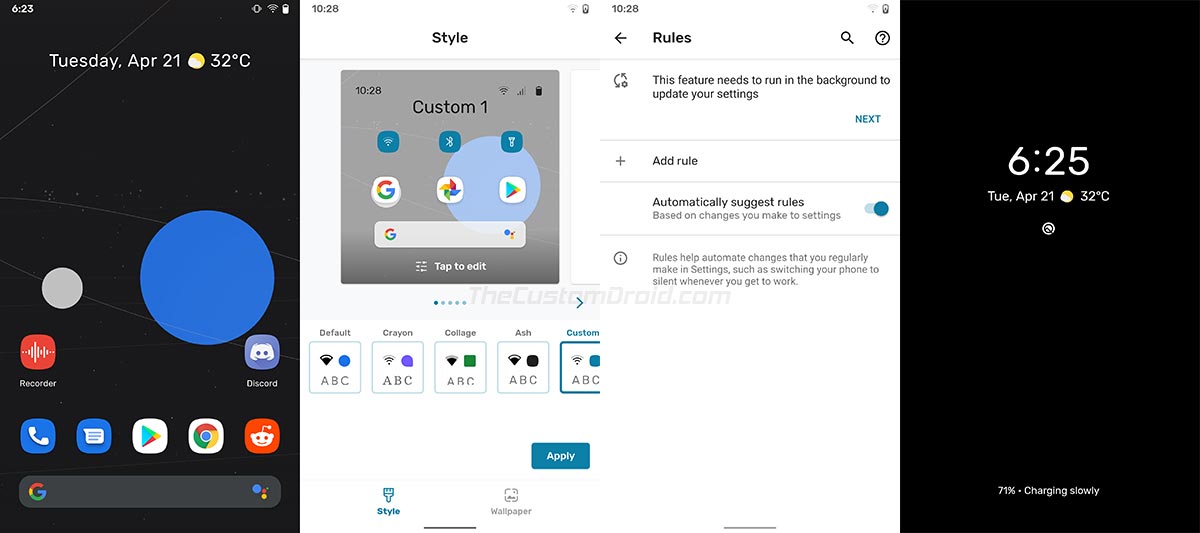 The third in this list of best custom ROMs for Nexus 6P is the Pixel Experience ROM. For some time now, it has been the choice of custom ROM for a lot of different OEM device users as it allows them to get the complete Google Pixel-like experience their phones. It is well-known for stability and doesn't bloat your phone with gimmicky features. So, you can expect a pure Pixel like feel.
When it comes to customization options, the Pixel Experience ROM offers a bare minimum since its goal is to rather offer a stable and clean Pixel-like experience on your phone. So, there aren't many customization options that you could see in a majority of other custom ROMs.
But that doesn't make Pixel Experience any less. It includes a majority of Google Pixel features like Always-on Display, Rules, custom accent colors, fonts, much more. It even includes the features that were introduced by Google in their latest Pixel Feature Drop. The ROM also comes with pre-installed Google Apps that are found on Pixel phones, so you wouldn't need to install them separately.
The ROM includes a lot of features from Pixel phones that could be somewhat resource-heavy. For the same reason, your Nexus 6P's UI may feel a little bit stuttery after the first boot. But after a while, it's all pretty fluid.
Now, the only part where the Pixel Experience ROM may disappoint you is development and updates support. The ROM is no longer updated with the latest security patch due to the lack of a device maintainer. The last update for the Nexus 6P was released in January this year with the December 2019 security patch.
So, overall, if you want to get the stable Pixel-like experience on your Nexus 6P, you should give a try to Pixel Experience ROM.
Download Pixel Experience ROM for Nexus 6P
4. AOSP 10.0 ROM
Developer: PixelBoot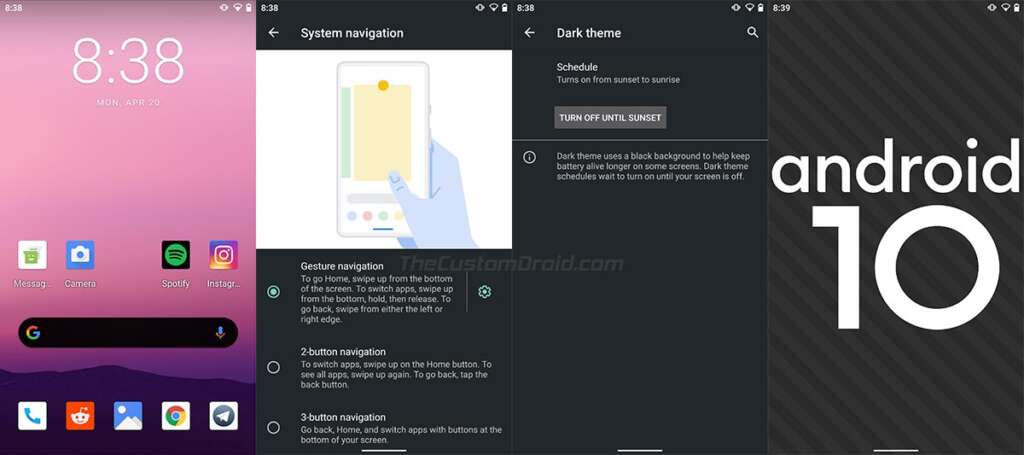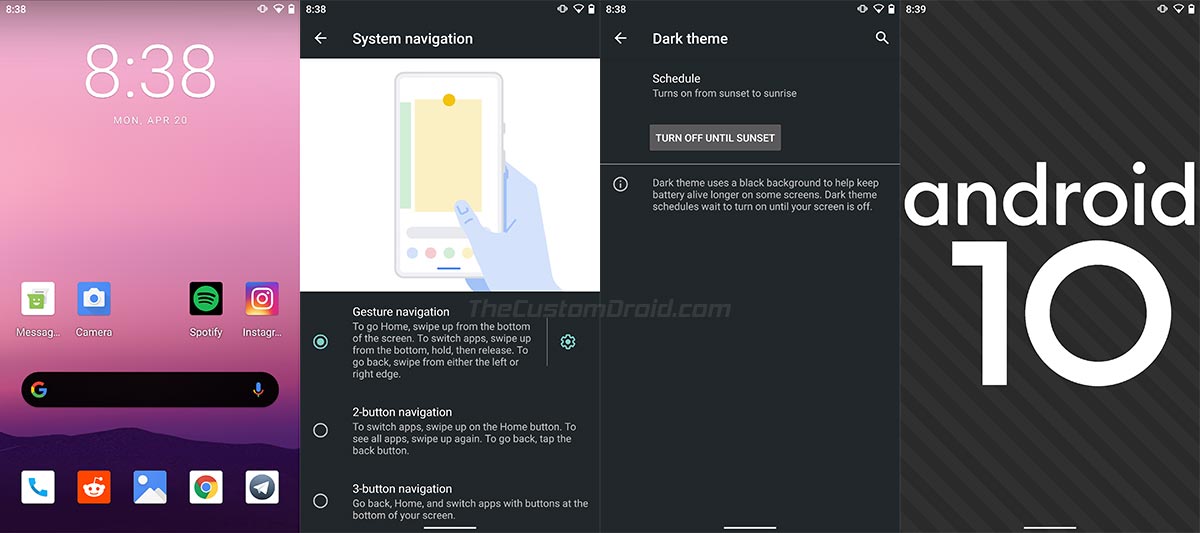 Built right from the Android 10 AOSP code, AOSP ROM for Nexus 6P lets you enjoy the stock Android experience. It's a great choice for users who want to get Android 10 on their phones without any additional features or customization options out-of-the-box. This will allow you to experience the same stability and performance as on the official Android Oreo firmware.
Since the ROM is based on Android 10, you will get to enjoy all the features offered by this latest Android version. All-new gesture navigation, system-wide dark theme, smart reply in notifications, and privacy & location controls are just to name a few.
The ROM also doesn't come with any mainstream Google apps pre-installed, so you will also have the choice to install the ones that you'd actually need. Performance and stability wise, the AOSP 10.0 ROM offers a very fast and lag-free experience be it while navigating through the OS or while switching apps.
When it comes to development and updates, the ROM features the latest Google security patch and would be updated every month with it. So in terms of privacy and security, you're completely sorted.
So, AOSP 10.0 ROM for Nexus 6P is a suitable choice for those who want to get Android 10 on their phone and don't need any customization options. Although, you can still root your phone via Magisk and use modules for any sort of customizations you may want.
Download AOSP 10.0 ROM for Nexus 6P
How to Install a Custom ROM on Nexus 6P?
The method of installing any of the above-listed custom ROMs is pretty straightforward. However, I would still recommend going through the XDA thread of the ROM you choose to install for installation instructions provided directly by the developer.
In order to install a custom ROM, you must first unlock the bootloader and install TWRP recovery on your Nexus 6P. Additionally, some ROMs may support File-based Encryption (FBE) and for such ROMs you will need to install an unofficial build of TWRP. Also, make sure that you take a backup of all your important data beforehand.
Below, you will find instructions on how to install a custom ROM on your  Nexus 6P.
Download the ZIP file of the custom ROM of your choice.
Next, download the GApps ZIP file if you want to install them. Note that some custom ROMs like Pixel Experience come with in-built Google apps. For such ROMs, you do not need to download and flash the GApps ZIP.
Also, download the latest Magisk ZIP file from here if you wish to root your phone.
Copy all the downloaded ZIP files to your Nexus 6P's internal storage.
Once the files have been copied, disconnect the phone from the PC and power it off.
Now, hold the Volume Down + Power buttons together to boot your phone into Bootloader Mode.

Tap either of the volume keys until 'Recovery Mode' appears on the bootloader screen, then press the power key to confirm and boot your Nexus 6P into TWRP recovery.
In TWRP, go to 'Wipe' > 'Advanced wipe' and select the 'Dalvik / ART Cache', 'System', 'Data', and 'Cache' partitions.

Once select, wipe the partitions by swiping the button on the screen.
Now, go back to the TWRP main screen and tap on 'Install'.

Navigate to the internal storage, select the ZIP file of the custom ROM you have downloaded and swipe the button on the bottom of the screen to install/flash it.
Further, you can flash the GApps if the ROM supports it and Magisk if you want to root.
Once installed, go to 'Wipe' > 'Format Data' in TWRP and enter 'yes' in the provided field to format your Nexus 6P's data partition.

Once everything is done, go to the 'Reboot' menu in TWRP and press the 'System' button to reboot your phone into the installed custom ROM.
Verdict: So which is the best?
LineageOS 17.1 ROM has a slightly noticeable advantage when it comes to performance and stability.
To be honest, there's no "one" particular best ROM for everyone, as it's subjective. I might prefer more features over performance, and you might not, and vice-versa. And that's the idea behind this post, to get the top ones under one roof and let you choose which one is the best custom ROM for your Nexus 6P. However, I would surely like to share my own experience and provide recommendations based on my personal usage.
If you're looking for a good amount of out-of-the-box customization options, I would suggest going for PixelDust ROM. If fluidity, performance, and features are your thing, then LineageOS 17.1 ROM packs them all together and is the best option. And if near-to-stock Android experience is what you seek, then install Pixel Experience ROM or AOSP 10.0 ROM.
My personal favorite ROM for the Nexus 6P is LineageOS 17.1. Even though all the listed custom ROMs utilize the same base, LineageOS 17.1 ROM has a slightly noticeable advantage when it comes to performance and stability.
If you want to, you can install each of the listed custom ROMs and decide from your own experience.
So, these are all the best Android 10 custom ROMs for Nexus 6P. Which one did you choose to install finally? Let me know via the comments. Also, if you think I have missed a ROM that deserves to be in this list, feel free to share it with me.