Google has recently announced its flagship devices for 2019, as the Pixel 4 and Pixel 4 XL. And there's already a lot of hype regarding the features that it offers. But it doesn't stop there, the latest Pixel lineup also comes with updated Google apps like the Google Pixel Launcher v10, Google Camera v7.2, Pixel 4 Live Wallpapers, and the new Google Recorder app. Through this post, you can download all Google Pixel 4 apps for your Android devices.
Table of Contents
All Google Pixel 4 (XL) Apps Available for Android Devices
Most of these apps are the original APKs that were extracted directly from Pixel 4. Some of these apps were primarily leaked and shared by a site (Nextrift) to 9to5Google.com way before Google announced the Pixel 4 back in October.
We already posted download links for the Google Pixel 4 camera app a few days ago. These apps could be installed on almost any Android device running Android 10 and Android 9 Pie (in some cases). On the other hand, the Pixel Wallpapers APK from the Pixel 4 couldn't simply be installed on any device, and for the same reason, a Pixel 4 Live Wallpapers port is now available through XDA.
Below, we have created individual sections for each of these available Google Pixel 4 apps, which will include information about the new features offered by the app, any present bugs, and the download links.
1. Google Pixel Launcher v10
The version 10 of the Pixel Launcher is already available for Google Pixel 3 (XL) and other Pixel devices running Android 10. Although the Pixel 4 Launcher app offers similar features and works almost the same.
However, there's one new feature, small yet functional that accompanies the leaked launcher app. That is, now you can swipe down from any part of the home screen to pull down the Notification Panel. Which means, you would no more need to reach out to the top edge of the screen to view your notifications. It's worth noting that there's no individual option to enable or disable this feature in the launcher app's settings menu.
Below is a short video by us, demonstrating the new swipe-down feature in action on a Pixel 3 XL running Android 10.
This new feature is already present in some popular third-party launcher apps like Nova Launcher. According to XDA, this feature was available for a brief period in Android 10 Beta but was removed later. Probably because Google wanted to keep it exclusive to the Pixel 4 (at least until the launch).
Download Google Pixel 4 Launcher App:
We are quite convinced that someone over at the XDA forums will surely modify it to work on other devices like the Essential Phone, OnePlus 7 (Pro), and OnePlus 6/6T that have been updated to Android 10 already.
2. Google Pixel 4 Live Wallpapers (Port)
The official Pixel Wallpapers app that comes built-in on Pixel 4 was also leaked out and it includes some very unique and interesting live wallpapers this time. However, the leaked Pixel Wallpapers 19 APK  from the Pixel 4 couldn't be directly installed on any device. But not to worry, XDA Recognized Developer Pranav Pandey has been able to port all the Google Pixel 4 (XL) Live Wallpapers for ARM 64-bit devices running Android 7.0 Nougat and above. He is the same person who previously ported the live wallpapers from the Pixel 2 and Pixel 3.
The new app includes several unique and interesting live wallpapers:
Doodle: You might might recognize this wallpaper if you have seen the leaked pictures of the Google Pixel 4. According to this specific wallpaper's description you can "Tap, drag, and fling! This wallpaper is yours to create". Which means, you can tweak the elements shown on the live wallpaper as you wish. Once you select the wallpaper, you'd see a new "Customise" tab to help you do the same. So, you can now play with your phone's home screen too!
Compass: This is a second new addition to the "Come Alive" section of the wallpapers app. It lets you pick a specific location, and the compass will point right in that direction to show you the way. Quite playful and functional at the same time, wouldn't you say?
Sights from the sun: This new wallpaper is the third new addition to the "Come Alive" set. It allows you to see movements of all the planets and their moons in our solar system. Cool, right?
Also, several new locations like Tarout Bay, Saudi Arabia, Mount Pilatus, Switzerland, Uluru, and Australia have also been added to the "Living Universe" section of the wallpapers app.
Something even more interesting about these live wallpapers is that turn into dark colors when the system-wide Dark theme is enabled on your device running Android 10. Technically, the app uses the WallpaperColors API that was introduced back with Android 8.1 Oreo. According to Pranav Pandey, the said API needed to be disabled in order for the Pixel 4 Live Wallpapers port to work on older Android devices.
So, the live wallpapers on any device running Android 9 Pie (excluding Samsung Galaxy devices running Android Pie devices with OneUI) or below will not adapt to the system-wide dark theme. The developer has stated that he will be releasing a separate APK of the port for that. So, keep your hopes up!
Download Google Pixel 4 Live Wallpapers Port APK:
If you encounter any bugs or abnormal behavior with the Pixel 4 Live Wallpapers port, please visit the original XDA thread and report it accordingly.
3. Google Pixel 4 Camera App (Google Camera 7.2)
The Google Pixel series is well known for its impressive camera experience, and the Pixel 4 (XL) is no less. The third in the list of Google Pixel 4 apps is the updated version of the Google Camera app. These are the new Google Camera 7.2.011, 7.1.019, and 7.0.009 Beta. It brings some major changes and features to the app, these include the following.
Astrophotography Mode: Lets you capture the Night Sky, the Moon, star, and even the Milky Way (When you find a clear night). This feature is only limited to the older Pixel 3 (XL) and Pixel 3a (XL) devices.
Completely revamped viewfinder interface:

The viewfinder now has rounded corners that looks well on phones with screens that have rounded corners.
Camera modes carousel is now placed below the shutter button.
Front/rear camera switch icon has been redesigned too.
The top bar is now removed and replaced with a swipe-down menu with a new icon to access the Google Camera app's settings.
Zoom and Exposure sliders now have a new design.
Speed suggestions in the Time Lapse camera mode is now much more user-friendly.

The camera viewfinder now defaults to "Full View" (16:9) mode and could manually be switched back to the traditional 'Standard' 4:3 ratio as well.
The camera app's main settings now have a few new options as well like "Framing hints", "Save selfies as previewed", and "Camera photo resolution".
There's also a new "Infinity" focus mode in Night Sight.
New horizon level indicator while taking landscape photos to ensure that they are properly aligned horizontally.
That's quite a lot of new features and will help improve the overall camera experience on your device.
Download Pixel 4 Google Camera 7.x APK:
The provided Google Camera 7.x app from Pixel 4 (XL) is compatible with any device that comes with the Google Camera pre-installed. These include the older Pixel devices and some OEM Android One devices too. The only requirement is that your device must be running Android 9 Pie (For v7.0.009) or Android 10 (For v7.1.019 and v7.2.011).
4. Google Recorder App
The last in the list of Google Pixel 4 apps is the official Google Recorder app, which is a voice-recording app. The app is quite simple both in terms of UI as well as usage and is powerful at the same time considering the features that it offers.
As soon as you hit the red recording button, you will see a live waveform animation indicating the loudness of the nearby sounds or voice(s) being recorded. You can pause/resume the recording at any point, assign a proper title and a location to it as well. The Google Recorder app is also capable of distinguishing between music, speech, laughter, and whistles, which is quite cool! So while you're recording, the app will also show the type of audio being recorded.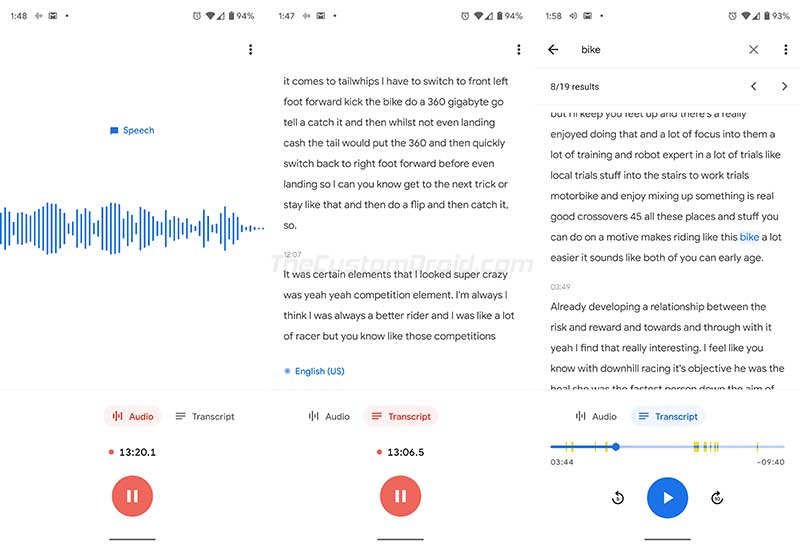 One of the most anticipated features of the app is "Auto Transcription", which automatically transcribes the input audio while you're recording it. This is a great feature, especially for students and journalists. After recording the audio, you can easily share the transcription using the in-built option. Another part of this feature, that makes it even more awesome, is that you can search through the transcription to find specific sections of the recorded audio.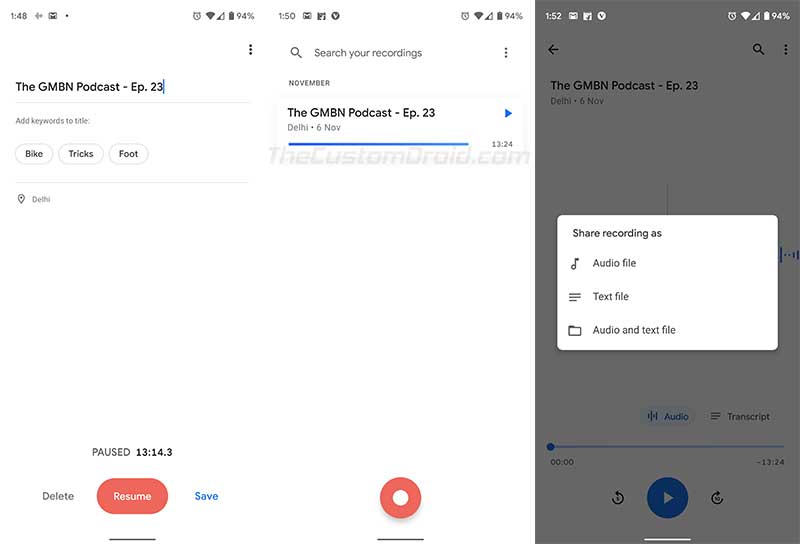 Once saved, the recording could be shared as individual audio-only, or text-only, or as an audio and text file. It's also worth noting that the app supports system-wide Dark Theme in Android 10. You can also manually switch the color theme by going to the app's settings menu.
Last but not least, all the features in the Google Recorder app from Pixel 4, including live audio transcription will work flawlessly even if your device is offline. As we said, it is simple, yet powerful!
Initially, the app was leaked online like all other Pixel 4 apps. Even though it is officially available on the Play Store now, but it couldn't be installed on any other smartphone apart from the Pixel 4 itself. According to a report from AndroidPolice, the Google 'Recorder' app from the Pixel 4 will be available for older Pixel devices as well. However, there's no official date-of-rollout or exact models for which the app will be available.
Download Pixel 4 Recorder APK:
The Google Pixel 4 Recorder app could be installed on any device running Android 9 Pie or Android 10. We have personally tested it on our Galaxy S10e (on Android Pie) and Pixel 3 XL (on Android 10).
So, these were all the Google Pixel 4 apps that you could download and install on your device. Let us know how you feel about these new and updated Google apps from Pixel 4? We're pretty impressed with the new 'Recorder' app and updated Google Camera app, what about you? Drop a comment below.