In this post, we'll show you how easily get Android P features on any Android device running Oreo, Nougat, Marshmallow and Lollipop OS.
Software updates are refreshing and one of the most desirable thing that any smartphone user would want. They bring improvements to the previous version and also provide new features at the same time. The latter is what excites most users mostly. But, getting your device to run the latest available Android version is highly dependant on the manufacturer. The process can take a few days to months. During this phase, users often wander and choose several unofficial ways to get the exclusive features early. Google recently announced its next major Android version as Android P Beta, mainly aimed at testing the new firmware and providing feedback. This would help Google to release the final update as planned and highly stable for daily usage. However, only users with the Google Pixel phones have access to it. Well, we have some good news! Irrespective of the device you use, you can still get Android P  features on Oreo, Nougat, Marshmallow, and Lollipop.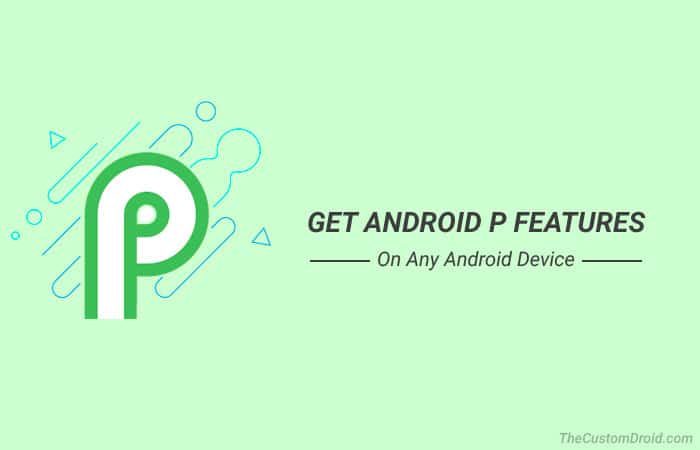 Table of Contents
Get Android P Features on Any Android Device
Android 9.0 has bought a bag of goodies with it, and everyone seems to be excited about it. We discovered a lot of changes in the system after running the preview for about a day. The UI has seen a significant makeover in case of notifications, quick settings, volume slider, and settings. Other features include the new Pixel launcher with shaded-dock, inbuilt screenshot editing software known as 'Markup', new animations, and left-aligned clock on the status bar. We are merely scratching the surface right now, you'd probably find a lot more when you actually start using it.
Ever since the dev preview was first available, the developer community is determined to port the exclusive Android P features to older devices. While it quite hard to backport every single feature, the developers have indeed spent quite some time in bringing a few major ones for devices running Android Oreo and older versions. So before you even follow the tips to get Android P features on your device.
Note that a few features can only be used on rooted devices. So, if you still haven't rooted, you might have just found the reason to do it today. If you're unsure how to do it, then follow our guide to root Android using Magisk.
1. Get Android P Launcher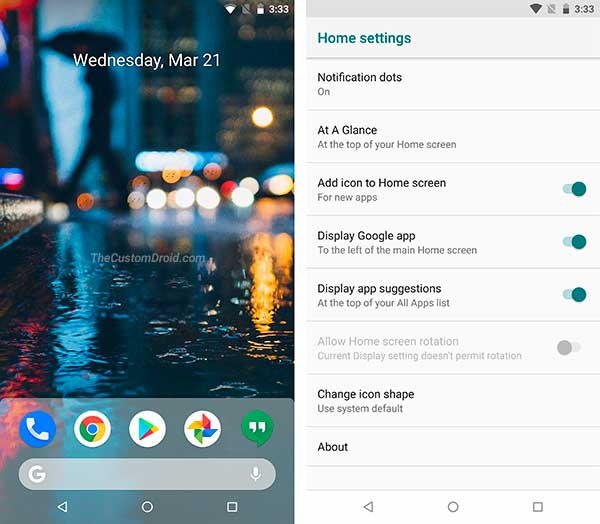 Another Android P feature that users seem to be excited about is the new launcher for the Google Pixel devices. While there isn't any major change, the launcher interface has been tweaked a little. There are a couple of new additions, as well as some improvisations over the original Pixel launcher. The changes we discovered in the new app are as follows:
Translucent dock background with curved edges
New mic button in the bottom search bar
Navigation slider on top of the dock
No more "Search" label in the bottom search bar
No more arrow icon on the top of the dock
The new Android P launcher is definitely worth a try and would easily mimic the Google Pixel homescreen on older Android devices.
Download Android P Pixel Launcher APK
2. Get Android P Screenshot Editor – Google Markup Tool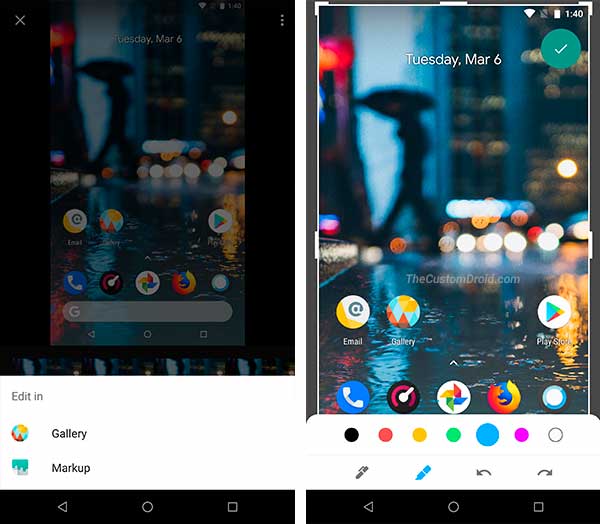 Editing screenshots or images to send them over to your contacts would have been a fuss till now. With Android P, Google has now introduced a new app, known as 'Markup'. It allows you to easily edit your photographs/screenshots to draw doodles or resize them. The tool comes in really handy. Thanks to XDA developer Quinny899, who ported the Google Markup app from Android P to older devices running Oreo, Nougat, and Marshmallow.
Download Google Markup App from Android P
3. Get Android P Theme (Notification Shade, Settings Page, and Quick Settings)
The new Android version comes with a major overhaul of the notifications bar, quick settings, and device settings. While the launcher really turns out to provide a similar experience to Android P, it is still not sufficient to get the core modifications to the system. To do so, you can easily setup Substratum on Android Oreo and use it install a third-party Android P theme on your device. This could be done in two ways – (1) You can either root your device or (2) you can use the Andromeda add-on to use the app without root (only for Oreo). If your device is already rooted, simply jump to the steps below. If you have chosen the latter, keep following.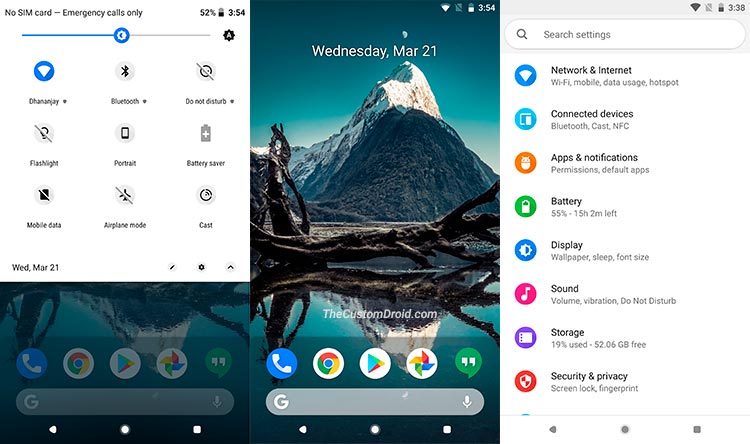 First, read our tutorial on how to install Substratum on Android Oreo. Once done, simply download and install Flux White Substratum theme from Google Play. The theme has been recently updated to provide a similar look to the one you would have seen in Android P. Once you have successfully completed the setup and installed the theme, launch 'Substratum' on your device.
Go to 'Themes' and select 'Flux White'.
Tap on 'Select your android version' menu and choose your OS.
Next, turn ON the overlays toggle on the right.

Press the round icon on the bottom-right and select 'Build & Enable'.
Once the theme is applied, go back to the homescreen and test out the new Android P theme. In case some elements are visually incorrect or breaking, simply reboot your device.
4. Get Android P Volume Slider
The latest Android version now offers a different Volume Slider. Instead of the regular controls that would normally appear on the top of the screen, the new Volume Slider in Android P has been moved to the right edge of the screen, just like they did to the Power menu in Android 8.1 Oreo. The new volume controls seem more matching to the UI and offer an additional ringer control button just underneath the slider.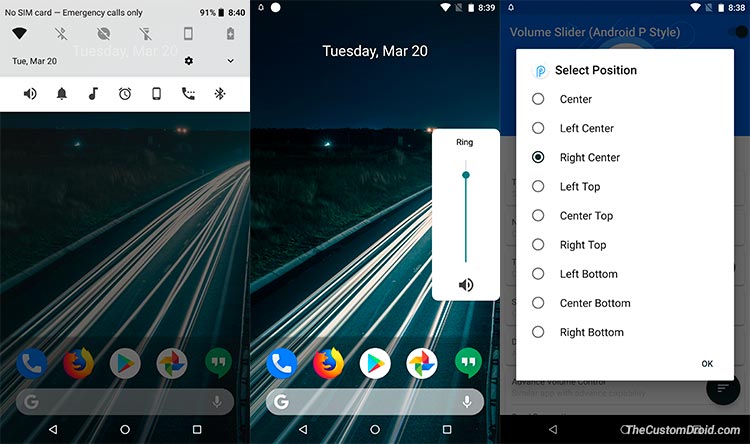 Thanks to Android P Volume Slider app, developed by XDA member yogi.306, you can now imitate the slider on older Android phones. The app is available for free.
Download the app from XDA labs.
Manually install the APK on your phone.
Launch 'Android P Volume Slider'.
Follow the on-screen instructions to grant 'Do Not Disturb' and 'Display over other apps' permissions.
Pull down the notification shade and tap on the Volume controls.
You can also adjust the slider position easily within the app.
5. Get Android P Ringtones, Notification Tones, and UI Sounds
The new Android version also comes with a few more things like new ringtones and system sounds. So why should you just stop at the visual changes? In order to completely simulate Android P, it is best to get Android P ringtones, notification tones, alarm tunes and UI sounds on your device running older Android version. The ZIP file includes 12 ringtones, 15 notification sounds, 25 UI sounds, and 12 alarm tunes which could be easily applied from the device settings or using a file manager.
Download Android P Ringtones, Notification Tones, and UI Sounds
6. Get Android P Lockdown Feature
With the latest Android version, comes a new security feature for the devices. The feature basically enhances the lockscreen security by disabling fingerprint and extended access functionality. Which means, once a device has entered Lockdown Mode, you will need to manually input the password/PIN to use it. Any other unlocking methods like fingerprints and Smart Lock will be bypassed.
Radefffactory has come up with a one-of-a-kind app that mimics the Android P lockdown feature on any phone running Oreo, Nougat, Marshmallow, and Lollipop. The app simply makes use of the Device Administrator permissions to override the fingerprint unlock and Smart Lock features. All you got to do is install the app, run it, and enable the app. When prompted, grant the required permissions. Next, place the Lockdown icon on the homescreen. Finally, simply tap on the icon to enter lockdown mode.
Download Android P Lockdown App
7. Get Android P Features using Android P-ify Xposed Module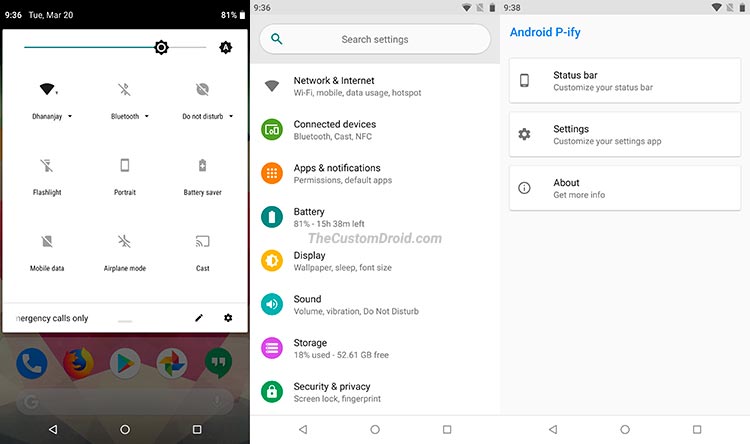 Users with rooted Oreo devices would find it even easier to get Android P features. This could be done by using the Android P-ify Xposed module that brings the major UI changes to your device. So for those of you have rooted their device and have installed Xposed Framework on Oreo, can easily install the module and enjoy some of the latest features as listed below.
New Quick Settings design
New device settings with colored icons
Left aligned status bar clock
Force Google dark theme (Android 8.1 Oreo only)
New app transitions
All you have to do is to install Android P-ify Xposed module and activate it.
Download Android P-ify Xposed Module
Conclusion
So these were our tips on how to get Android P features on devices running Oreo, Nougat, Marshmallow, and Lollipop. Let us know which one of the above is your most favorite and why? Thanks to all the developers who have contributed to different app, ports, and mods to help us get the features. We shall also be updating this post with any new features that are ported.
If you have any questions, just leave a comment below.