Do you want to start customizing your Honor 7X and install custom ROMs on it? In this tutorial, we will show you how to unlock bootloader on Honor 7X. You will need to unlock the bootloader in order to install TWRP recovery and root the device.
Huawei has announced quite a long list of devices this year, of which the Honor 7X is the most recent one. It seems like the manufacturer's take on the budget segment phones that come with a FullView (bezel-less) display like OnePlus 5T, Oppo R11s, and more. The phone comes with EMUI 5.1 based on Android Nougat. While EMUI is an extremely customizable Android skin, a few users still prefer custom ROMs to gain a close-AOSP experience. Or, you might just want to install mods like Xposed Framework and ViPER4Android or root the device. For any such case, you will need to unlock bootloader on Honor 7X.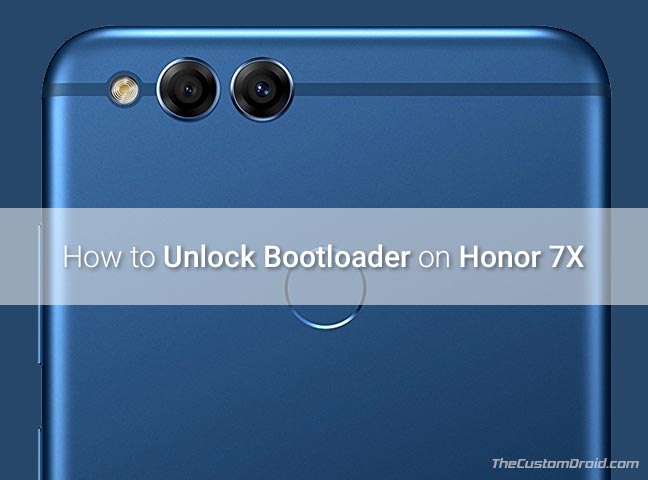 Table of Contents
How to Unlock Bootloader on Honor 7X
The Honor 7X is a remarkable device, as it seems from the offered specs and price tag. It is equipped with an Octa-core HiSilicon Kirin 659 processor, 5.93-inches FHD+ IPS LCD display (18:9 ratio), rear-mounted fingerprint sensor, 16MP + 2MP dual-camera setup, support for USB OTG and more. The classic metal body gives the device a premium finish.
Enough of the talking about the device, you are probably more acquainted with the hardware and the software experience. But if you want to extend your reach and do more with the provided hardware and enjoy a plethora of features on your Android, then this is the way to take off. The steps in this guide will help you unlock bootloader on Honor 7X easily.
Unlocking the phone's bootloader will allow you to modify Android phone's partitions. So you can wipe and flash the existing partitions. Further, an unlocked bootloader is an utmost requirement, if you wish to install a custom recovery like TWRP or root the device using Magisk or SuperSU.
Fortunately, Huawei officially provides the method to unlock bootloader on Honor 7X. It is fairly easy to do so, by just executing a Fastboot command. The steps laid below will take you through each and every step in detail.
Prerequisites
Instructions to Unlock Bootloader on Honor 7X
We have split the instructions into two steps. The first step involves retrieving the unique unlock code for your device. The second step will guide you on how to unlock bootloader on Honor 7X using a fastboot command.
The method will work for all Honor 7X variants including BND-L21 (Europe), BND-L22 (India), BND-L24 (USA), BND-AL10/TL10 (China).
Step1: Get Unique Unlock Code
Following are the details that you will need to acquire:

Product model: BND-L21, BND-L22, BND-L24, or BND-AL10/TL10
Serial number: 'Settings' » 'About phone' » 'Status'
IMEI or MEID: Enter "*#06#" in the dialer to view IMEI.
Product ID: Enter "*#*#1357946#*#*" in the dialer.

Save the details on your PC.
Open the Huawei Unlock Page on the PC and log in with your Huawei account.
Scroll down to the bottom and select the "I have read and accept all terms above" checkbox. Then click on 'Next'.


Agree Unlock Agreement to Unlock Bootloader on Honor 7X

Select 'Since EMUI 5.0' in the first drop-down menu.
Next, fill in all the details as required in the unlock form.

After you have entered the information, click on the 'Commit' button.
The unique unlock code for your device shall be displayed on the screen. Save this code, we will use it in the next step to unlock bootloader on Honor 7X.
Step 2: Unlock Bootloader on Honor 7X using Fastboot
If you're using macOS/Linux machine, make sure to add a dot and forward slash (./) before every fastboot command.
Boot your Honor 7X into Fastboot mode:

Power off the device.
Press and hold the Volume Down + Power button altogether.


Boot into Fastboot Mode to Unlock Bootloader on Honor 7X

While your Honor device is in Fastboot mode, connect it to the PC using the USB cable.
Go to the C:\adb folder where all the ADB and Fastboot binaries are present.
Hold the SHIFT key on the keyboard and right-click on an empty space inside the folder.
Then select 'Open command window here' or 'Open PowerShell window here' from the pop-up menu.
Enter the command to make sure that your device is being detected properly:

fastboot devices

The command should return a device ID along with the 'fastboot' message.
Finally, unlock bootloader on Honor 7X using the command below:

fastboot oem unlock <unique-unlock-code>

Replace "<unique-unlock-code>" with the unlock code you saved during the previous step. Example:

fastboot oem unlock 1234567912345674

Your Honor 7X bootloader will be unlocked instantly and it shall also be wiped completely. So reboot it into the OS.

fastboot reboot
You can now go ahead and customize your device by installing TWRP or rooting it. So you have succeeded to unlock Honor 7X bootloader. If you have any queries regarding the process, drop a comment below.