Have you bought Huawei's latest Honor-branded smartphone? In this tutorial, we will show you how to unlock bootloader on Honor 9 Lite. The procedure covers all the device variants including LLD-AL00, LLD-AL10, and LLD-TL10.
Huawei has recently gained a decent position among the top Android manufacturers. The company has drastically shifted its focus to the mobile platform and is also making great advancements in terms of AI technology. In order to stand up against other affordable OEM devices, Huawei introduced the Honor 9 Lite in December.
While some users would be satisfied by the stock EMUI 8.0, there are others who may feel otherwise. In such a case, a user may choose to modify the device with third-party software and mods to get the desired features. But even before you move in that direction, it is first necessary to unlock bootloader on Honor 9 Lite.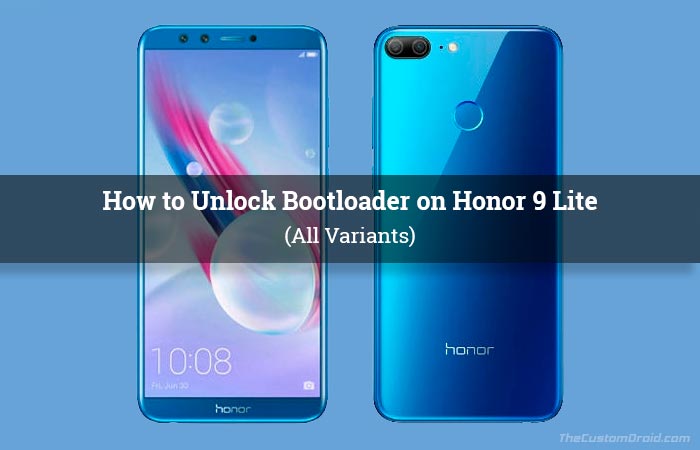 Being an Android enthusiast, unlocking the bootloader is probably the first thing I (and many others) do. But that isn't necessary for newbies who have recently entered the development scene. One also shouldn't simply opt for that path, because their friend, neighbor, or colleague has done it. While there are surplus benefits to unlocking the bootloader, here are some well-known factors that could influence your final decision.
Unlocking the bootloader directly voids the phone's warranty. It may also depend on your region/country.
It may make your device vulnerable to malware. For example, the third-party firmware you use may not be updated with the latest security fixes.
Manually flashing the firmware or messing around without full knowledge may lead to a brick.
You may further root or install custom ROMs on the device, which will prevent you from getting direct OTA updates from Huawei.
Now that you're aware of the benefits, as well as the risks involved, follow the steps below to unlock bootloader on Honor 9 Lite. The procedure is applicable to all variants including AL00, AL10, and TL10.
Table of Contents
How to Unlock Bootloader on Honor 9 Lite?
In order to flash third-party software, such as custom ROMs/recoveries/mods or to even root the phone, you will first need to unlock bootloader on Honor 9 Lite. Unlike the Google Pixel/Nexus phones, Huawei/Honor devices require a unique unlock password in addition to the generic fastboot command. Which is quite easy, when compared to the method followed by OEMs like Xiaomi.
The overall procedure is split into three major steps – (1) Getting the device ready; (2) Retrieving the unlock password from Huawei; and (3) Unlocking the bootloader using Fastboot. Once you have correctly followed each and every step, you shall be able to easily unlock bootloader on Honor 9 Lite.
Step 1: Preparations
First and foremost, take a complete backup of your phone's data. The process will completely wipe the device including the internal storage. We suggest that you follow our in-depth Android backup tutorial.
Install Huawei USB drivers on the PC.
Also, install ADB and Fastboot tools on your PC.
Get the phone's serial number and product ID. To do so, enter "*#*#1357946#*#*" in the dialer.
Next, get your device's IMEI number by going to Settings > System > About phone.
The next step in order to unlock bootloader on Honor 9 Lite is to acquire the unique unlock password directly from Huawei.
Step 2: Get Unlock Password from Huawei
Open Huawei unlock page on the PC.
Log in using your Huawei account.
Scroll down to the bottom and click on 'Next'.

Click on the drop-down menu and select 'Since EMUI 5.0'.
Fill in the details which you acquired during step 1.

Click on the 'Commit' button.
The unlocking password shall be displayed on the screen.

Save this password on your PC.
The final step to unlock bootloader on Honor 9 Lite is to execute the fastboot command with unique unlock password that you just acquired.
Step 3: Unlock Honor 9 Lite Bootloader
Next, connect the phone to the PC using the USB cable.
Go to C:\adb, where the ADB and Fastboot binaries are present.
Inside the folder, hold the SHIFT key and right-click on an empty space.
Select 'Open PowerShell window here'.
Confirm that your device is detected properly using:

fastboot devices

Replace "unlock-password" with the 16-digit unlock password that you got during step 2. Example:

fastboot oem unlock BBSMKDSOK09NK98D

As soon as you execute the command, a confirmation message will be shown on the device's screen.
Select 'Yes' and confirm by pressing the Power button.

Your Honor device will instantly reboot and perform a factory reset.
After everything is complete, it should boot back into the OS. Note that after you have succeeded to unlock Honor 9 Lite bootloader, you shall see a warning message every time you boot. The message itself is normal and shouldn't harm your usage in any manner.
Now that you have unlocked, you may further root the device using Magisk/SuperSU, which will give you administrative privileges over the complete OS. You may also flash a custom recovery like TWRP and start using a custom ROM.
So this was our tutorial on how to unlock bootloader on Honor 9 Lite. If you have any questions regarding the procedure or would like to further discuss the topic, kindly leave a comment below.