Using an Android for a longer period could be troublesome until you decide to act out smart and perform some necessary steps. Today, we are going to help you to Improve performance on Android phones and tablets, to restore the stability.
As the same way it is essential to clean your device's screen, or body, so that it looks snappy, it is also necessary to concentrate on the software, in order to maintain the swiftness and stability of your device.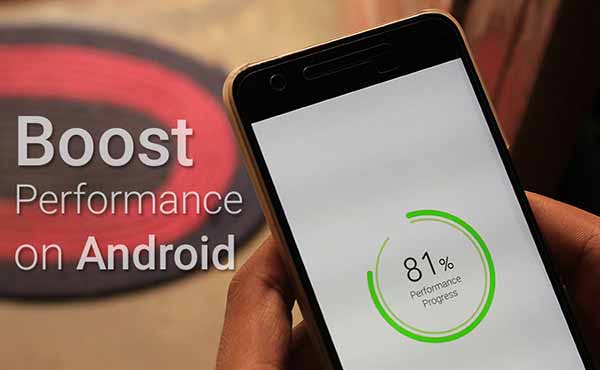 With time, it's highly likely that your Android will start to lag and offer a shorter battery life.  Here, we are going to discuss some helpful tips & tricks, that I myself perform on my Android phones, regularly. These are going to come in handy, if you are using a device for a long time, or planning to do so.
Table of Contents
How to Improve Performance On Android
Clear Device/App Cache
Supposedly, you have been using a specific app for months now, and suddenly somehow it now refuses to open and shows a forced closure. In a very simple way, the phone is asking you to clean up. If you have been using a device for a long time, without cleaning it regularly, you are definitely going to suffer from these issues, maybe not now, but in the future, for sure.
This is the foremost step that I perform when I am affected by lags or force closes. Now, this issue could be dealt with in two different ways, either you clear the complete cache using TWRP recovery, or simply wipe the cache of a particular app.
Take AOSP Gallery app for example. I have approximately 2000 photos residing in my gallery, and its cache persists on my internal storage, even if I flash a different ROM. So, at moments, it gives me force closures or it may just not open. To tackle such situations, you can simply go to Settings > Apps, and open the related app. Now, tap on Storage, and select CLEAR CACHE. The app cache will be cleared instantly now, and you can try opening the app again.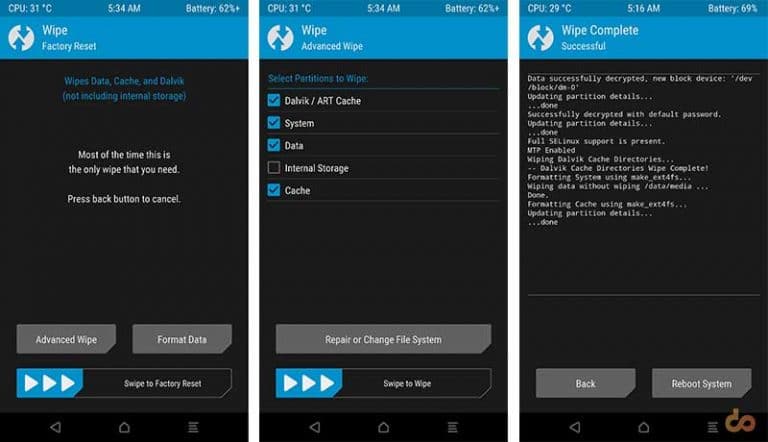 Clearing the cache via the recovery is a good practice to carry out, and keeps your storage clean and tidy. Follow the instructions below to perform this action via TWRP recovery.
Go to 'Wipe' > 'Advanced Wipe'.
You will now see several options (partitions) to select, for wiping.
Tick the 'Dalvik/ART Cache' and 'Cache' check-boxes.
Now, swipe the 'Swipe to Wipe button on the bottom of the screen.
Once the process is done, tap on 'Reboot System'.
This will help you wipe complete cache on your Android.
Remove Unnecessary Apps
This is an efficient step, that not only frees up storage but also influences RAM and battery life. I install at least 2-3 apps every day, to test their functionality and see if they prove useful to me. But there are some that have proved to be extremely battery hogging, so it's illogical to have them installed.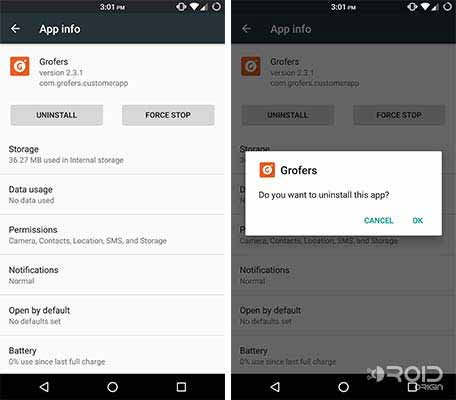 If there's an app that you do not put to use, and still have it installed unnecessarily, you should uninstall it right away. To do so, just head over to Settings > Apps. Choose the app, and tap on the "UNINSTALL" button.
I personally uninstalled over tens of apps, and it did affect my Android's performance in a positive manner. A little advice, remove Facebook App from your device, it's a resource-consuming app. Do it and observe the change. Anyway, you can always open Facebook in Chrome or a third party browser, which is not much different.
Choose Custom ROMs Wisely
As of today, there are hundreds of different custom ROMs available for various Android devices. If you have a good amount of choice, like me, with my Nexus 6P. You should carefully choose a ROM and one which focuses more on stability and performance, rather than features.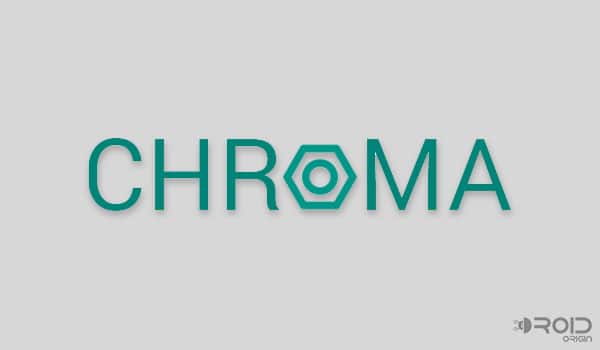 Chroma ROM for the Nexus series smartphones is a great choice if you seek to increase your phone's performance.
If this is your first time, the link below might be helpful.
Use A Custom Kernel & Tweak It
A Kernel is a majority factor that is depended-on, for your device's better performance. Just like the ROMs, custom Kernels are available for almost every Android smartphone, or tablet. So, make a worthy choice and match your favorite custom ROM with a suitable kernel, and tweak it, to output some good scores on performance.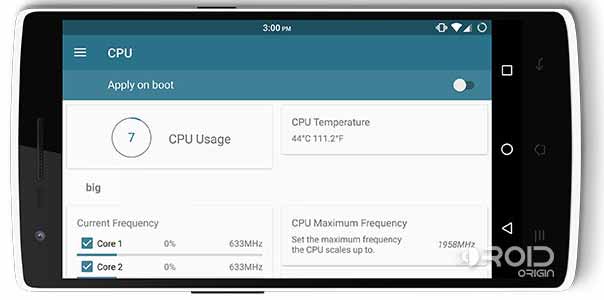 Some known custom kernels are – franco's, AK, and ElementalX. Later, after installing the kernel, you can tweak it with the native apps, or use 'Kernel Adiutor', which is free and offers a lot of options. Disabling options like gestures, ambient display, and fast charge modules, helps to push the performance. If your kernel offers an overclocked frequency, try and bring it back to stock.
Use High-Speed Memory Cards
I have never been a huge fan of external storage. But if your phone offers support for external storage, like Micro SD cards, you should always use a card that supports high transfer speeds and performance. A slow SD card will always influence an adverse effect on the Android device, and might at times, cause lags.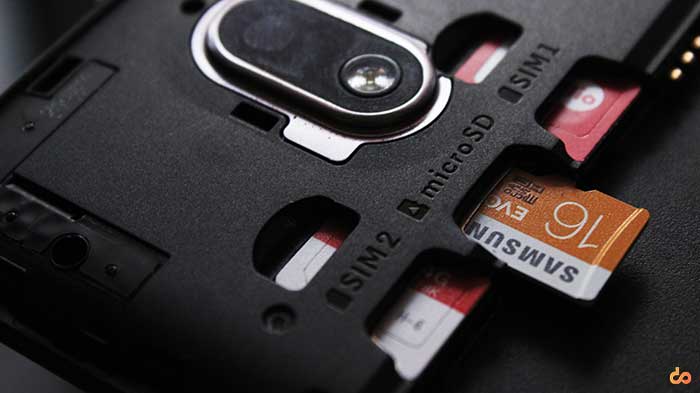 Using a card with a decent amount of storage, like 64 GB, with a higher class like class 10, would affect a great deal in the performance of your Android. Brands like SanDisk, Transcend, and Samsung, offer good quality cards that you might want to try out.
Don't Use Extra Widgets or Live Wallpapers
Widgets, especially those that display real-time data, like RAM usage, consume a huge amount of battery. Also, using live wallpapers have a similar effect.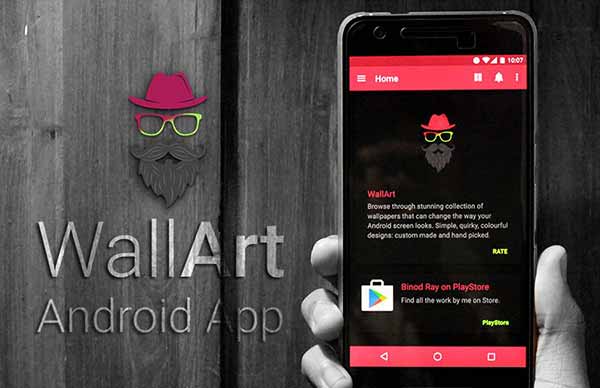 So try not to use such widgets, engage only those that are necessary. Also, make use of still wallpapers, and if you're someone like me who likes shifting wallpapers every now and then, you might want to use WallArt Android App. Just click on the link below.
WallArt Android App – The Best Source For Wallpapers
That was all that we had under our sleeves. If you feel, something more could be added to improve performance on your Android, let us know via the comments.
These might be interesting too: