OnePlus has pushed another stable OxygenOS firmware based on Android 8.0 Oreo. Follow this guide to download and install OnePlus 5 OxygenOS 5.0.1 update.
This New Year has been surprisingly great for OnePlus device owners. During the span of last 10 days, the manufacturer has announced several new updates for its supported devices. This also includes the first ever Open Beta for OnePlus 5T. The predecessor – OnePlus 5, also received the first stable build based on Android 8.0 Oreo. The said update had a few issues that are now fixed, packed, and released as OnePlus 5 OxygenOS 5.0.1 update.
Table of Contents
Manually Install OnePlus 5 OxygenOS 5.0.1 Update
Previously released, OxygenOS 5.0 update for the OP5 proved to be walking disaster among the users who tried installing it. A number of device owners reported that they have been facing constant issues with Alarm, double vibration, and a few other functions.
OnePlus has been diving deep into the feedback and bug reports provided by the users. Allegedly, they even pulled back the official OTA to make amendments and roll out a more stable build to the users.
Staff member – Jimmy Z has finally updated the official announcement and released OnePlus OxygenOS 5.0.1 update for the users. The new build follows the same changes as 5.0, but with additional fixes and improvements. So have a look at the major highlights before you jump to the instructions and install OnePlus 5 OxygenOS 5.0.1 update manually.
Bug fixes for third party camera application
Fixed network issues for European operators
Below are the changes carried over from the previous update.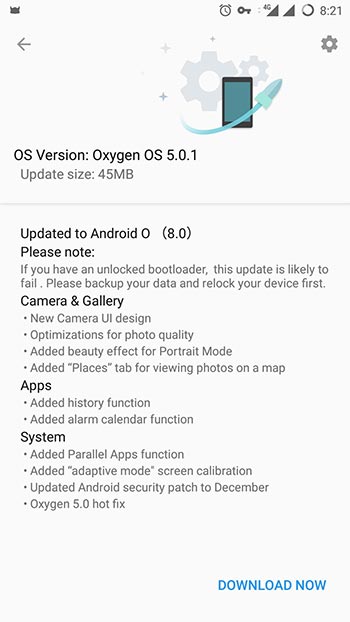 The OTA notification also lists 'OxygenOS 5.0 hotfix'. We are not quite certain what that actually means, but it surely indicates that the issues with the previous stable release have been fixed.
Prerequisites
It is explicitly stated that devices with an unlocked bootloader may have problems updating. So it is strongly advised to re-lock the bootloader before you go ahead and install OnePlus 5 OxygenOS 5.0.1 update.
Backup your OnePlus 5 completely, including the internal storage. You may follow our guide on how to backup Android phones.
Charge your device to at least 50-60% battery level.
Download OxygenOS 5.0.1 for OnePlus 5
Full ROM: OnePlus5Oxygen_23_OTA_028_all_1801031502_04d7cc5.zip | Mirror
OTA (5.0 -> 5.0.1): OnePlus5Oxygen_23_OTA_027-028_patch_1801031502_d51afe.zip
How to Install OnePlus 5 OxygenOS 5.0.1 Update
Now, as always, we have covered two different methods to manually install this update. The first method is for the users using stock OxygenOS 5.0 or Open Beta firmware. For those using rooted OxygenOS or a custom ROM shall follow Method 2.
#1: Using Local Upgrade in Settings
First off, download the OTA package if you have OxygenOS 5.0 or the full ROM zip if your device is running Open Beta or an older OxygenOS build.
Transfer the downloaded zip file to the root of your phone's internal storage.
Once transferred, go to 'Settings' -> 'System updates' and tap on the cog icon.
Select 'Local upgrade' and press the ROM filename on the screen.

Finally, select 'UPGRADE NOW' to install OnePlus 5 OxygenOS 5.0.1 update.
It is strongly recommended to reboot into stock recovery and wipe the cache after the update is installed.
#2: Using TWRP Recovery
You will need codeworkx TWRP recovery to flash this update: twrp-3.2.1-0-oreo-8.0-codeworkx-cheeseburger.img
Download the full ROM zip from the links above.
Copy the downloaded zip to the device's internal storage.
Boot your OnePlus 5 into TWRP recovery mode. To do so, power down the device first. Then press and hold the Volume Down + Power button to enter TWRP.
[If running custom ROM, other than OxygenOS] Go to 'Wipe' -> 'Advanced Wipe' and mark the checkboxes as shown below. Then swipe the 'Swipe to Wipe' button.

Go back to the TWRP main screen and select 'Install'.
Browse the internal storage and select the "OnePlus5Oxygen_23_OTA_028_all_1801031502_04d7cc5.zip" file.
Once selected, swipe the button on the screen to install OnePlus 5 OxygenOS 5.0.1 update.
After the ROM is installed, select 'Reboot System'.
Once your phone boots into the OS, you will be able to enjoy a more stable user experience. It's highly likely that the problems you faced in OOS 5.0 will not be tackled anymore. In case you face any such problem, consider providing your feedback here.
So you have just been able to install OnePlus 5 OxygenOS 5.0.1 update manually. If you have any questions, kindly leave them in the comments below.