Factory resetting your OnePlus 8T can help fix software issues, failed software updates, and is also useful when selling the phone. In this guide, we will show you how to factory reset the OnePlus 8T using two different ways/methods – (1) through the settings menu, or (2) through the stock OxygenOS recovery.
Before heading to the instructions, let us help you quickly understand what a Factory Reset is.
Table of Contents
What is a Factory Reset?
A "Factory Reset" is the process of erasing all the information stored on your OnePlus phone to return it to its factory/original state. It is also commonly known as a "master reset" or a "hard reset". The data erased during a factory reset includes the system data, downloads apps, their associated data, and all the files stored on the phone's internal storage.
So, why would you need to perform a factory reset? – Performing a factory reset on your OnePlus 8T is useful in a variety of circumstances.
First and foremost, it can help you resolve certain software issues on your phone. These issues include performance degradation over time, unusual lags during navigation or while launching apps, apps or OS freezing/hanging abruptly, boot loops, failed OTA software updates, and more.
Another situation where a factory reset can be useful is when you plan on selling your phone or gifting it to someone. In that case, you would want to ensure that all of your personal data stored on your phone is erased and nothing if leftover.
Now that you know the whats, whens, and whys, let us begin with the instructions.
How to Factory Reset the OnePlus 8T
When it comes down to performing a factory reset on your OnePlus 8T, there are two ways/methods to do it.
The first method is by using the built-in option under the settings menu of your phone. This is recommended and by far the easiest method. But if your phone cannot enter into the OS or is in a boot loop, then there's no way to access the settings menu. In such a case, you can use the second method and perform a factory reset through the stock OxygenOS recovery menu.
The second method may seem somewhat advanced, especially for novice users. But if you can take our word for it, we would say it's quite easy as well once you get a hold of it. We have simplified the instructions so that you can easily understand it.
Note: Before you begin, make sure to take a complete backup of all your data. This will not only help you safeguard the data, but you can also use it to restore all your data afterward if you want to.
To perform a factory reset on your OnePlus 8T using the Settings menu:
Open the "Settings" app on your phone first.
Scroll down to the very bottom and select "System".

Tap "Reset options" to view the list of different reset options.
Select "Erase all data (factory reset)".

Tap "Erase All Data" and select "Confirm".
→ Note: Untoggle "Erase internal storage" if you do not want to format the phone's internal storage.
Enter your phone's lock screen PIN/Password/Pattern when prompted
Finally, press "Erase all data" to perform a factory reset on your OnePlus 8T.

Method 2: Using Stock OxygenOS Recovery
To factory reset the OnePlus 8T using the stock recovery:
Hold the power button to bring up the power menu.
Press 'Power off' and wait for the phone to completely power off.
Hold the Volume Down and Power keys together to enter the stock recovery mode.
Enter your phone's lock screen password when prompted.
Select "English" as the recovery's language.
Tap on "Wipe data and cache" from the recovery's main screen.

Press "Erase everything (Music, pics, etc)".

Finally, tap on "This can not be undone, continue?" to factory reset your OnePlus 8T.

Once done, you shall see the "Format Success" message on the phone's screen. Press "Reboot" to boot your phone back into the system (OS).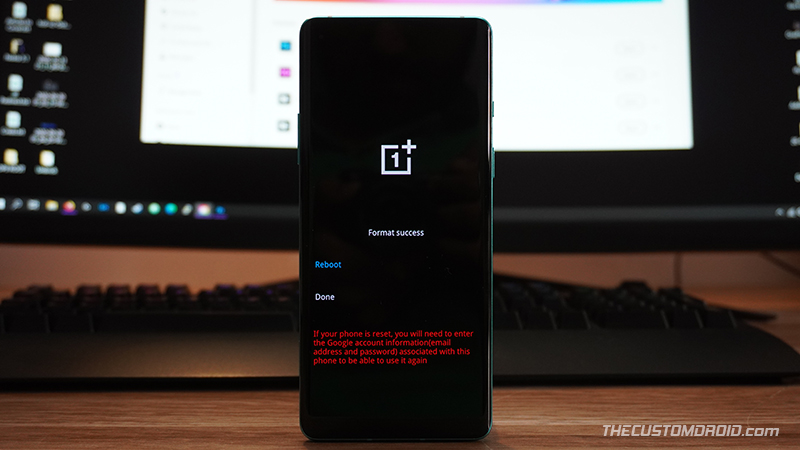 And so by now, you have learned how to factory reset the OnePlus 8T using two different methods. Once your phone boots, you can set it up again (If you're not selling it or giving it away) by following the on-screen instructions, log into your Google/OnePlus account, install your favorite apps, and carry on with your usage.
If you have any questions regarding the topic, we would love to answer them.