In this guide, I will show you how to factory reset Poco X2 using two different methods. It could be done either by using the available option in the phone's settings menu or via the stock recovery.
A 'Factory Rest' is the process of formatting and erasing all the information/data stored on the Poco X2 to its factory/stock settings. It is also commonly known as a 'Hard Reset' and can be helpful in various situations.
For starters, it can help you fix software related issues like bootloops, lags, freezing/hanging of apps, and so on. You can also unbrick your soft-bricked Poco X2 by performing a hard reset. Plus, it can also come in handy if you're planning to sell the phone, to ensure that none of your personal data is leftover on the phone.
All Android devices come with an in-built option in the settings menu to perform a factory reset. However, if your phone isn't able to boot into the OS (system), then option do you have? In that case, you can boot your Poco X2 into recovery mode and use it to perform the reset. We have covered both the ways in the instructions below. So without any further ado, let us get straight to the steps.
Notes:
A factory reset should be considered as a last resort if you're trying to fix software-related issues. Normally, a soft reset (reboot) will do the job.
A hard reset is not the same as restoring/flashing the stock firmware. Especially if you have rooted your Poco X2, installed TWRP or a custom ROM on it, or applied any sort of modifications to the software, then we suggest you follow this guide to restore the stock firmware on Poco X2.
Table of Contents
Instructions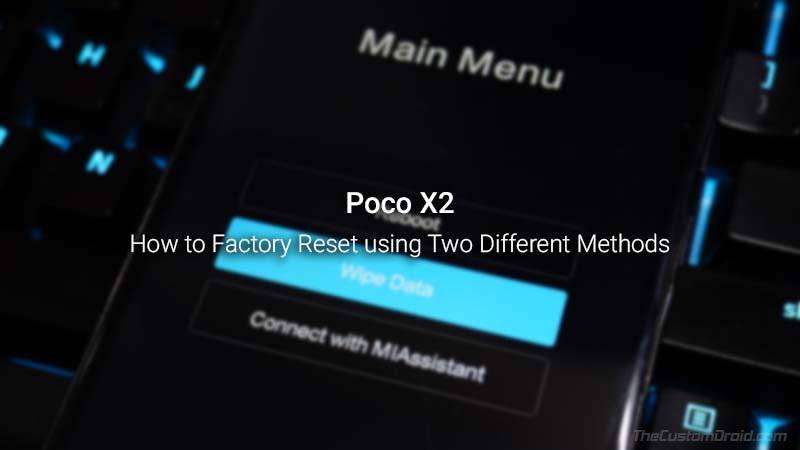 Like I mentioned initially, there are two different methods to perform a factory reset/hard reset on Poco X2. The first method is by using the option that is built into the phone's settings menu. This is also the easiest and recommended way.
But if you cannot boot your phone into the OS, then it's best to use Method 2 that involves using the stock recovery to perform the reset. The second method may seem a bit complicated if you're a novice, but I have tried my best to simplify the instructions.
Since performing a reset will erase all your data, we strongly recommend that you take a full backup first so that you can restore all the data back afterward.
Method 1: Factory Reset Poco X2 via Settings
Step 1: First, go to the 'Settings' menu on your phone.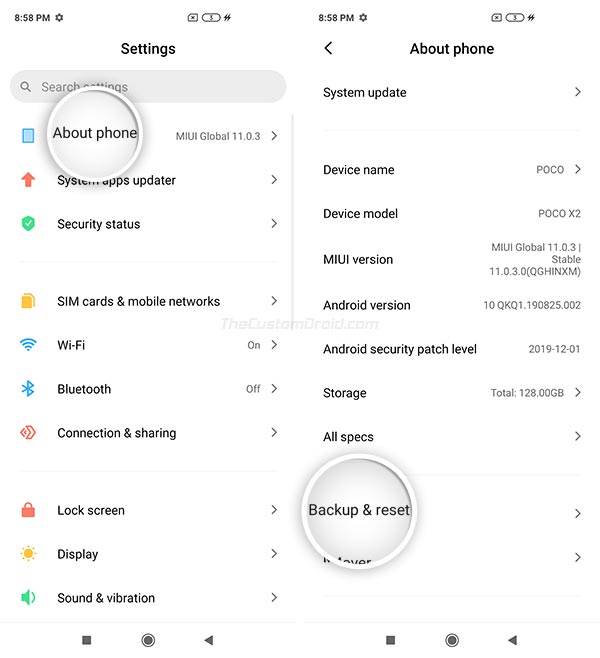 Step 2: Select 'About phone' on the top of the list and press 'Backup & reset'.
Step 3: Scroll down through the list of items and select the 'Erase all data (factory reset)' option.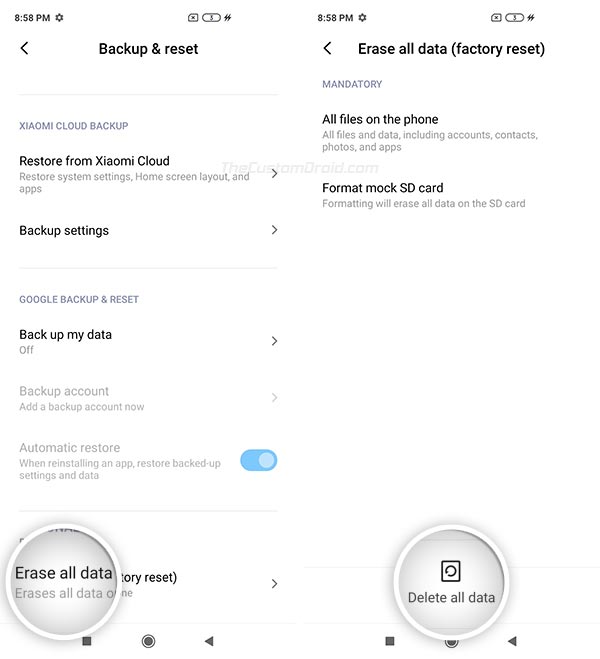 Step 4: Now, you should be served with the information on what all data will be erased during the process. This includes the installed apps, photos, videos, contacts, and everything on the phone's internal storage.
Step 5: Finally, press 'Delete all data' to confirm and factory reset your Poco X2.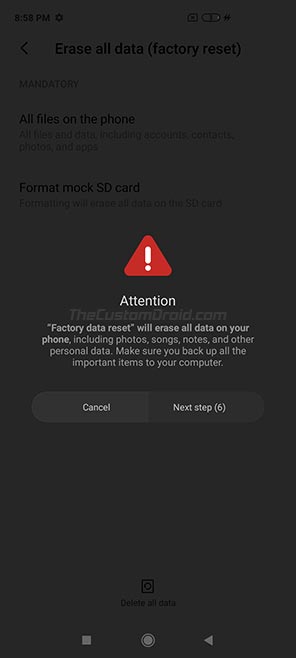 Upon confirming, your phone will automatically reboot and a factory data reset will be performed. Once finished, the phone will reboot into the OS. That was short and easy, right?
Method 2: Factory Reset Poco X2 via Stock Recovery
if your Poco X2 cannot boot into the OS due to a software error, you'll have to perform a reset manually via the stock recovery. The instructions for the same are as follows:
Step 1: Press and hold the Power button of your Poco X2 to bring up the Power menu on the screen.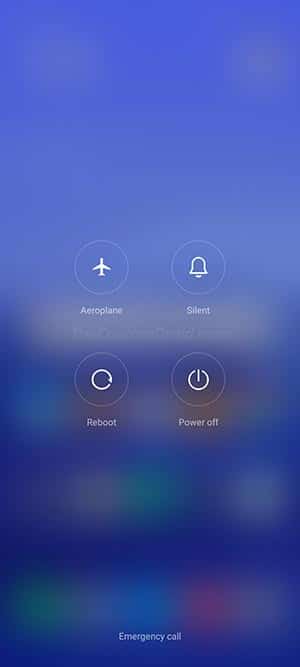 Step 2: Select 'Power off' and then press 'Tap to Power off' to switch off your phone completely.
Step 3: Now hold the Volume and Power buttons together to boot your Poco X2 into stock recovery mode.
Step 4: Use the volume keys to select the 'Wipe Data' option in stock recovery and press the power button to select it.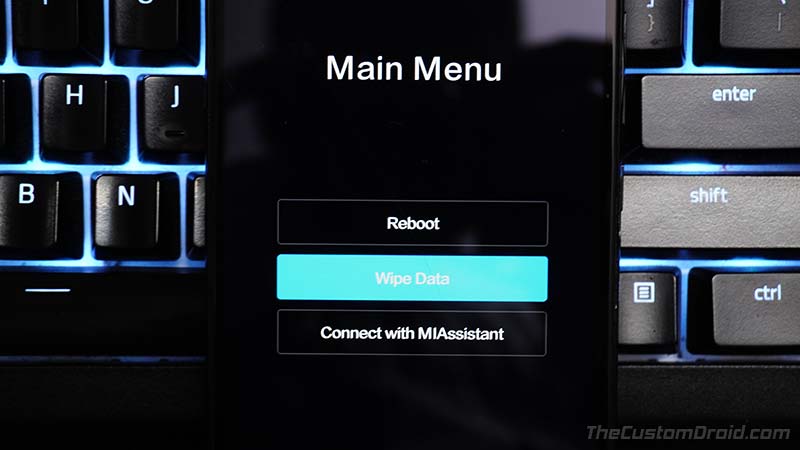 Step 5: Select the 'Wipe All Data' option now to confirm and perform a factory reset on your Poco X2.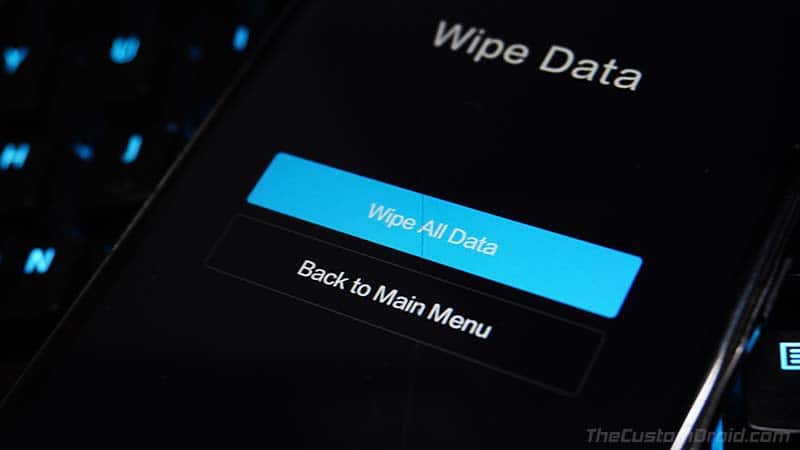 Step 6: Once the formatting process finishes, boot your phone into the OS by using the 'Reboot' option in stock recovery.
When your Poco X2 boots into the OS, set it up by following the on-screen instructions. This should have fixed any software issues that you might have been facing earlier if that was your reason for performing the reset. And your phone's software should also feel fresh as new now.
There you go! You have just learned how to factory reset Poco X2 using two different methods. If you have any doubts regarding the instructions or concerning hard reset itself, then please ask by posting a comment.