Here you can download the latest Google Camera (GCam) port for Xiaomi Poco X2 and Redmi K30, along with the instructions on how to install it.
Installing the Google Camera on your phone will allow you to use and experience the infamous Google Pixel camera features like Astrophotography Mode, Night Sight, Portrait Mode, HDR+, AR Stickers, and more. Working and stable ports of Google Camera v7.3.020 and v6.2.030 are now available for download. These are compatible with any Poco X2/Redmi K30 running Android 10 officially (MIUI) or unofficially (custom ROMs).
The Poco X2 (and the Redmi K30 in China) has given a tough competition to the rest of Android devices in the price segment. The phone has received very good feedback from new users as well as from Android veterans given the powerful hardware it offers in the budget. It is powered by the Qualcomm Snapdragon 730G SoC, 6 GB RAM, a whopping 6.67-inch display with support for HDR and 120Hz refresh rate, which isn't something you'll see on a budget phone.
When it comes to the camera department, the Poco X2/Redmi K30 sport a quad-lens setup, with a 64MP wide lens, a 2MP macro lens, an 8MP ultra-wide lens, and a 2MP depth sensor. On the front is a dual-lens setup with 20MP wide and 2MP depth sensors. Some of the major camera features outlined by the manufacturer include HDR, Portrait mode, EIS, AI Beautify and more.
Overall, the photos taken by the stock camera are pretty refined and contain minimal noise and grain when shot in good lighting. According to Android Authority, Portrait Mode falls off really hard when it comes to detecting human faces, especially in areas around the hair. Moreover, HDR also isn't perfect as it fails in over-exposed environments.
To sum up, the Poco X2 stock camera isn't fully polished for the ultimate camera experience. And that's exactly where the Google Camera (GCam) port can help you. The magic you see in photos taken by a Google Pixel phone is more of an outcome of good software implementation than the hardware itself.
So, installing the Google Camera Port on your Poco X2 can give a substantial boost to your phone's photo and video quality. Plus, you will also get to use Pixel camera app features like Astro Mode, HDR+, Night Sight, and more. If you feel the same, then you can download the latest Google Camera Port APK for Poco X2/Redmi K30 from below and install it. It's surely worth trying!
Table of Contents
Download Xiaomi Poco X2/Redmi K30 Google Camera Port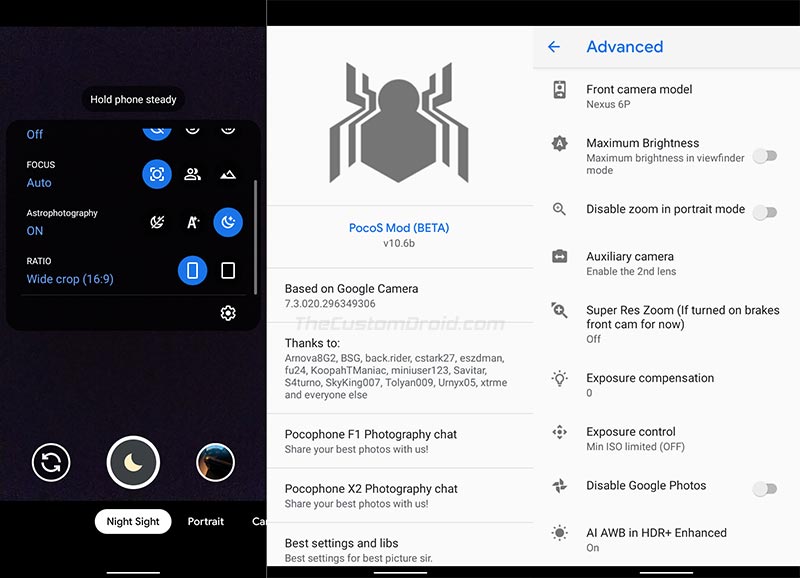 Although there are GCam ports from various developers like Urnyx05, tigr, and Parrot043 that would just work fine on the phone. However, the most stable, recommended, and best Google Camera Ports for the Poco X2/Redmi K30 are provided by developer San1ty, which is specifically dedicated to the phone.
San1ty has provided two ports of different Google Camera app versions. The first is the Google Camera 7.3.020 port, which is based on developer BSG's version. And the second is Google Camera 6.2.030 port that is based on San1ty's own mod that he previously made for the Poco F1.
I would suggest that you first try the ports provided by San1ty. Further, I have added download links to Google Camera 7.3 and 7.2 ports by some other developers for you to try.
Now, before you head to the download links, take a look at some important information/notes listed below.
Notes:
Ports from San1ty do not support the importing/exporting of XML config files.
XML config files are supported by trCamera and Parrot043 ports.
The Google Camera 6.2.030 port is the most stable port and the picture quality is better than the 7.3 port, according to the developer.
The Google Camera 7.3.020 port is in the beta stage and may contain bugs. However, it also does support Astrophotography Mode, Ultrawide Lens, and Electronic Image Stabilization (EIS).
When switching between/upgrading ports, make sure to clear the Google Camera app data and cache via the settings. This is a primary cause of the camera app force-closing after installation.
Download links
Google Camera 7.3.020 Port by San1ty (PocoSv10.6.1b)
Google Camera 7.2.030 Port by Parrot043 (v1)
Google Camera 7.2.010 by Urnyx05 (v2.3)
Google Camera 6.2.030 Port by San1ty (POCOX2_F1v9.6_6.2.030)
 trCamera by tigr (V2.1 Dream Catcher)
How to Install Google Camera Port on Xiaomi Poco X2/Redmi K30?
Installing the Google Camera Port on your Poco X2/Redmi K30 is quite simple. All you have to do is download your choice of GCam Port APK file from above and manually install the APK using a file manager. Once that is done and if the port supports it, you can also import the XML config file to automatically configure the best camera settings. You will find the step-by-step instructions listed below.
Note: Before installing this port, ensure that you have uninstalled any GCam ports that you might have installed previously.
Download the Google Camera Port APK for your Poco X2/Redmi K30.
Also, download the corresponding XML Config File if the port supports it.
Transfer both the files to your phone's internal storage.
On the root of your phone's internal storage, create a new folder by the name 'GCam'.
Copy the downloaded XML file to this newly created 'Configs7' folder.
Next, navigate to the folder where you have transferred the Google Camera port.

Tap on the APK file and then follow the on-screen instructions to install the Google Camera Port APK on your Xiaomi Poco X2/Redmi K30.
Once installed, launch the Google Camera app and give it all the necessary permissions.
Doube tap on the black area next to the shutter button.

'Choose config' dialog box would appear.
Finally, tap on the 'RESTORE' button.
Google Camera is now successfully installed on your Poco X2/Redmi K30. So now, go ahead and try clicking amazing pictures using modes like Astrophotography, Night Sight, Portrait, and more. If you still aren't satisfied with the results, you can further tweak the available camera settings by going to the 'Settings' menu of the app. Or, you can also try loading a different XML config file.
Source: XDA | Ports and Config XML files provided here have been sourced directly from the Poco X2 telegram group. Huge thanks to them!