We are all intrigued by the features that Android N has to offer, in its developer preview, including the revamped notifications, bigger recent windows, navigation drawer in Settings, and much more. But for now, the developer preview might not be a daily driver for many, due to stability issues, and pretty much less app support. Anyhow, you can now enjoy these features on your Android device, running Android Lollipop or Marshmallow, using the Android N-ify Xposed module, that has just been out.
Xposed Framework has been a popular Android modification tool for Android, that has helped thousand of users to enjoy custom features on their Android smartphones and tablets, without having the need to install any custom ROMs. Well, of course, it is a big innovation for those who want to stay close to stock experience, and still enjoy the privilege of extra features.
Android N-ify Xposed Module
Android N-ify has been developed by XDA member — MrWasdennnoch, which aims at bringing your beloved Android N features to older Android versions, including Lollipop and Marshmallow. This enables the Android N experience to reach out even for those who are not using a Nexus device. We thank the developer for his hard work on this module, and for expanding the N experience to more Android devices.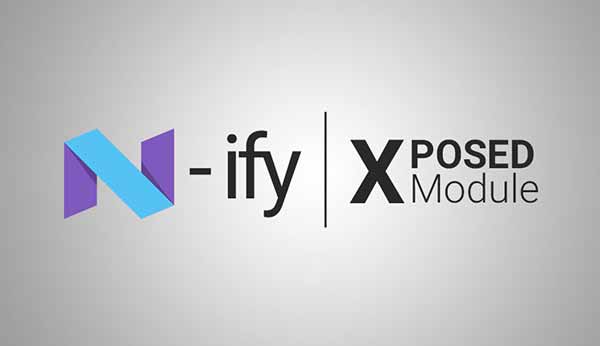 Android N-ify will work on almost all custom ROMs and stock rooted ROMs. But you must keep in mind that heavily coded/modified stock ROMs may conflict with the features. So try and keep yourself, as close to stock as possible. As told, TouchWiz and LG UX users might have to struggle to make this work on their devices.
The list of following N features are supported:
New notification bar
New and bigger recents card design
Settings tile summaries
Double-tap switching through recents button
Recents navigation through the dedicated recents button
The developer is also keen to bring the following list of Android N features, in upcoming updates:
Quick reply
New QS animation
Night Mode
Navigation drawer in Settings
Emergency info on lockscreen
Doze mode when device is moving (For now, you can use Greenify's aggressive Doze Mode)
MrWasdennnoch has also mentioned that porting the Multi-window, Font and Display Size settings, and Data Saver might not be possible, due to the unavailability of the complete N source code.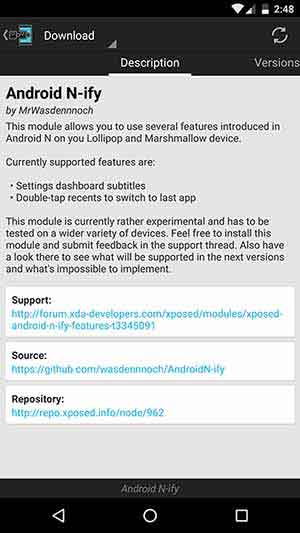 If you have not yet installed Xposed Framework on your Android phone/tablet, follow the link below.
Install Xposed Framework on Android Marshmallow
We do hope to see the planned list of features to be soon added with the upcoming updates. Stay tuned on TheCustomDroid for more on Android N-ify Xposed module.