Got hands on the latest Google Pixel device? Then quickly follow the steps below on how to enable Active Edge on Google Pixel 2 and Pixel 2 XL.
The 2017 Pixel devices bought plenty of new goodies when it comes to the software. Unlimited Photos storage, Always On Display, Night Light, Motion Photos, AR Stickers and much more. It is also the first time that Google stepped into the 'Squeeze' game. The feature was first introduced in the HTC U11, known as 'Edge Sense'. Basically, you can just squeeze your device in your palm to launch the Google Assistant. Indeed, Google wants its native personal assistant to be more efficient on its own devices, for a better user experience. That sort of seems to work out for now, as people are now adapting to this function. Well, at least I am.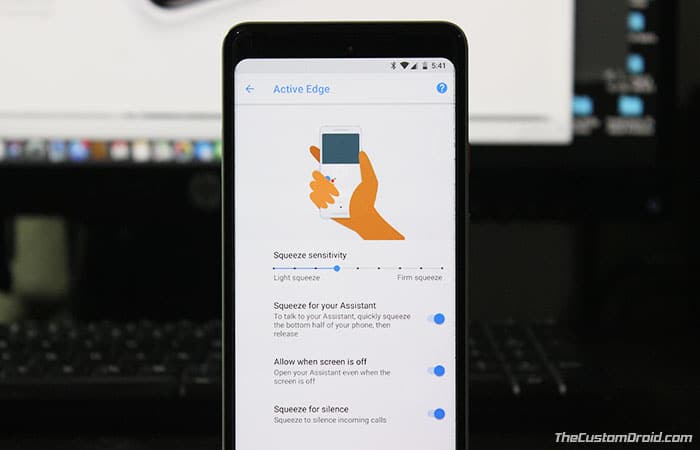 Enable Active Edge on Google Pixel 2 and Pixel 2 XL
Unlike HTC's Edge Sense, Google doesn't officially allow you to do much with the squeeze function, then just launching the Assistant or silencing a call. However, we have found a few ways to change Active Edge squeeze action and remap it to launch an app or service. While you boot your Pixel 2 for the first time, you shall be prompted to set up Active Edge. But if you have accidentally or deliberately skipped the setup, then we have here to cover you. Just follow the steps below to enable Active Edge on Google Pixel 2 and Pixel 2 XL.
Before you enable the feature, you must first set up Google Assistant on your phone. To do so, you can simple long-press the home button or squeeze your handest. You shall be prompted to follow the on-screen instructions. Once that is done, you can follow the instructions below.
Go to the app drawer and open 'Settings'.

Scroll down to the bottom and press on 'System'.
Tap on 'Gestures' and select 'Active Edge'.

You shall see a couple of options in the settings menu.
Simply, toggle on the 'Squeeze for your Assistant' option to enable Active Edge on Google Pixel 2 (XL).

In the same menu, you can further customize Active Edge sensitivity by adjusting the slider. There is another option as well that will allow you to enable squeeze action when the screen is turned off. Apart from that, you can also enable the 'Squeeze for silence' option to silence alerts like calls, timers, and alarms.
So there you go! You have just been able to turn on Active Edge on Google Pixel 2 and Pixel 2 XL. If you have any questions, leave them in the comments section below.