Have you been facing trouble while syncing contacts after updating to Oreo? Then follow this simple tip on how to easily fix Contacts sync issue on Android Oreo.
We are way past the time when contacts needed to backed up and stored manually. Modern day devices ease out the approach by syncing personal contacts across all the connected devices. Which in turn is more efficient and doesn't require any extra effort than just logging in to your Google account. However, after the recent Android Oreo update, a wave of reports have reached out to Google. So here, we will guide you on how to fix Contacts sync issue on Android Oreo.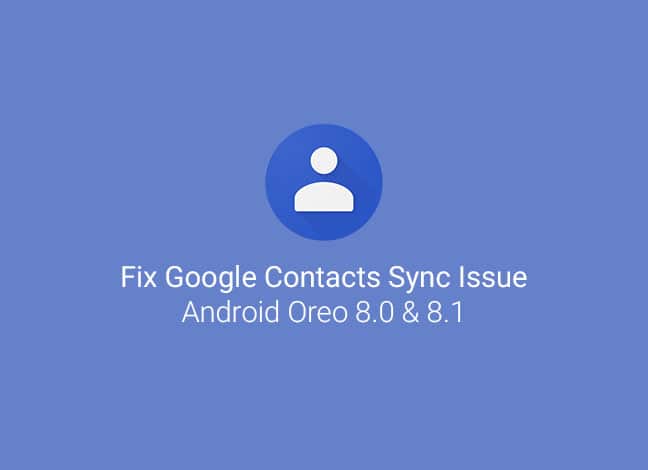 Guide to Fix Contacts Sync Issue on Android Oreo (8.0 and 8.1)
Google recently announced the final Android 8.1 Oreo release for the supported Nexus and Pixel phones. Those who have updated are reporting of a minor, yet a widely affecting problem. According to them, they are apparently facing a Google Contacts sync issue. Users have also opened a thread for the same at the Google Products Forums and it already has about 128 posts.
It seems like the problem arises due to the contacts that were added using Google+ profiles with links. The solution for the specific problem is fairly simple and shall prove useful to anyone facing it.
If you head over to 'Settings' » 'Users & accounts' and try to toggle the contacts sync, you probably will face the 'Sync is currently experiencing problems. It will be back shortly.' message. Once you have checked and confirm that the problem persists on your device too, then we shall follow the steps in this article to fix Contacts sync issue.
Instructions
Go to the app drawer and open the 'Settings'.

Scroll down and tap on 'Apps & notifications'.
If you're running Oreo 8.0, then tap on 'App info'. In case of Oreo 8.1, tap on 'See all apps'.
On the App info window, tap on the menu icon (3-dots) on the top-right.

Select 'Show system'.
Scroll down through the apps and select 'Contact Storage'.
In the app window, select 'Storage'  and then press the 'CLEAR DATA' button to fix Contacts Sync issue.

Tap on 'OK' to confirm.
Finally, reboot your Android phone and check if the contacts are syncing now. This should most likely solve the problem. However, if there's any chance that it doesn't, then we recommend that you click on the source link below and report the problem personally.
If you're facing any other issues, kindly leave them in the comments below. We will try our best to find you a solution.
Source: Google Product Forums | Via: Android Police