Not getting the latest OTA software update on your phone? We've got you covered. Through this page, you can download the OTA packages of all firmware updates for the Asus Zenfone 6 (Asus 6Z) released to date. This includes the latest Android 11 update for the Zenfone 6 with the "WW_18.0610.2101.127" software build number and a lot of new features.
Further, we will also show you how to manually update the Zenfone 6 to the latest firmware by manually installing the full OTA (ROM) via the built-in update mechanism, or using TWRP recovery.
The Zenfone 6, also known as the Asus 6Z, was launched back in 2019 and ran Android 9 Pie out-of-the-box. The phone has received continuous monthly security updates and got the Android 10 update the same year as its launch. More recently, Asus finally rolled out the stable Android 11 update for the Zenfone 6 after months of beta testing.
Table of Contents
Manually Updating Zenfone 6 to Latest Firmware
So, why would even need to manually install firmware updates on your phone? – Like any other Android phone, software updates for the Zenfone 6 are rolled out as OTA (Over-The-Air) updates in a staged manner. These updates are available for selected regions or a small percentage of users initially, which is followed by a wider release in the following days/weeks. Depending on these factors, you might often have to wait for the latest firmware update to arrive on your Zenfone 6.
Well, if you want, you could skip those days/weeks of waiting and upgrade your phone manually. This doesn't require you to unlock your phone's bootloader or do anything else that could affect your phone's integrity in any manner. All you need to do is download the firmware ROM/OTA package and install it on your Zenfone 6 using the built-in update mechanism. The process is in fact quite easy if you know the right steps.
And that's what this post is about. Below, you can download the firmware update package for your Zenfone 6 and follow the provided instructions to manually install it.
Before you begin, make sure to check for any available software updates by going to 'Settings' > 'System' > 'System update' on your phone.
Prerequisites
To manually install an update, you will first have to fulfill some requirements as listed below.
Performing manual upgrades using the instructions provided below is safe and it will not erase any of your personal data stored on the phone. However, software errors could still occur (although very occasionally). So, it's best to be back up and safeguard your data for such odd situations. If you need some guidance, you could also follow our tutorial on backing up Android devices.
Charge your phone to a sufficient battery level to prevent it from shutting down during the middle of the update process.
Download Zenfone 6 Firmware OTA Updates
Below, you will find direct links to download all the firmware updates released for the Zenfone 6 (Asus 6Z), provided directly by Asus on their support page.
Important information about OTA Updates
OTA updates and their corresponding packages are available in the following two different forms:
Incremental OTA updates: These types of updates can only be installed over a specific software version and are significantly small in size.
Full OTA updates: These types of updates are much bigger in size and can be installed over any previous software version.
So, if you're installing an incremental update over a previous one, take note of the current software version installed on your Zenfone 6 first. You can get this info by going to 'Settings' > 'About phone' on your phone. Then download the OTA package of the next update accordingly.
If you're going to install a full OTA update, then the installed software version doesn't need to be accounted for.
Latest: Android 11 Update
Previous Updates
Below are the download links for all the previous firmware updates released for the Zenfone 6.
Android 11 Update (Initial release)
November 2020 Update
October 2020 Update
September 2020 Update
August 2020 Update
July 2020 Update
May 2020 Update
April 2020 Update
March 2020 Update
February 2020 Update
January 2020 Update
December 2019 Update
Android 10 Update

How to Manually Install Firmware Updates on Asus Zenfone 6
Manually installing a firmware update on the Zenfone 6 is really easy. It can be done via two different ways/methods depending on whether the phone is running stock untouched software or has TWRP installed. So, choose the respective method and follow the instructions accordingly.
The second method is for users who have installed TWRP recovery on their Zenfone 6. This method uses TWRP to flash the firmware OTA package, followed by the TWRP and Magisk installer ZIP files. This allows users to update their phone's software without losing TWRP or root at all.
If your device is rooted with Magisk without TWRP, then you can simply update your rooted phone without losing root.
Method 1: Install Firmware Update using In-Built Updater
Asus phones running the ZenUI software, such as the Zenfone 6 have an in-built update mechanism within the software. The updater can detect a firmware package when placed at the correct location and install it automatically for you. Simply follow the steps listed below.
Download the latest full firmware package for your Zenfone 6.
Connect your phone to the PC by plugging in the USB-C cable and turn on the 'File Transfer' mode.
Copy the download OTA zip package to the root (i.e. outside all folders) of your phone's internal storage.
Next, disconnect your phone from the computer and reboot it.
Once your phone reboots, the system will automatically detect the update package and you'll see a prompt on the screen to install it.

Press 'OK' when prompted to confirm and install the latest firmware update on your Zenfone 6.
After the update has been installed, tap on 'Restart' to reboot your phone into the updated OS.

If the above method fails for some reason, you can alternatively use ADB to sideload the OTA as well.
Method 2: Flash OTA Package using TWRP Recovery
If you have installed TWRP on your Zenfone 6, then you can use TWRP itself to flash the firmware package and update your phone.
To do this, download the latest firmware OTA package for your Asus Zenfone 6. Also, download the latest TWRP (twrp-installer-3.5.0_9-0-I01WD.zip) and Magisk (Magisk-v21.2.zip) installer ZIP files.
Next, connect your phone to the PC using the USB cable and enable the file transfer (MTP) mode. Transfer all the three downloaded files to the root of your phone's internal storage.
Once the files have been transferred, disconnect the phone and power it off. Now boot your Zenfone 6 into TWRP recovery by holding the Volume Up and Power buttons together.
Press the 'Install' button in TWRP and select the firmware package that you transferred earlier to the phone's internal storage. Once the firmware is selected, press 'Add more Zips' and select the Magisk ZIP file to add it to the flashing queue. Repeat the same for the TWRP installer ZIP as well.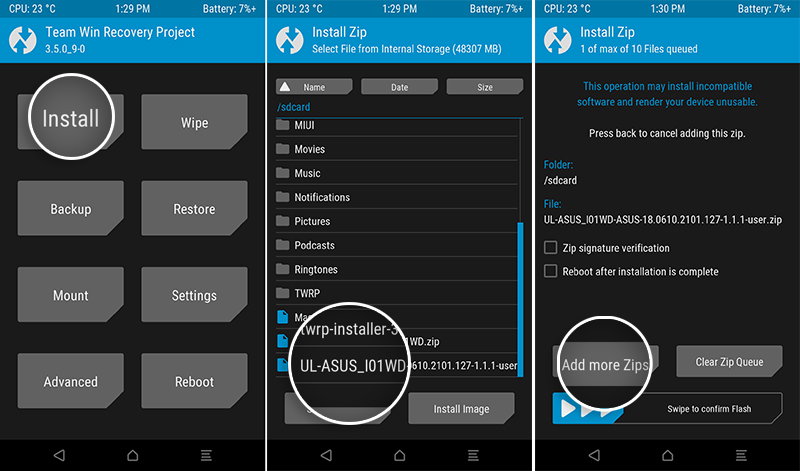 Once all three files have been added, swipe the button on the screen to flash them and install the latest firmware update on your Zenfone 6. The other two files will patch the newly installed firmware to make sure that both TWRP and Magisk root are retained.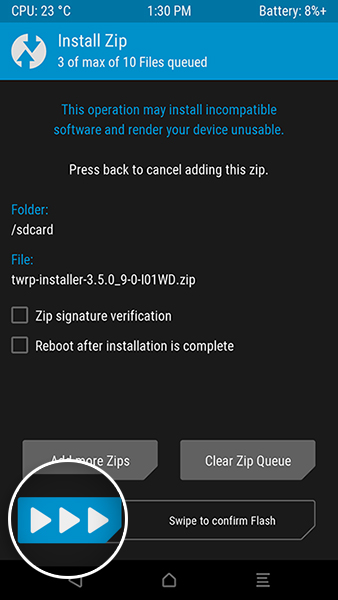 After the flashing process finishes, press "Reboot System". Your phone should now boot into the latest Android 11-based firmware with December 2020 security patch. So, go ahead and explore all the new features that this new Android version has to offer.
So by now, you have learned how to download and manually install firmware updates on the Zenfone 6 (Asus 6Z). You can repeat this same process to manually upgrade your phone every time a new update is released. This should also be useful if you're not getting OTA updates on your Zenfone 6 timely. We will try our best to keep this repo up-to-date with the download links of the latest firmware OTA packages.
If you face any problems while following the instructions in this guide or have any questions regarding the whole manually-updating concept, please feel free to ask us. Please don't forget to share the exact software version number currently installed on your phone while seeking help.