Samsung released the stable Android 10 One UI 2.0 update for the Galaxy S9/S9+ in January. And now, the company is rolling out the latest monthly security update based on Android 10 for the said devices. Through this post, you can download Samsung Galaxy S9/S9+ April 2020 security update based on Android 10 and follow the instructions on how to manually install the update firmware using Odin tool.
In the past few years, Samsung has surely made a lot of progress when it comes to releasing software updates for its devices. It took the company just a couple of months to release the Android 10 update for its 2019 flagship devices, the Galaxy S10, and Note 10 series. Meanwhile, the older flagships which include the S9/S9+ and Note 9 also received the beta update, followed by the stable Android 10 release in January.
Now, before you head off to the download links, let's take a quick look at the changes and new features that this update brings to the phone.
Table of Contents
What's New in Android 10 April 2020 Update for Galaxy S9/S9+?
This latest update for the Galaxy S9/S9+ is based on Android 10 with Samsung's One UI 2.0 skin sitting on top. So, you get to experience a heap of new features.
To begin with, Android 10 brings improved navigation gestures, which completely removes the navbar for that little extra screen real estate and delivers a more powerful navigation experience with swipes and pulls. It also comes with system-wide Dark Mode, something that S9 users are already accustomed to since One UI 1.0. The added benefit is that Android 10's Dark Mode further extends to installed third-party apps as well.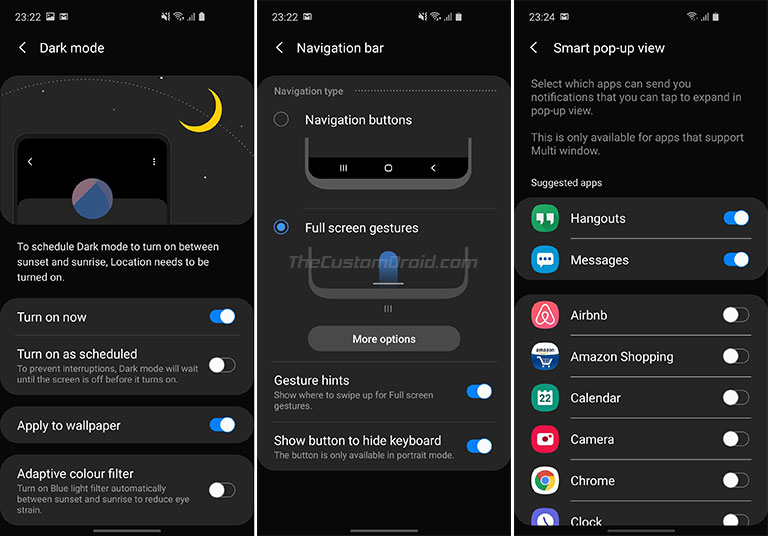 Furthermore, Android 10 also adds the 'Smart Reply' feature which basically provides you with actions and personalized suggestions for your incoming messages. Privacy and Location controls is another major feature that gives you even more granular control over the permissions handled by Android. Along with these, there is a surplus of other new features too, which you can find on the official website here.
On top of all this, Samsung's One UI 2.0 also brings a couple of new changes and features. For starters, the system-wide dark mode can automatically be scheduled to turn on at sunset and turn off at sunrise. Or, you can manually schedule it as per your choice. Dark Mode in One UI 2.0 also expands to the home screen's wallpaper.
Samsung has also put a lot of effort to make smartphone usage less intrusive by minimizing notifications and other UI elements of the OS. So, you can always focus on what you're doing without being disturbed and without missing any important information. To know more, you may visit Samsung's website.
The latest Galaxy S9/S9+ Android 10 update brings April 2020 security patch. According to the changelog published by Samsung, this new update also significantly enhances the security of Samsung accounts and compatibility of the phones with Galaxy Watch's Camera Controller app. Further, it improves the stability of Camera, Contacts, Gallery, and Messages apps.
According to SamMobile, the update is already rolling out to the users over-the-air in several regions like Germany, Portugal, Netherlands, and more. When it arrives, you should get a notification on your phone. Or, you can always manually check for it by going to 'Settings' > 'Software update' > 'Download and install'.
Since the update will roll out in phases depending upon the region, device model number, and carrier, it could take some time before it reaches your phone. In that case, you can download the latest Galaxy S9/S9+ Android 10 firmware from this post and follow the instructions thereafter to manually install it right now.
Supported Devices
The Android 10-based April 2020 security update is currently only available for the following Galaxy S9 and Galaxy S9+ model numbers, along with their corresponding software build numbers.
Samsung Galaxy S9

SM-G9600: G9600ZCU6DTD1
SM-G960F: G960FXXS8DTD4
SM-G960U1: G960U1UES7DTD1
SM-G960U: G960USQS7DTD1

Samsung Galaxy S9+

SM-G9605: G9605ZCU6DTD1
SM-G965F: G965FXXS8DTD4
SM-G965U1: G965U1UES7DTD1
SM-G965U: G965USQS7DTD1
Prerequisites
Before you proceed any further, make sure to fulfill all the requirements listed below.
Manually installing the Android 10 update on your Galaxy S9 or S9+ using the provided instructions will not erase any data. However, we still strongly recommend taking a full backup (click here for instructions) just to safeguard your important data.
Make sure to charge your phone to a sufficient battery level. This shall prevent any sudden shutdowns during the update process.
Download and install the latest Samsung USB drivers on your PC. This will ensure that your phone is properly detected by the PC when connected over USB.
Download the latest version of the Odin Flash tool from here and extract the downloaded zip package to a suitable location on your PC.
Download Galaxy S9/S9+ Android 10 Firmware
The quickest way to download the latest Samsung Galaxy S9/S9+ Android 10 firmware with April 2020 security patch is directly through Samsung's database. This could be done using either the Frija Tool or SamFirm Tool.
Once you have downloaded the tool, launch it on your Windows PC. Then input your phone's full model number (e.g. SM-G960F), CSC code (e.g. 'DBT' for Germany), and select the 'Auto' mode. After entering the required information in the corresponding input fields, click on the 'Check Update' button in the tool's GUI. The tool will fetch the latest version of the stock firmware directly from Samsung's firmware database.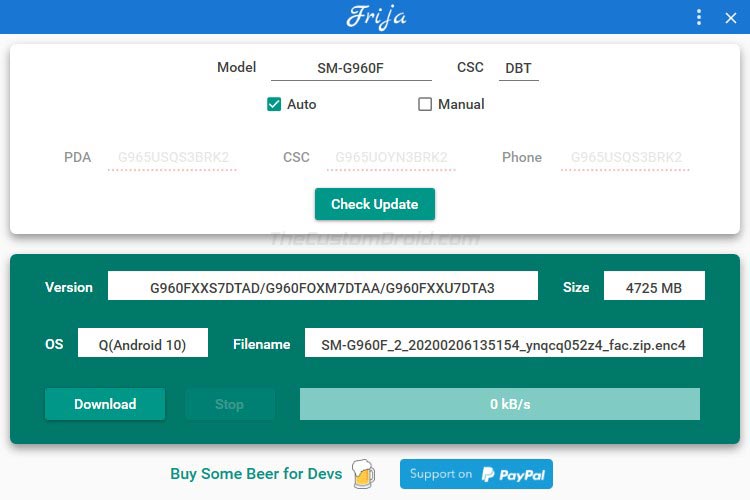 Finally, click on the 'Download' button to download the Android 10 firmware for your Galaxy S9/S9+. The firmware will be downloaded and stored on your PC in .zip file format. Once you have it, follow the instructions in the next section to install it on your phone.
How to Manually Install Android 10 Firmware on Samsung Galaxy S9/S9+
The installation is quite easy. All you have to do is, put your phone in Download Mode, connect it to the PC, load the firmware files in Odin and flash them. If you're not much acquainted with manual flashing with Odin, then just follow the instructions below.
Download the latest Galaxy S9/S9+ Android 10 firmware on the PC.
Extracted the downloaded firmware zip package to a suitable location on the PC.

You should now have different firmware partition files like AP, CP, CSC, HOME_CSC, and BL in .tar.md5 file format.

Now power off your Samsung Galaxy S9/S9+ completely.
Boot your phone into Download Mode by holding the Volume Down, Bixby, and Power buttons together.
When you see a warning screen, simply press the Volume Up button to enter Download Mode.
Connect your Galaxy S9/S9+ to the PC while it is in Download Mode.

Now launch the Odin Flash Tool on your PC by double-clicking on the 'Odin3_v3.14.4.exe' executable file.
A blue-colored 'ID:COM' box should show up on the top-left of the Odin tool.
Go to the 'Options' tab in Odin tool's GUI and ensure that the 'Auto Reboot' and 'F. Reset Time' options are checked.
Next, you have to load the different firmware partition files in their corresponding slots in the Odin Tool.

Click on the 'AP' button in Odin and select the firmware file starting with 'AP_xxxxxx'.
Now repeat the same for BL, CP, and CSC firmware files.
Important note: Select the 'HOME_CSC' file instead of the regular 'CSC' file in the CSC slot of Odin to prevent the update from erasing all your data.
Once the files are loaded in their corresponding slots, hit the 'Flash' button to manually install Galaxy S9/S9+ Android 10 firmware update.
The flashing process could take a few minutes to complete. Once it is finished, your phone will automatically reboot into the latest Android 10 OS with March 2020 security patches. You may then close the Odin tool window and disconnect the phone from the PC.
So, you have just been able to download Galaxy S9/S9+ Android 10 April 2020 security update and manually install it on your phone. If you have any questions regarding the installation or about the update itself, then please let us know. Please make sure that you mention your phone's model number and active CSC.