Facing issues with the speakers on your Google Pixel phone? Here's how you can easily fix Google Pixel 2 XL speaker distortion issue.
The Google Pixel 2 phones released in 2017 have gained a strong fan base, majorly due to the features that it offers and being branded by "Google" has a thing of its own. But the phone has also faced a fair share of problems ever since the release. Some of the most widely-faced issues include blue-shift and burn-in display, slowed down fingerprint scanner, and a few more to count.
There's yet another issue that was added to the list back in December 2017. According to SlashGear, several Pixel 2 XL owners reported of speaker distortion problems with the bottom speaker. If you have a similar problem, then there's a pretty simple way to fix Google Pixel 2 XL speaker distortion problem.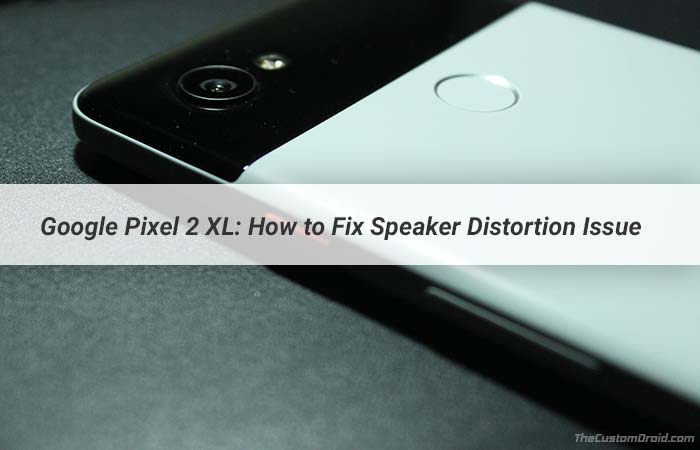 Google Pixel 2 XL Speaker Distortion Issue
The Google Pixel 2 series was launched back in 2017 with a powerful order of hardware specs. The device has managed to rule the high-end smartphone market with several unique features like unlimited Photos storage, Active Edge, Always On Display, Google Lens, and much more. The phone also highly appreciated for its improved design over the original Pixel series launched back in 2016. Even though the phone came up with such good features and specifications, it lacks in some issues which Google is still trying to resolve.
Before we get to the steps to fix Google Pixel 2 XL speaker distortion issue, let us do a quick sweep of the exact problem. According to users at Google Product Forums, XDA-Developers, and various other online communities, the hiccup persists with the bottom one of the two front facing speakers on the phone. To describe, the distortion could be observed as a rattling, low-quality sound when the volume level is pushed far beyond 70-75%. For some, the distortion is faced with both the speakers, but the majority have reported for the bottom one.
Previously several users have reported the hissing sound from the earpiece, which Google has fixed last month. Even though the speaker distortion issues continue to arise. Google is still looking into it. While several users have already opted for a replacement, there are still some who have managed to overlook the problem and still using their device. A crafty user named RealCaracas over at the XDA Forums has come up with a neat little fix to help fix speaker distortion issue on Google Pixel 2 XL.
Steps to Fix Google Pixel 2 XL Speaker Distortion Problem
Go to 'Settings' -> 'Apps & notifications'.
Tap on 'See all apps'.
Press the menu icon (3 dots) on top-right.
Select 'Show system'.

Find 'MusicFX' and disable it.
Install Equalizer FX from Google Play.
Open 'Equalizer FX' from the app drawer.
Finally, set '910Hz' frequency to '-7 db' to fix Google Pixel 2 XL speaker distortion issue.

Once done, you can try playing some music and see if the issue has been fixed on higher volumes. We are highly thankful to XDA member RealCaracas for find this quick workaround for the problem. We hope Google will now looking into it and provide a fix in upcoming software updates. Ever since the launch, the Pixel 2 XL has been surrounded by such troubles. At least now we have a neat little trick overcome at least one of such problems.
Did the above instructions give you a quick and easy way to fix Google Pixel 2 XL speaker distortion issue? If not, let us know through the comments.