Another good news for Xiaomi smartphone users! You can now download Google Camera 7.0 (Pixel 4 Camera app) and 6.2 Port (Pixel 3 Camera app) for Xiaomi Poco F1, Mi 8, Mi Mix 2S, and Mi Mix 3. The available GCam Port brings Pixel camera features like Astrophotography Mode, Night Sight, HDR+, Portrait Mode, Playground and Super Res Zoom to your phone. The biggest advantage is that you can install Google Camera port on Poco F1, Mi 8, Mi Mix 2S and Mi Mix 3 without unlocking the bootloader or rooting.
Google Camera Port, also known as the "Google Camera Mod" is one of the most anticipated third-party camera ports for non-Google devices. It brings the infamous Pixel 3 camera features like NightSight, HDR+ and Portrait Mode to almost any Android device with a Qualcomm Snapdragon processor. In order to install and use the Google Camera Port on an Android phone, it must support Camera2 API. Thankfully, newer Xiaomi devices that come with Snapdragon 710 and Snapdragon 845 chips come with Camera2 API enabled.
Some of the top devices by Xiaomi released this year — Poco F1, Mi 8, Mi Mix 2S and Mi Mix 3 utilize the Snapdragon 845 processor. Which means you can easily install Google Camera 7.0 and 6.2 Port on these Xiaomi devices without the need of unlocking the bootloader or rooting.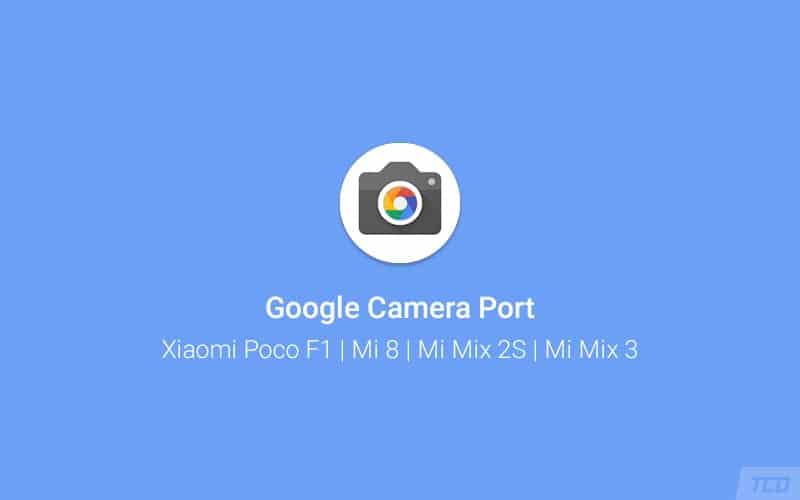 Table of Contents
About this Google Camera Port
The creator/developer behind this Google Camera Port is a Ukranian 4PDA forum member B-S-G. The said developer received a Xiaomi Mi 8 pretty recently and was quick enough to port the Google Camera for it. Since the Poco F1, Mi Mix 2S and the Mi Mix 3 share the same on-device chip, this port works on them as well.
There's another port that's developed by san1ty. Note that you can use only either of the two ports at once. So, we recommend that you download and try each one of them to check which works the best on your Xioami device.
The ports from both the developers are based on the latest Google Camera version 7.0.009 and 6.2.030. Now before you download Google Camera port for Xiaomi Poco F1, Mi 8, Mi Mix 2S, and Mi Mix 3, let us sweep through the list of features that are working and what's not.
Following are the features that work without any problem:
NightSight
Super Res Zoom
ZSL HDR+
HDR+ Enhanced
Portrait Mode on the front & back camera
Video recording up to 4K 30FPS
Photosphere, Panorama
Slow motion 240 FPS (1080p)
Playground
And, below are the features that do not work, at least for now:
SloMo video recording might not work on certain ROMs
Download Google Camera Port for Xiaomi Poco F1, Mi 8, Mi Mix 2S, and Mi Mix 3
Google Camera 7.0.009 Ports:

Google Camera 6.2.030 Ports:
Ports of Google Camera for the Xiaomi Poco F1, Mi 8, Mi Mix 2S, and Mi Max 3 have been provided by developers B-S-G and san1ty. A huge thanks to them for all the hard work! These ports have been endorsed by users over at XDA as the best versions available for the said devices. If you find a more recent or stable version of the GCam port, then please let us know.
How to Install Google Camera Port on Xiaomi Poco F1, Mi 8, Mi Mix 2S, and Mi Mix 3
Since all the three Xiaomi devices come with Camera2 API enabled, there's no need to unlock the bootloader or root. In order to manually install an APK, you must first enable the 'Install unknown apps' option. To enable it, go to Settings -> Additional Settings -> Privacy -> Install unknown apps. Once enabled, you'll easily be able to install Google Camera Port on Xiaomi Poco F1, Mi 8, and Mi Mix 2S. Simply follow the steps listed below.
Download the Google Camera Port APK file.
If you have downloaded it to the PC, transfer the APK to the phone's storage.
Open the 'File Explorer' app on your Xiaomi phone.
Navigate to the location where the APK file was downloaded/transferred.
Tap on the APK file depending upon the version you downloaded.
Next, follow the on-screen instructions to install Google Camera Port on Xiaomi Poco F1, Mi 8, Mi Mix 2S, and Mi Mix 3.
Once installed, tap on 'Done'.
Now, go back to the home screen and launch the Google Camera port on your phone. Go ahead and take some cool portrait shots or capture a vivid landscape short via HDR+. For recommended settings, visit this XDA thread.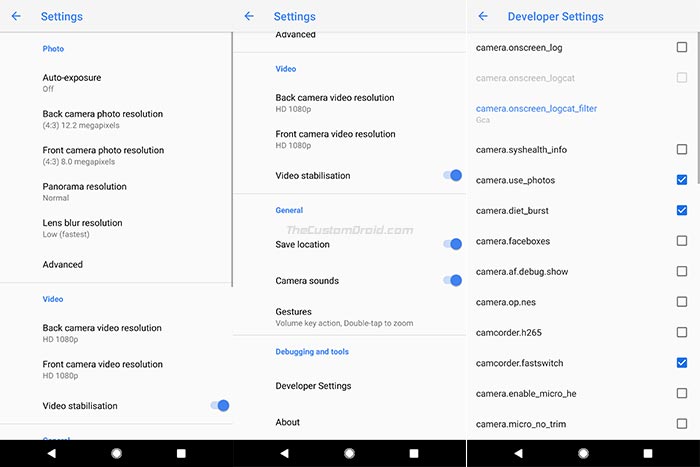 Wait! Please make sure to go through the list of notes before you leave.
Important Notes
Facing lag in Viewfinder on version 6.1.021? Users with:
If auto-focus does not restore after touch-focus, then exit the viewfinder and re-open it. You may simply open the Google Camera settings or gallery.
Recommended settings for the BSG GCam Port are as follows (Huge thanks to Sreekantt!):

Input Model

Interface style – Pixel 2
Back Camera – Pixel III XL
Front Camera – Pixel III XL
Config – Pixel 2018 ZsIR Hdr+

HDR+ Parameters

Min. ISO limited by exposure – Off
Minimum frames – 7
Maximum frames – 7
(Use 24-24 if you need slightly sharper pics but processing takes more time.)
(Use 14-23 if you use HDR+ Enhanced more often than HDR+)

Don't change anything in Night Sight parameters
Final jpg quality HDR+ – 100
Disable zoom in portrait mode – On/Off (Optional, It's your personal preference depending on how you want a portrait to look)
Save to DCIM/Camera – Off (Optional, You can turn it on but few users reported problems with it like deletion of pics. Logs are appreciated)
Turn on Pixel 3 AWB – Off (Only on San1ty's build)
Enhanced HDR+ in portrait mode – Off

Only enable 'Add Aux to camera switch' if you are using MI 8. (Use Bsg build if you need this option.)

Libs

Xlib-mod V2/XS or default depending on your personal preference of contrast. (Use whichever you like but I recommend Xlib-mod V2/XS personally.
A simple explanation:
Default(Pixel 3) – Boosted colors/contrast with more noise and less sharpness
Xlib-mod V2/XS – Natural colors/contrast with less noise and more sharpness.
You can read it in detail below.
Default – These are default Pixel 3 libs. Saturated, less sharpness and crushed shadow detail for boosted contast just like in Pixel 3. It may look beautiful in the first glance but can be inaccurate most of the times.
Xlib-mod V2/XS – It is tuned with I phone XS Smart HDR in mind. Personally I like this one more than Pixel default lib because it doesn't crush shadows and maintains natural colors like I phone XS along with the trend setting Pixel HDR+ algorithm. It's like the best of both worlds but feel free to test before settling on one.
Eszdman – Looks almost the same in comparison with default libs but has better shadow detail which may positively/negatively affect contrast depending on the scenario.
Savitar – Natural colors but slightly less shadow detail compared to Xlib V2 and has a grainy look to it.)

Saturation

Back Camera
Highlights saturation – 1.0
Shadows saturation – 1.6
Front Camera
Highlights saturation – 1.0
Shadows saturation – 1.6

Fix

Viewfinder processing – Enable 'Motion' & 'AE' (Only in B-S-G build.)
Resampling method – Raisr (Only in San1ty's build)
No need to change anything else in 'fix' section for our device
So, there you go! You have just been able to download Google Camera Port for Xiaomi Poco F1, Mi 8, Mi Mix 2S, and Mi Mix 3 and install it without an unlocked bootloader or root. If you have any questions, please leave a comment below or visit the source XDA threads.