Boost your phone's audio system with the most renowned audio mod in the industry. Follow this guide to install ViPER4Android on Google Pixel 2 and Pixel 2 XL.
2017 Pixel 2 series comes with a lot of enlightening features including Pixel Visual Core, Always On display, Now Playing, unlimited Google Photos storage, and more. But the Pixel 2 phones do not include a powerful audio enhancement system like those found in devices from ZTE, LG or Nokia. Well the idea itself sounds good and it would be great if Google decides to make it happen. Anyhow, if you are really looking forward to crunching those beats, you must consider installing a third-party audio mod on your phone. When we talk about 'audio mods', ViPER4Android comes on the top of the list. It allows you to manually customize each and every sound tone on your device. The steps below will help you easily install ViPER4Android on Google Pixel 2 and Pixel 2 XL.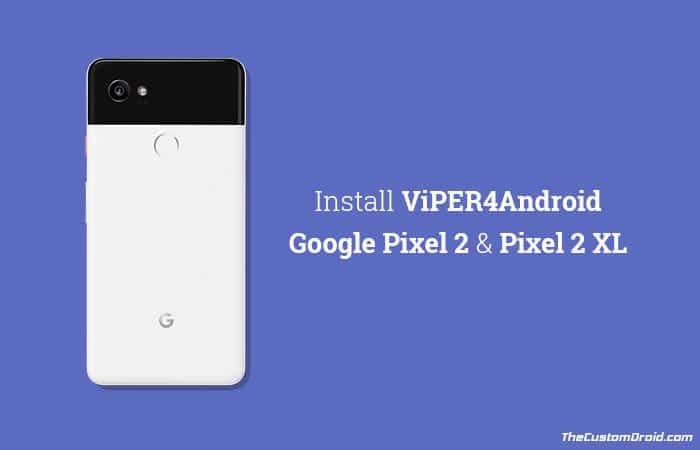 Table of Contents
Guide to Install ViPER4Android on Google Pixel 2 and Pixel 2 XL
ViPER4Android is one of the most tremendous and powerful audio equalizers for Android. The mod was first introduced in 2013 by Euphy Wong (known as ViPER520) and Jasper Loo (known as zhuhang) and gained popularity among the community in no time. The tweak has accompanied Android devices for a better on-device audio experience ever since. In the past 2 years, ViPER4Android has seen enough changes and better capabilities to be tagged as the 'Best sound mod for Android'.
Though I am not an audiophile, I still have a thing for music and especially the way it reaches my ears. When the While I love the sound of my Sony home theatre, I am equally annoyed by the performance of the sound system in my car. Well, ViPER4Android fixes it for me, directly from the device-end. Not just that, the mod has often made some of my crappy headphones sound good. So pair it up with your Google Pixel 2 and you will attain the best possible audio quality on your device. Big thanks to ahrion for building the simple Magisk module to help us install ViPER4Android on Pixel 2.
ViPER4Android Features
Before you proceed to the instructions to install ViPER4Android on Google Pixel 2 and Pixel 2 XL, take a look at the list of features it offers.
Playback Gain Control

: The option will allow you to maximize or minimize the audio output from your device.

FET Compressor

: The setting is extremely useful for those who think that the over-enhanced audio settings could seriously damage the instrument. It is basically the best kind of audio compressor out there.

ViPER-DDC

: When enabled, the feature outputs balanced low, mid, and high frequencies for an optimal experience. The app embeds DDC profiles for a long list of earphone/headphone brands and models.

FIREqualizer

: The primary equalizer system for your Android device with lows, mids, and highs ranging from 31 Hz to 16,000 Hz frequency, in that order. It also includes 12 different preset modes for quick switching.

Convolver

: Allows you to playback using the characteristics of the used Input Response Sample (IRS). You will find zhuhang's personal set of IRS here.

Differential Sound

: Also known as the Haas effect, enables you to delay the time taken for a sound to reach your ear. In simple words, this setting creates an effect of depth.
That's merely the highlight. You will be introduced to a large set of options when you install ViPER4Android on Google Pixel 2 and Pixel 2 XL.
Prerequisites
We have been able to deduce the easiest method to help you install ViPER4Android on Google Pixel 2 and XL. So instead of slipping into the hassle of manual installation, we will simply be using a dedicated Magisk module to get the job done.
Instructions to Install ViPER4Android on Google Pixel 2 and Pixel 2 XL
Download ViPER4Android FX module: v4afx_v1.1.zip
Connect your Pixel 2 to the PC and copy the Magisk module to your phone's internal storage.
Once transferred, go to the app drawer and launch 'Magisk Manager'.
Tap on the menu icon on the top-left of the screen.

Select 'Modules'.
Tap on the plus "+" icon.

Navigate to the internal storage and select the 'v4afx_v1.1.zip' file to install ViPER4Android on Google Pixel 2.
The installation screen will appear.
When prompted for 'Select version', tap the Volume Up key for v2.5.0.5 or Volume Down key for v2.3.4.0.
Next, tap Volume Up or Volume Down if you want to install material UI V4A app or the original one, respectively.

As soon as you do that, the module will instantly install ViPER4Android on Google Pixel 2 or Pixel 2 XL.
Once installed, tap on the 'REBOOT' button.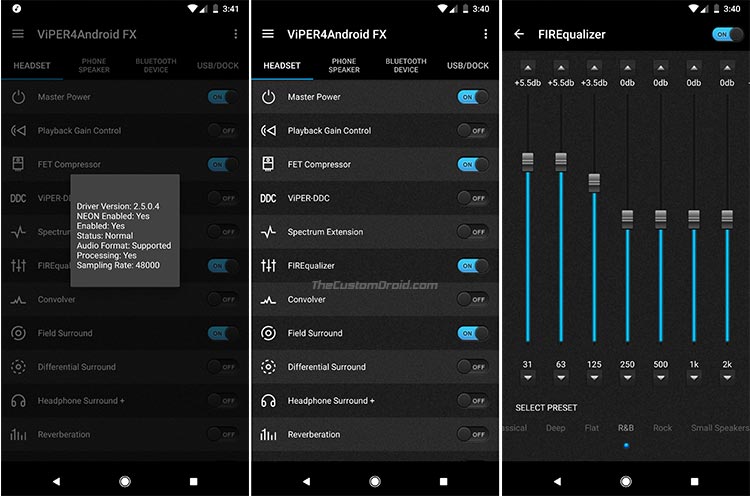 The method above works without any hiccups and automatically disables any other sound equalizer available on your device. Once successfully installed, you can open the ViPER4Android application and tweak your phone's sound system for a better experience. If you're not sure which settings would suit best, you can start here and explore endless V4A profiles posted by users all over the world.
So there you go! You have just been able to successfully install ViPER4Android on Google Pixel 2 and Pixel 2 XL. If you have any questions regarding the procedure or mod usage, kindly leave a comment below.