Nokia recently started rolling out the latest August monthly security update for the Nokia 6 & 5. You can now download and install Nokia 6 August 2018 Security Update OTA and install it by sideloading through the stock recovery.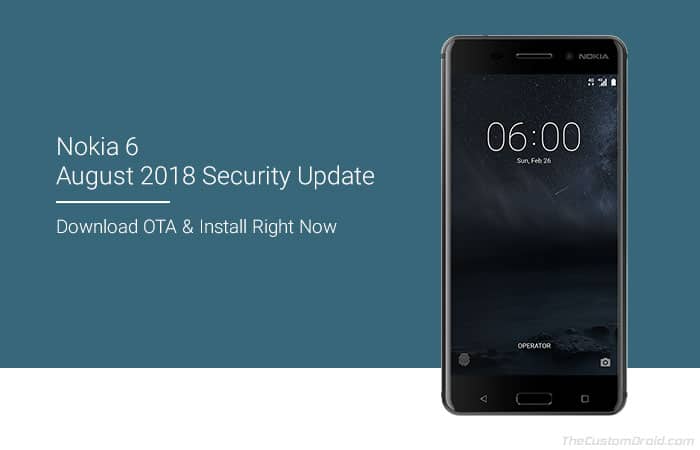 Monthly security updates are vital for a good software experience on Android phones. Nokia has managed to maintain its record with that by issuing these updates in a timely manner for all its devices. About a few weeks ago, the manufacturer pushed the August security update for the Nokia 6 and Nokia 5. The OTA update is already rolling out to the users in various regions. And like any other Over-the-air update, it is incremental in nature and could take some time before it reaches each and every device worldwide. Well, you can still install the update manually. Below, we have shared the link to download Nokia 6 August 2018 Security update OTA and also the instructions to sideload it via stock recovery.
Table of Contents
August 2018 Security Update for Nokia 6 – What's New?
The official OTA weighs 141.9 MB, which isn't truly a significant figure but means a lot when it comes to the kind of security improvements it carries. The new build number is 00WW_5_580_SP04 and is based on Android 8.1 Oreo.
According to the official OTA notification, this new update only carries the August 2018 Security Patch. It fixes several vulnerabilities related to the Android framework and system. Further, there are more fixes related to the kernel and Qualcomm components. If you wish to view the CVEs, please visit Google's August 2018 security bulletin. You can also visit's Nokia Security Updates page for more info.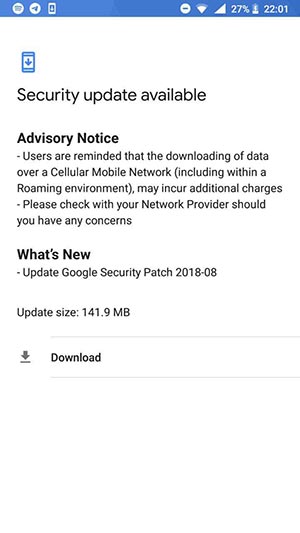 Now, if you have not yet received the update, you can choose to manually install Nokia 6 August 2018 security update by sideloading the OTA manually. Our appreciations go to XDA senior member qwertysmerty for capturing the OTA URL and sharing it with the community. Before proceeding, make sure to check for the OTA notification by going to Settings -> System -> Software update.
Note that this method will not work if your Nokia 6 is rooted or has a custom recovery installed, such as TWRP.
Requirements
Before you download and install Nokia 6 August 2018 security update OTA, you must first fulfill the requirements stated below.
First and foremost, back up your device completely. While this method shall not wipe any data, but it is better to be precautious. Check out our detailed article on how to backup Android.
Charge the phone to at least 50-60% battery level to avoid any sudden shutdowns during the update process.
Your Nokia 6 must be running the latest Android 8.1 Oreo firmware with the 00WW_5_580_SP04 build number.
The OTA can be installed on any unlocked Nokia 6 models – TA-1021, TA-1025, TA-1033, and TA-1039.
You must also install Android platform-tools on your PC. We will refer to "C:\adb" during the steps, which is the folder on your PC where the Android platform-tools binaries are present.
Download Nokia 6 August 2018 Security Update OTA
The OTA ZIP has been captured and is linked from the official server.
» 774a6b8c05b37b12b5869f767856a5609452a768.zip
How to Install Nokia 6 August 2018 Security Update OTA
Download Nokia 6 August 2018 security update OTA ZIP to your PC.
Copy the downloaded file to C:\adb on your PC.
While holding the SHIFT key on the keyboard, right-click on an empty space inside the folder.
Select 'Open PowerShell window here'.

Next, power off your Nokia 6 completely.
While the phone is powered off, hold the Volume Up button and connect the USB cable.
Your Nokia 6 should boot into stock recovery mode.

Upon seeing the Android bot warning screen, simply hold the Power button and tap the Volume Up button once.

In stock recovery mode, you will need to use the Volume keys to move the selector and Power button to confirm.

Select 'Apply update from ADB' option.
Finally, enter the following command to sideload and install Nokia 6 August 2018 security update OTA:

adb sideload 774a6b8c05b37b12b5869f767856a5609452a768.zip

Wait until the update process is complete.
When done, select 'Reboot system now'.
You can also install the OTA ZIP through the SD card. To know more about the process follow our tutorial on how to sideload OTA update ZIP using SD card.
Once your Nokia 6 boots, it shall be running the latest software based on Android 8.1 Oreo with the August 2018 security patches.
Monthly security updates take some time before they could actually be delivered to each and every device. The timeline could be controlled by various factors including the device model, region, operators, and Google's own announcement. When it comes to Nokia, it has been pretty quick in delivering these latest security patches to almost all its supported devices including the Nokia 6 here.
But if you' were not able to update due to any reasons, the steps above would have helped you install Nokia 6 August 2018 security update manually. If you have any questions regarding the procedure, then leave a comment below.