The Asus ROG Phone 2 is now getting the stable Android 10 update with 'V17.0240.2009.49' build number and September 2020 security patch. Through this post, you can download the full firmware (OTA) file of the latest Asus ROG Phone 2 September 2020 security update, as well as that of the previous updates. Further, we will show you how to manually update your ROG Phone 2 to the latest firmware right away. This could be easily done using the phone's in-built update mechanism, as shown in the instructions below.
Google released Android back in September 2019 and a rising number of Android OEMs have started rolling out the update for their devices and Asus isn't falling behind as well. The OEM released the Android 10 update for Asus 6Z (Also known as Zenfone 6) back in November 2019, followed by the Zenfone 5Z soon after.
Asus' second-generation gaming smartphone, the ROG Phone 2 is along the same path. After beta testing for a couple of months, Asus finally announced the rollout of the stable Android 10 update for the phone back in March. Since then, the phone has continued to get monthly security updates based on Android 10 as well.
This month is no different as the OEM has released the latest Android 10-based September 2020 security update for the ROG Phone 2. The update is rolling out to the users over-the-air. However, if you still haven't got it yet, then you can manually install this update right now by following the instructions provided in this guide.
Now before you go ahead to the download links and instructions, let us take a quick look at what new changes and features this update brings to the phone.
Table of Contents
Android 10 for Asus ROG Phone 2 – New Features and Changes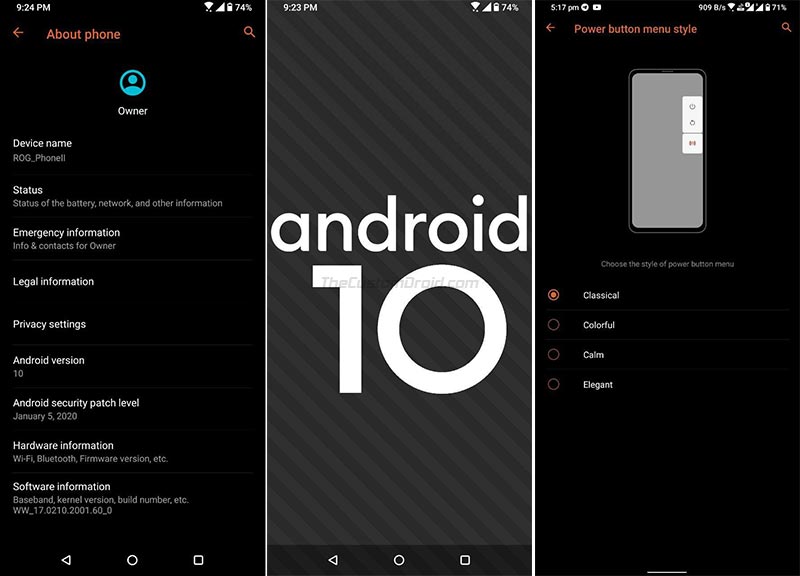 Android 10 is definitely a major upgrade from Pie as it brings a series of new features and changes to the phone. The first one that I would like to point out is the system-wide Dark Mode feature, which when turned on, will turn the complete system UI to dark colors and accents. The dark theme on your ROG Phone 2 may give you a marginal battery boost because of the equipped AMOLED display. It should also cause less strain on your eyes while viewing the phone's screen in low-light environments.
Another notable feature is the new full-screen gesture navigation system that completely gets rid of the navigation buttons and relies on swipes/pulls. In Android 10, Google has added another feature based on Machine Learning that suggests replies and actions for message notifications.
The new privacy and location controls in Android 10 will give you more granular controls over the permissions required by apps. These are just to name a few, for the complete list of new changes and features in Android 10, please visit the official website.
According to the release notes published by Asus, the following are complete changelogs for this update, for both the Global and Tencent Editions of the ROG Phone 2.
Global Edition:

WW-17.0240.2009.49

Changelog
Android security patch update to 2020-09
Added support for ROG Connect in Armoury Crate
Support TwinView Dock 3 FW update
Fix issue where Pokemon Go could cause high CPU usage
Fix Application names being cut off in Recents view for Hebrew localization
Fix Air Triggers mistouch issue and optimize AirTriggers stability
Fix the power consumption problem caused by the system.
Tencent Edition:

CN-17.0240.2009.51

Changelog
Android security patch update to 2020-09

Support mutual transmission alliance function

Support Pushbida function

Fix "bilibili" barrage stuck issue

Fix AirTriggers mistouch issue and optimize AirTriggers stability


Fix the power consumption problem caused by the system.
As you can tell from the provided changelog, this latest update not only brings the September 2020 security patch to the phone but also fixes a list of pre-existing issues/bugs and adds a couple of new features. For example, issues with Pokemon Go crashing at high CPU usage, Air Triggers mistouch, high power consumption, etc have all been fixed.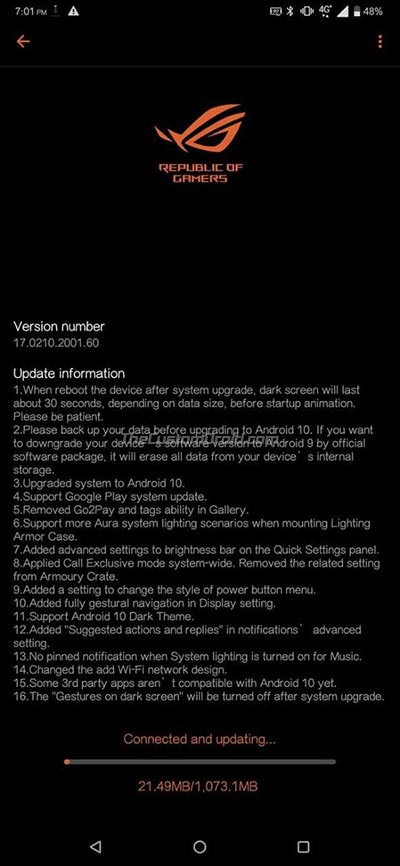 Now, as I mentioned earlier, the update is currently rolling out over-the-air. You can also force-check for the update by going to 'Settings' > 'System' > 'System update' on your phone. Since the rollout takes place in stages, it could take some time before this update reaches your phone. If you're eager on upgrading right now, you can download the full firmware package of the ROG Phone 2 Android 10 September 2020 security update from below and manually install it using the provided instructions.
Before You Install
Manually installing OTA updates can lead to data loss, if done wrong. Although no data will be erased if you follow this method to upgrade your ROG Phone 2, I still strongly recommend taking a full backup beforehand. This will ensure that all your data is safe even if something goes sideways.
Charge your phone to a sufficient battery level. This shall help avoid any interruptions while performing the upgrade process.
Download Asus ROG Phone OTA Updates (Full Firmware)
Firmware updates for the ROG Phone 2 are available as a full firmware package (in ZIP file format), as provided by Asus itself. Since it is a full firmware (and not incremental), it can be installed on any ROG Phone 2 irrespective of the software version installed on it.
For Global Edition (WW ROM)
For Tencent Edition (CN ROM)
How to Manually Install Updates on ROG Phone 2
Installing the latest firmware update on your ROG Phone 2 is really easy. You would not require a PC or any special tools like ADB/Fastboot. It can be done by using Asus' in-built update mechanism (Asus Updater). Follow the instructions listed below.
Download the latest full firmware package for Asus ROG Phone 2.
Connect your phone to the PC by plugging in the cable to the side-port.
Transfer the download OTA zip package to the root (i.e. outside all folders) of your phone's internal storage.
Next, disconnect your phone from the PC and reboot it.
Once your ROG Phone reboots, the system will automatically detect the update package and you'll see a prompt on the screen to install it.

Press 'OK' when prompted to confirm and install the latest Android 10 update on your Asus ROG Phone 2.
After the update has been installed, tap on 'Restart' to reboot your phone into the updated OS.

Voila! Your phone should now be running the latest Android 10 firmware with September 2020 security patches. You can now go ahead and explore all the new features that this new Android version has to offer.
Wrapping Up
Update: Since the initial rollout of Android 10, Asus has fixed a lot of issues to make the system more stable for daily usage.
Users who have already upgraded their ROG Phone 2 to Android 10 have some mixed opinions about it. Although there aren't any major or a considerable amount of bugs, a few minor issues are already being discussed over at ZenTalk forums (See 1 & 2) and also at XDA.
If you do face any abnormal issues after manually installing the Android 10 update, you can try performing a factory data reset. According to one of the users in the thread linked above, doing a factory reset after the upgrade "was a massive improvement" for him.
However, if you do feel that Android Pie is overall more stable than Android 10 at the moment, then you can easily downgrade your ROG Phone 2 using the instructions in this guide.
Also, please consider reporting your discovered issues directly in the ZenTalk forums. This could help speed up the development process and you may also get to know of available fixes (if any) from the fellow users.
If you face any problems updating your phone using this method, or have any questions regarding the update itself, then please let me know via the comments.
OTA Source: Asus