Android Pie-based LineageOS 16.0 for OnePlus One is now available officially. Through this post, you can download and install LineageOS 16.0 on OnePlus One and enjoy all the latest Pie features on the 5-year old OnePlus device.
Over the past few years, OnePlus has really strived to be among the best Android manufacturers. The company's success is backed by a lot of factors, including their phones' build quality, powerful specs, affordable price, and on top of all, constant software updates. 2016-released OnePlus 3/3T have recently received the latest Android Pie update officially. But that isn't the case always. OnePlus One, the company's first commercial production, faced a lot of criticism due to lack of software support.
But the Android development community picked up, where OnePlus left off. And thanks to them, we now have access to a series of different custom ROMs available for the OnePlus One. One of them is LineageOS 16.0, and it finally lets you install Android Pie on the OnePlus One.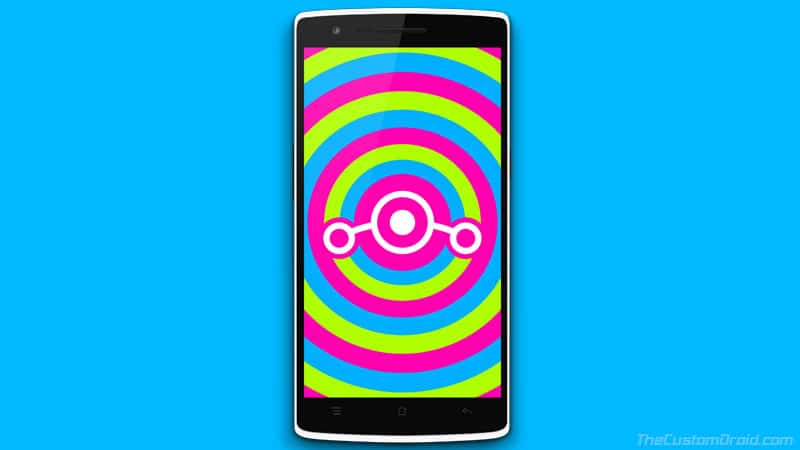 Table of Contents
Android Pie-based LineageOS 16.0 for OnePlus One
The OnePlus One was discontinued a few years ago and never received the deserved attention (In terms of official software updates) despite all the great hardware. The last official Android version supported by the phone was Marshmallow 6.0.1. However, that didn't stop the game right there. Third-party developers and enthusiasts have compiled, ported, and provided all major Android versions after that too, including Android Nougat 7.0/7.1 and Android 8.0/8.1 Oreo. And now comes the time, when you can also install Android 9 Pie on OnePlus One.
Several Android Pie-based custom ROMs have been available for the OnePlus One, but some of them are still not free from bugs and are also not updated regularly. On the other hand, LineageOS 16.0 for OnePlus One is updated every week, in the form of a "nightly" build. But that's not the sole advantage, LineageOS is well known for its diverse approach to the AOSP, extending the experience by adding several additional features without disturbing its simplicity.
LineageOS 16.0 Features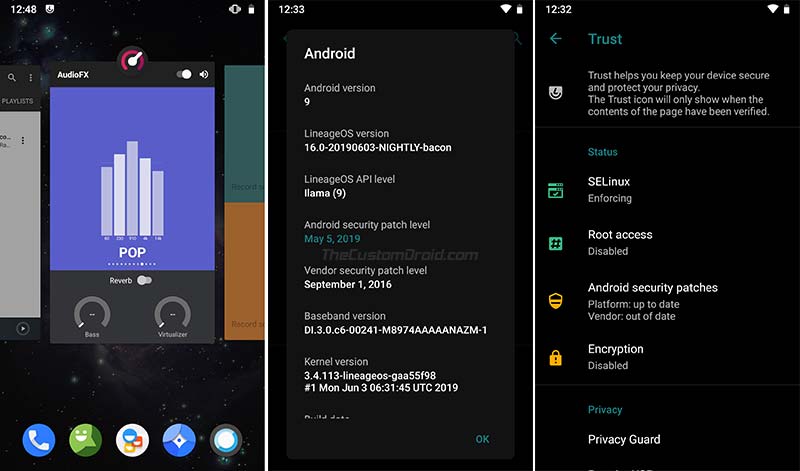 Before we head over to the instructions to install LineageOS 16.0 on OnePlus One (codename: bacon), let us take a quick look at some of the major features that the ROM offers. The list is as follows:
Stock Android-like UI
Built-in Dark Mode
LiveDisplay lets you tweak RGB values, change accent colors, color temperature and fine-tune the display
Privacy Guard gives you granular control over apps and their permissions
Apps like Jelly Browser (Based on Chromium), Gallery, Screen Recording, Audio EQ, etc
Customizable power menu
LineageOS mascot as Easter Egg
The ones mentioned above are just to name a few. There are tons of new changes under the hood as well and you will experience them once you have installed the ROM on your OnePlus One. You might also want to check out this blog post on XDA for the complete list of features.
Just like any other custom ROM, you can easily install LineageOS 16.0 on OnePlus One using TWRP recovery. The developers have also provided their own SU installer ZIP, should you want to root the phone on LineageOS.
Prerequisites
This custom ROM is exclusive to the OnePlus One. Do not attempt to install it on any other device.
Charge your phone to a sufficient battery level to avoid any interruptions during the ROM installation.
A PC/Laptop and a micro-USB cable.
Take a complete backup of your device in case any loss of data may occur.
Download TWRP recovery image for OnePlus One (twrp-3.3.1-0-bacon.img). Put the phone in Fastboot mode and use the following command to flash TWRP on the device:

fastboot flash recovery twrp-3.3.1-0-bacon.img
Download Android Pie-based LineageOS 16.0 for OnePlus One
The download links provided below are from the official LineageOS servers. If you do wish to check the changelog for each build, then you can find it here.
Instructions to Install LineageOS 16.0 on OnePlus One
Download OnePlus One LineageOS 16.0 ROM, GApps, and SU ZIP files
Connect the phone to the PC and enable 'Transfer Files' mode.
Transfer all the downloaded files to the phone's storage.
Once transferred, disconnect the phone from the PC.
Power off the OnePlus One completely.
Press and hold the Volume Down and Power button simultaneously to enter TWRP recovery.
Swipe the 'Swipe to wipe' button to wipe the current OS completely.
Go back to the main screen and tap on 'Install'.
Navigate to the phone's storage and select the LineageOS 16.0 ROM ZIP.

Tap on 'Add more ZIPs' and select the GApps ZIP this time. Repeat the process for the SU ZIP file too.
Finally, swipe the button on the screen to install LineageOS 16.0 on OnePlus One.
When the flashing process finished, tap on the 'Reboot System' button. Your OnePlus One will then boot into LineageOS 16.0 based on Android 9 Pie. Complete the setup by following the on-screen instructions. Once everything is set, you can start exploring the device settings for customization options.
To sum up, the ROM gives you more freedom to customize each and every part of the OS according to your needs. That is not something the manufacturer will ever provide and is the biggest advantage of using a custom ROM.
So, this was our tutorial on how to download LineageOS 16.0 for OnePlus One and install it using TWRP. If you have any questions, please be free to comment below.