XDA Recognized Developer topjohnwu has recently announced another Beta update for Magisk, the universal systemless interface for Android devices. You can now download Magisk 16.7 Beta and Magisk Manager 5.8.3. The instructions below will also help newcomers to install Magisk and current users to easily update to the latest version.
If you have ever come around the word 'Rooting', there are strong chances that you have heard about 'Magisk'. It is basically a complete interface that not only offers a root solution for Android devices, but also allows the user to hide root from certain apps, and further provide the ability to easily inject additional features into the OS. Magisk is developed and maintained by XDA Recognized Developer topjohnwu.
Since the last update, which was about 2 months ago, the developer has finally released a new and improved build on July 7, 2018. Magisk 16.6 Beta aims at adding support for Treble-enabled devices and also fixes the mysterious root loss issue that has affected several phones. Below, you will be able to download Magisk 16.7 Beta and Magisk Manager 5.8.3 and also find the instructions on how to install/update it right now.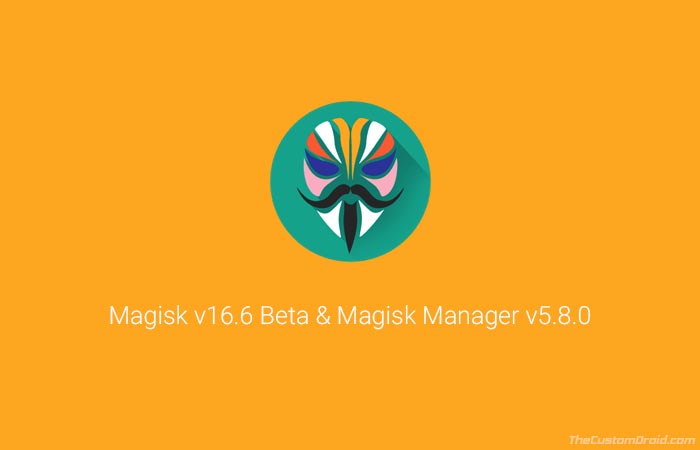 Table of Contents
Magisk 16.7 Beta & Magisk Manager 5.8.3 – Changelog
The latest version of Magisk is now finally available after almost 2 months of wait time, and we would like to tell you that 'It was worth it!'. The developer (topjohnwu) was recently busy attending his military training. And despite all the engagements, he was still able to jump into the development and made some huge improvements to your favorite root solution.
Before you head over to download Magisk 16.7 Beta and Magisk Manager 5.8.3, let us learn more about the changes and new features in the said version.
The new build was announced over at John Wu's Twitter account and the release notes were published at the official XDA thread. First and foremost, we would like to highlight the versioning. The developer has intentionally skipped version 16.5 since there were several major changes since the last release, that is version 16.4 Beta.
Hotfix Magisk v16.7 (1671) and Magisk Manager v5.8.3 is pushed to the public. Fix boot to fastboot on OP5/5T and detect ramdisk partitions on old Huawei devices.

— John Wu (@topjohnwu) July 19, 2018
With Magisk 16.6 Beta, the developer has highlighted two major changes/improvements, along with several other minor ones. The first is better support for Generic System Images (GSI) on Treble-enabled devices. In detail – Magisk relies on files that are stored in the /data partition of the device. So while a user switches to a different GSI and performs a factory reset, then he/she would need to re-install Magisk to gain root. In Magisk 16.6 Beta, a stub Magisk Manager APK is embedded in magiskinit. So, after a reset, if it detects that there is no Magisk Manager, then it will automatically inject the APK and host a full working Magisk environment for root.
Another major improvement that topjohnwu strained on was the abnormal root loss issue. According to him, the cause for this problem was the presence of multiple Zygote servers, which was not handled by MagiskHide and thus created the issue. The problem also affected the Magisk daemon and made it crash. To overcome this, the developer has added a new log monitoring daemon 'magisklogd', which works in hands with 'magiskd'. He confirms that the internal testers who faced these crashes are no longer tackling them with Magisk 16.6 Beta.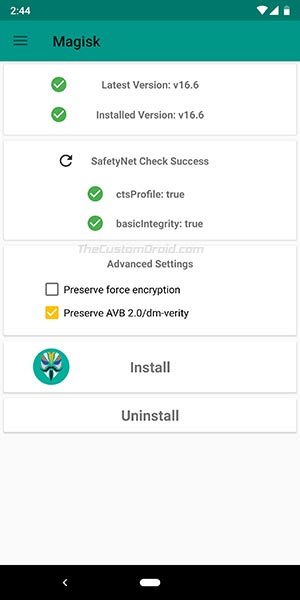 Apart from the 2 major changes noted above, there are several additional improvements, as listed in the release notes and mentioned below.
Magisk 16.7 Beta
[Scripts] Fix boot image patching errors on Android P (workaround the strengthened seccomp)
[MagiskHide] Support hardlink based ns proc mnt (old kernel support)
[Daemon] Fix permission of /dev/null after logcat commands, fix ADB on EMUI
[Daemon] Log fatal errors only on debug builds
[MagiskInit] Detect early mount partname from fstab in device tree
Magisk 16.6 Beta
Magisk Manager will preserve the random package name when upgrading within the app. Magisk will no longer prefer the package name com.topjohnwu.magisk over repackaged (hidden) Magisk Manager to prevent malware from targeting this specific package name. If you have a repackaged Magisk Manager installed, com.topjohnwu.magisk will be forcefully denied root access. You can use Restore Magisk Manager in settings, or uninstall the repackaged Magisk Manager to unlock com.topjohnwu.magisk.
The logic to calculate free space in ext4 images is replaced with new extremely precise methods, hopefully, no more module installation failures caused by images should happen. All modules using template 1500 will automatically benefit from the new free space calculation method on Magisk v16.6+, no additional changes are needed.
Support for Samsung Galaxy S9/S9+ is officially added.
Magisk v16.4 switched to 32-bit only binaries and caused issues in some apps. A new wrapper script is added to eliminate all possible quirks.
Treble GSIs (e.g. phh AOSP) sometimes require replacing adbd in ramdisk and used to conflict with Magisk. It is now fixed and ADB will fully function when using GSIs.
LineageOS introduced addon.d-v2 to A/B partition devices, the addon.d script is updated to be A/B aware (untested on my side)
Magisk Manager 5.8.3
Prevent invalid modules in the online repo crashing the app
Update Stable and Beta channel URLs
Magisk Manager 5.8.1
Fix a bug that causes the root shell initializer not running in BusyBox environment
Magisk Manager 5.8.0
Remain hidden when upgrading within repackaged Magisk Manager
New feature: support reconstructing a proper Magisk environment if error detected (e.g. after factory reset)
New uninstall method: download uninstaller and completely remove Magisk + Magisk Manager, following with a reboot.
Hidden apps are now shown on the top of the list in MagiskHide fragment
Tons of under-the-hood bug fixes and improvements
It sure seems that the developer has utilized the given time to make several new and huge improvements. We appreciate him for his hard work and his contribution to the Android rooting community. Now that you know all about the changes, proceed down below to download Magisk 16.7 Beta and Magisk Manager 5.8.3 APK right now.
Download Magisk 16.7 Beta (Magisk Manager 5.8.3)
Older release:
The Beta version has been provided as a flashable ZIP, that could be installed via TWRP or RedWolf Recovery Project. The Magisk Manager APK is also provided should you wish to update it manually.
How to Install Magisk 16.7 Beta?
If you're new to the scene, then do not worry because you can easily install Magisk on your Android device to root it. Now, there are two direct methods to do this, either – with TWRP recovery or without. The former allows the user to flash the Magisk 16.7 Beta ZIP using TWRP recovery. On the other hand, the latter requires the user to patch the stock boot image and then flash it using fastboot.
In our own experience, the second method could be a bit confusing for new users. That's often because getting the stock boot image for current firmware installed on the phone might not be that easy for every OEM device. Before all, we strongly recommend you to take a full backup of all your data on the device. This shall prevent any data loss situation should any issue arise after the installation.
— How to Install Magisk Universal Systemless Interface
In case you already have the previous version installed, then you can simply update Magisk 16.7 Beta via the simple set of instructions below.
How to Update Magisk 16.7 Beta?
Go to the app drawer and open 'Magisk Manager'.
Next, press the menu icon on the top-left.
Select 'Settings' from the menu.
Scroll down to 'Update Settings' section.
Tap on 'Update Channel' and select 'Beta'.

Go back to the Magisk Manager main screen and swipe down to refresh.
Tap on the 'Update Magisk' button.
Select 'Install' > 'Direct Install'.

The installer will automatically install Magisk 16.7 Beta and update it.
When finished, press the 'Reboot' button.
When the phone boots, it shall be running the latest Magisk 16.6 Beta with Magisk Manager 5.8.3 installed. You can go ahead and install root-enabled apps, use mods like ViPER4Android/Dolby Atmos, hide root from apps like Pokemon Go, and install Magisk Modules to enable extra features on your phone. We highly value the efforts of topjohnwu for making it possible for enthusiasts like customization to a whole new level.
So, you have just been able to download Magisk 16.7 Beta and install/update it. If you have any questions, please leave them down in the comments.