After Magisk 20.1 in November, Android developer topjohnwu has now released Magisk 20.2, followed by Magisk 20.3 Stable version. This latest version of Magisk brings a handful of new features and improvements, both for root users and module developers. Through this post, you can download Magisk 20.3 Stable along with Magisk Manager 7.5.1 for your Android device.
Just so if you're not familiar, Magisk is one of the most popular tools for rooted Android users, developed by John Wu (More commonly known as 'topjohnwu' in the online community). Apart from allowing you to root your Android device, it also gives you the ability to apply modifications to the software systemless-ly. You can even use it to hide root from apps that might show abnormal behavior or stop working completely if root is detected.
We have just walked into 2020, and the developer has already released a new Magisk update for its users. You can download Magisk 20.3 Stable ZIP and Magisk Manager 7.5.1 APK from below. But before you get to that, let's take a quick look at what new changes and features this update offers.
Table of Contents
What's new in Magisk 20.3 Stable & Magisk Manager 7.5.1?
Note: The developer rolled out Magisk 20.3 while I was writing this post. Since it's a hotfix release, I have chosen to pen down all the changes and features of Magisk 20.2 as Magisk 20.3.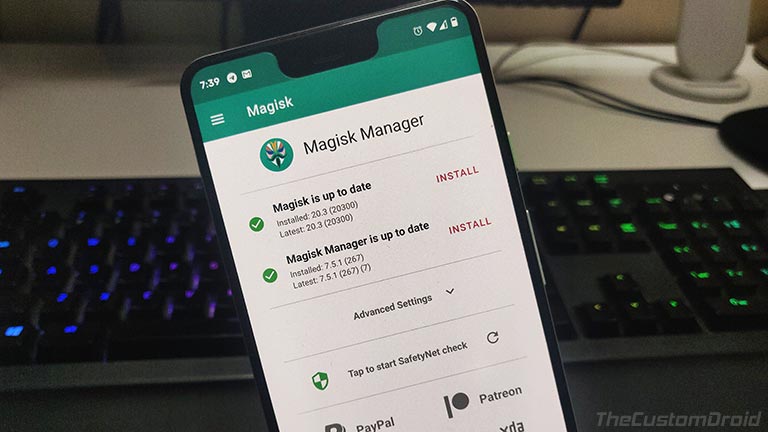 The previous version; Magisk 20.1 bought a new way to hide Magisk Manager, fixed issues for devices with A/B partition, along with increased support for Android 10 devices, and more. With the new and latest Magisk 20.3, the developer has further made improvements, added new features for Magisk Modules, and also added support for Face Unlock in Magisk Manager.
Now, before you head to the download links, take a look at the complete changelog as shared by topjohnwu himself:
Magisk v20.3 Changelog
Fix magiskboot crashing when dealing with lz4_legacy format
Magisk Manager v7.5.1 Changelog
Fix MagiskHide app component toggles
Magisk v20.2 Changelog
[MagiskSU] Properly handle communication between daemon and application (root request prompt)
[MagiskInit] Fix logging in kmsg
[MagiskBoot] Support patching dtb/dtbo partition formats
[General] Support pre-init sepolicy patch in modules
[Scripts] Update magisk stock image backup format
Magisk Manager v7.5.0 Changelog
Support new MagiskSU communication method (ContentProvider)
Fix several issues with hidden stub APK
Support using BiometricPrompt (face unlock)
According to the official release notes (1 & 2), this latest stable version of Magisk brings two major changes to Magisk Modules. The first is support for Pre-Init Sepolicy Patches in Magisk Modules. Module developers can now create a new 'sepolicy.rule' file in their modules, which will be loaded pre-init to make sure that sepolicy patches are applied successfully.
Earlier, developers used boot scripts along with the 'magiskpolicy' tool for live sepolicy patching. However, the method is known to create several issues as newer Android versions do not allow live sepolicy patching. The added support of Pre-init Sepolicy Patches in Magisk 20.3 addresses this issue.
Moving further, the second major change is the new Magisk Module Installer format. According to topjohnwu, the old format was a bit complicated and the module zip file structure didn't exactly show how the modules are stored on users' devices. The new Module Installer format makes it easier for developers to create new modules while giving other experienced developers complete freedom. If you're a module developer, we encourage that you visit the revised Magisk Module guide by topjohnwu.
Another notable change in Magisk 20.3 is how the Magisk daemon communicates with the Magisk Manager application, which is the 'root request prompt'. The new communication method ensures more stability for rooted Android users.
Last but not least, Magisk Manager 7.5.1 now supports the use of Face Unlock to grant root permissions. It has also been updated to support the new communication method as I mentioned above.
Download Magisk 20.3 Stable (Magisk Manager 7.5.1)
Update: Magisk v21.0 and Magisk Manager v8.0.0 have been released. You can check all the new changes it brings, download links and instructions on this page.
Like any other previous version, the latest Stable version is now available as a flashable ZIP file that could be installed using a custom recovery like TWRP recovery. We have also provided the link to download the APK of the latest version of Magisk Manager, in case you want to use it to patch the stock boot image for the alternate installation method.
If you are looking for a specific version of Magisk, they are all hosted at topjohnwu's Github.
You'd also find this helpful: How to Uninstall Magisk Modules using TWRP Recovery
How to Install Magisk 20.3 Stable?
There are two different methods to install Magisk on your Android device. The first method is by flashing Magisk using TWRP recovery, which is the most direct way. Or, you can use the second method that involves patching the stock boot image using the Magisk Manager app and then flashing the patched boot image to your device via fastboot.
The second method comes in handy if a custom recovery like TWRP is not available for your Android device, or you don't want to use a custom recovery in the first place. It is also much easier to install OTA updates on devices that are rooted using this method. All you will need is the stock boot image of the currently installed software version/build number for your device. You can extract it either from the OEM Factory Image or full OTA update package, or try downloading it from firmware.mobi.
Before you install, we strongly recommend taking a full backup of all your data on the device. This shall prevent any data loss situation should any issue arises after the installation. Also, go through the instructions and familiarize yourself with the procedure before you start performing it.
We have covered both the methods in full-detail in the guide linked below.
— How to Install Magisk Universal Systemless Interface
In case you already have the previous version installed, then you can simply update to Magisk 20.3 Stable using the instructions in the next section.
How to Update to Magisk v20.3 Stable?
To update Magisk, launch the "Magisk Manager" app.
Go to "Settings" > "Update channel" and select "Stable".

Now go back to the app's main screen and pull to refresh the menu.
Tap on the "UPDATE" button right next to "Magisk Manager Update".

Install the downloaded Magisk Manager v7.5.1 APK by following the on-screen instructions when prompted.
Once the app is updated, it will automatically relaunch.
Now press the "UPDATE" button next to 'Magisk Update Available!'.

Select "Install" > "Direct Install" to install Magisk 20.3 update on your device.
Once finished, press the "Reboot" button.
When your device boots, it shall be rooted with latest Magisk 20.3 Stable version, and Magisk Manager 7.5.1 installed. You can go ahead and check the SafetyNet status, and it should pass. Now that your phone is rooted, you can also install root-enabled apps, use mods like ViPER4Android, or use the "Magisk Hide" feature to hide root from apps like Pokemon Go. You can also install Magisk Modules to enable extra features on your phone.
So you were able to download Magisk 20.3 Stable and install/update it on your phone. The developer has surely made some massive improvements and changes in this latest Magisk update. We duly appreciate his hard work and the time he has and is devoting to the Android community. If you have any questions about the latest version, leave a comment.