The tutorial below will guide you on how to enter safe mode on the Nexus 6P.
We often face several issues on our Android devices like instant reboots, force-closures, software freezes, wake locks, but the cause of such issues is always subjective. There might be a chance that you're tackling one such problem on your Nexus 6P. The cause of the problem may be the software, hardware, custom ROM that you may install, or even sometimes the third-party apps. But how do you check the source of the issue when its completely unknown and solve it, especially when it happens only to your device? Again, like I said – It's subjective and depends on several factors.
Well, you can start off by wiping Nexus 6P cache through recovery. Further, you can also check whether or not, the problem you are facing is a known bug related to the software/ROM itself. If it is, you can contact your ROM developer regarding the same. But what if the problem still persists, and you could check if any of the installed applications or settings could be the root cause. The analysis for this could be easily done by entering Safe Mode on Nexus 6P.
What is Safe Mode? – Safe Mode is a special mode in the Android operating system which lets the phone/tablet run in diagnostic/troubleshooting state, with the currently installed Android firmware using the default settings and with no third-party apps installed.
The following procedure could also be followed for other Nexus smartphones and tablets.
How to Enter Safe Mode on Nexus 6P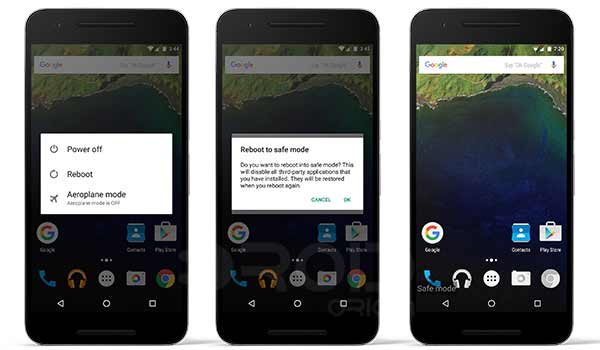 While your Nexus 6P is booted and the lock screen is unlocked, long-press the power button until the Power Menu appears.
Now, tap and hold on Power off option.
Release the option once Reboot to safe mode pops-up.
To finally enter Safe Mode on Android, tap on OK.
The phone will automatically reboot into safe mode. You will have all the third-party apps disabled, with default settings.
Now when you are done with your diagnostics, you can reboot your phone normally to exit Safe Mode and enter the OS in normal mode. Having problems while booting into Safe Mode? Comment below and let us know.