Are you facing the missing OEM unlock issue on your Samsung Galaxy device? That's because your phone has entered the Prenormal RMM/KG state. However, if you'd like to bypass it, then you can follow the instructions below and fix missing OEM unlock toggle on Samsung Galaxy devices. These include the Galaxy S8/S8+, Galaxy S9/S9+, Galaxy Note 8, Galaxy Note 9 and more. But before you get to the steps, take a look at the information below to know what RMM (KG) state actually is, how it affects the OEM unlock option, and how to turn it on again.
Table of Contents
What is Prenormal RMM/KG State?
RMM (abbreviated for "Remote Mobile Manager") or KG (abbreviated for "KNOX Guard") state is a security functionality introduced to aid tighter theft protection by Samsung in Android Oreo. After the user finishes the Setup Wizard, the "RMM state"/"KG State" turns from 'Normal' to 'Prenormal' for a period of 7 days (168 hours). After the stated period a query is sent to Samsung, and if the phone is clean, the state will turn back to normal.
So, what does the RMM state have to do with OEM Unlock? – During the Prenormal RMM or KG state, the system automatically disables the OEM unlock toggle intentionally. The toggle is disabled to prevent flashing of any custom binaries like firmware, custom recoveries like TWRP, root packages, etc.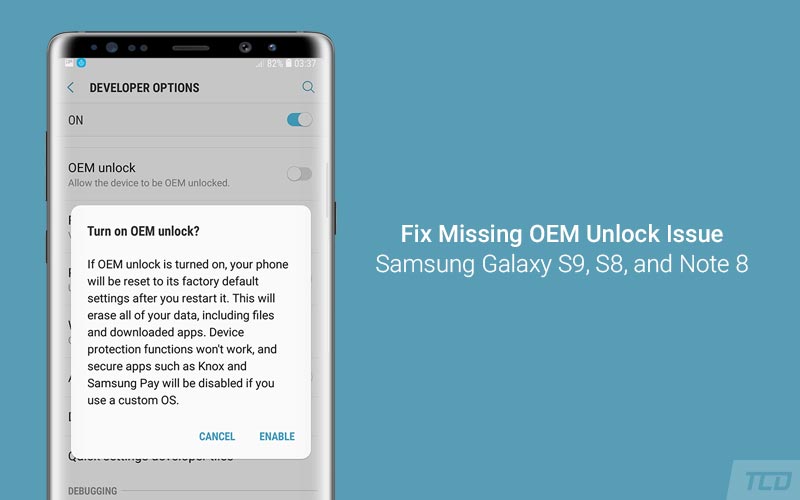 If you're going to install TWRP recovery or root your phone, you will first need to turn ON the 'OEM unlock' toggle in Developer options. But since the toggle would be missing (Actually 'disabled') in Prenormal RMM/KG state, you would be forced to wait for a 7 days period. Thanks to XDA member altai1963 you can easily fix missing OEM unlock toggle on Samsung Galaxy devices including the S9, S8, Note 8, and Note 9.
Update x4 (on 22 November 2019):
One of our readers, Bill Bobbington was able to fix the missing OEM unlock toggle on his Galaxy Tab S3 (SM-T820). Please make sure that you go through his comment and let us know if it works for you. Thanks Bill! One of our readers – Sean Robertson has confirmed that this method works.
Updated x3 (on 7 October 2019):
According to one of our our readers (PADDY186), flashing a compatible combination firmware on your device, then factory resetting it, and flashing the stock firmware again could allow you enable the OEM Unlock toggle. He has tested this twice on his Galaxy Note 9. Make sure to go through his comment.
Update x2 (on 5 February 2019):
According to one our readers (Username: Tonga; See his comment in the comments section), after completing all the steps in this guide, go to Settings > General Management > Date and Time and turn ON the 'Automatic date and time' option. Once done, revisit the 'Developer options' and see if the OEM unlock toggle has appeared again or not.
If this trick works for you, then please do share your phone's model and software version with us. This will help other users who're looking forward to fixing the Missing OEM Unlock problem.
Update x1 (on 20 January 2019):
The method below has stopped working on the newer firmware released in or after August 2018. In most situations, your device will be forcibly locked and the OEM Unlock toggle will be missing. Ensure that you insert a SIM card, connect to your network, and NOT REBOOT your Galaxy device for straight 7 Days (168 Hours).
Once the RMM State turns back to 'Normal', you'd be able to flash custom binaries like TWRP. However, before flashing, make sure to read our article on how to Prevent Prenormal RMM State and avoid your device from being locked again.
Supported Devices
Samsung Galaxy S9 (SM-G960F) & Galaxy S9+ (SM-G965F)
Samsung Galaxy S8 (SM-G950F) & Galaxy S8+ (SM-G955F)
Samsung Galaxy Note 9 (SM-N960F)
Samsung Galaxy Note 8 (SM-N950F)
Samsung Galaxy Note FE (SM-N935F)
Samsung Galaxy A8 2018 (SM-A530F) & Galaxy A8+ 2018 (SM-A730F)
Samsung Galaxy A7 2017 (SM-A720F)
Samsung Galaxy A5 2017 (SM-A520F)
Samsung Galaxy A3 2017 (SM-A320F/FL)
If your device is not mentioned above, you can still give the instructions a try. If it works, make sure to let us know so that we can add the device to the list.
How to Fix Missing OEM Unlock Toggle on Samsung Galaxy Devices?
Go to the app drawer and launch the 'Settings' app on your Galaxy phone.
Next, go to 'General Management' and tap on 'Date and Time'.

Turn off the 'Automatic date and time' toggle. The manual date and time settings should appear now.
Tap on 'Set date' and select a date which is at least more than 7 days prior to the current date.

For example, I selected '15 August 2018′ to trick our phone into thinking that we have been using it for the past 1 month.

Once set, head back to the Settings and go to 'About phone' -> 'Software information'.

Continuously tap 7 times on the 'Build number' to enable the Developer Options.

Go to 'Settings' -> 'Developer options' and turn off the 'Auto update system' toggle.
Next, go back to the settings screen and tap on 'Software update'.
Turn off the 'Download updates automatically' option and then tap on 'Download updates manually'.

Finally, reboot your Samsung Galaxy device to fix missing OEM unlock issue.
Conclusion
After your phone boots, the OEM unlock toggle shall appear under 'Developer options'.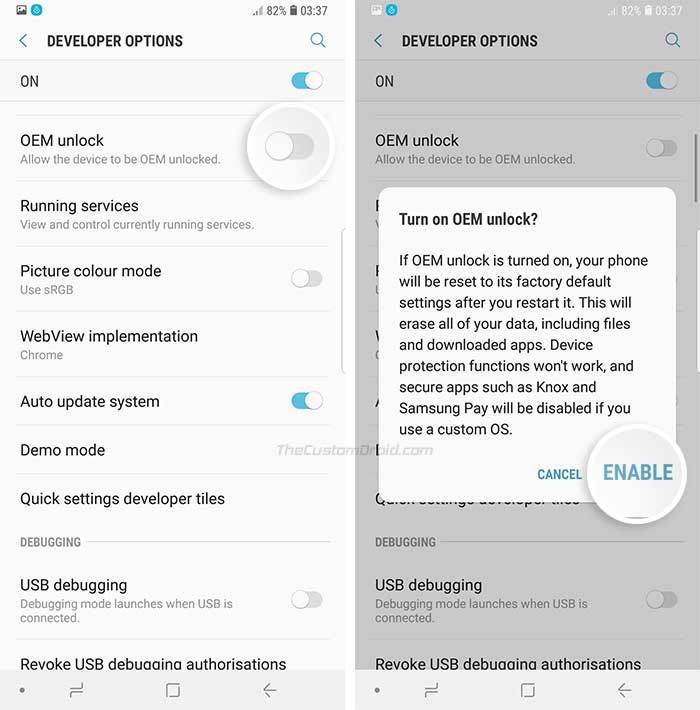 To further avoid the RMM state from locking your device again, you can simply flash 'RMM_Bypass_v3_corsicanu.zip' file (Credits: XDA Senior Member BlackMesa123 and corsicanu) right after flashing TWRP on your Samsung Galaxy device.
So there you go! You have just been able to bypass the Prenormal RMM state and fix missing OEM Unlock toggle on your Samsung Galaxy S9/S9+/S8/S8+ and Note 8. If you have any questions, please let us know through the comments.
Now that you have successfully enabled 'OEM unlock', you can go ahead and follow one of the tutorials linked below to root your corresponding Samsung Galaxy device.
(Via)