Last time, we have received reports of OnePlus 6 having a flickering display issue. The problem is said to occur when the device's "Adaptive Brightness" feature is turned on, or whenever it detects slight movements. Thankfully for OnePlus and it's customers, the issue is not related to hardware. The Chinese manufacturer has then announced that it was working for an update which will roll out any time soon.
Now, finally, the company is rolling out a new update that fixes this issue. As usual, the new update, OxygenOS 5.1.11, is a staged distribution. That means it will initially only be available for a limited number of users, and when everything is going fine, it will start rolling out to everyone in the coming days.
OnePlus 6 OxygenOS 5.1.11 Update Fixes Display Flickering Issue, Improves HDR, and More
The update, packaged at 152MB, contains a number of improvements and major fixes. Aside from fixing the flickering display issue, it will also provide an update to an optimized network connection and stable Wi-Fi connectivity. Users can now also key-in a pin code to automatically unlock the smartphone without actually tapping the checkmark button. Furthermore, the new update will also improve the HDR mode in the device. To force check for the update, go to Settings -> System update.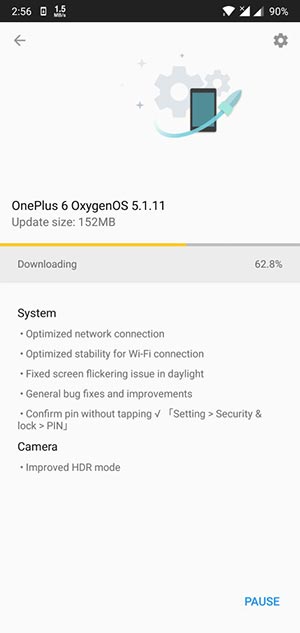 The OnePlus 6 is the company's latest flagship smartphone. It features 6.28-inch Full HD AMOLED display, Snapdragon 845, 6/8GB of RAM, and 64/128/256GB of expandable storage. The smartphone also sports two high-resolution cameras at the back (16MP+20MP), and another 16MP mounted on the front for selfies. The OnePlus 6 packs a decent 3,300mAh battery.