This guide will teach you how you can easily boot OnePlus 5 Bootloader and Recovery mode using the physical button combination or ADB commands.
What is bootloader mode? — A bootloader is a part of the system that helps to load different runtime environments on a device including the Operating System and Recovery mode. When you power on the device, the bootloader conducts a bunch of self-tests to verify the device and automatically loads the OS by default. However, if you do wish to boot into another mode like Recovery, then you will have to first boot OnePlus 5 Bootloader Mode. A bootloader mode is also a place where you can execute commands through fastboot (An Android tool binary) to perform processes like partition flashing, wiping, and booting.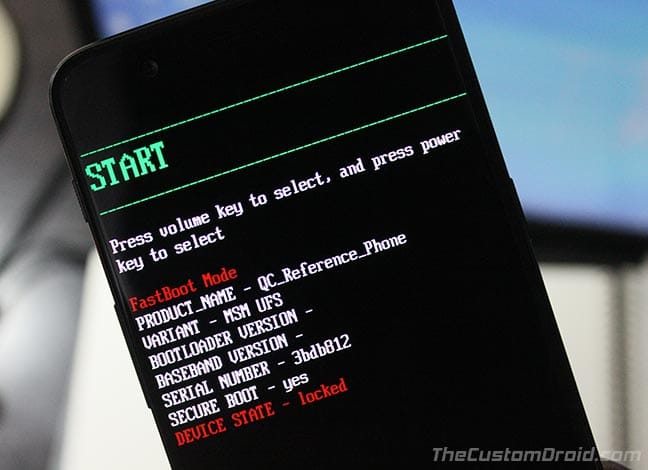 Booting your OnePlus into 5 Bootloader mode and recovery mode is an integral part of any advanced process like unlocking bootloader, flashing ROMs, rooting, or installing a custom recovery like TWRP. So if you have decided to perform any such procedure on your device or even if you would like to hard reset your OP5 using the stock recovery, then the steps below will definitely prove helpful to you.
Table of Contents
How to Boot OnePlus 5 Bootloader Mode
Booting OnePlus 5 bootloader mode is easy and doesn't require much hassle, just your fingers and the device are enough. Now it can be done using various methods that are available. All these methods will be discussed below.
Read – Unlock Bootloader, Install TWRP, Disable Encryption, and Root OnePlus 5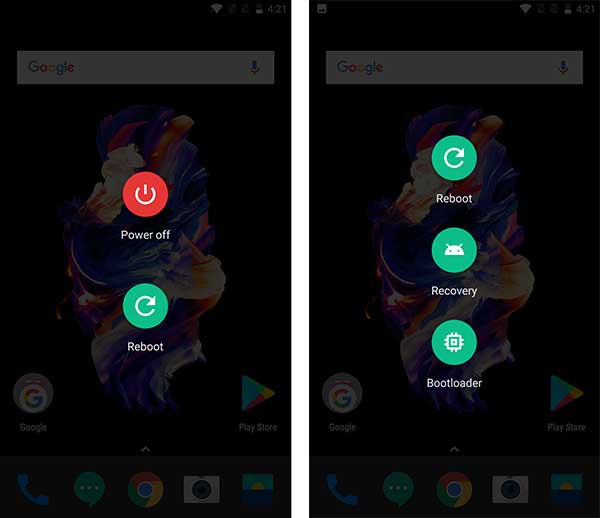 In order to access the advanced boot menu, you must have Developer options enabled on your OnePlus 5.
So, go to the Settings -> About phone. Scroll down until you find "Build number".
Start by tapping on it continuously until you see a toast notification saying "You are now a developer!"
Once you have them enabled, go to Settings -> Developer Options and enable the "Advanced reboot" setting.


How to Boot OnePus 5 Bootloader Mode – Enable Advanced reboot setting

All you need to do now is, long-press the Power button until you see the power menu. Press on 'Reboot' option and then tap on 'Bootloader' -> 'Touch to reboot'.
The next fastest and most convenient way to boot OnePlus 5 Bootloader mode is by using the special button combination for your device.
Power off the phone completely. Hold on the Power button, then select 'Power Off' -> 'Touch to Power Off'.
Press and hold the Volume Up + Power buttons simultaneously until you see the bootloader mode.
That's it, your OnePlus 5 is now in bootloader mode.
» Using ADB Command
While you are performing a process that involves using ADB commands by connecting your OnePlus 5 to the PC, then the instant way to boot OnePlus 5 Bootloader mode is by using an ADB command itself.
You must have USB debugging enabled and ADB access for this to work.
Open the Command Prompt or Terminal window depending upon the OS you are using.
Enter the following command to instantly boot OnePlus 5 bootloader mode:

adb reboot bootloader

As soon as you enter the command, the phone will automatically power off and reboot into the bootloader.
Okay, so those were three different ways to help you boot OnePlus 5 Bootloader mode. I am pretty certain that all of them very easy and should prove their usefulness in different situations. Now you can move further if you would like boot OnePlus 5 into recovery mode.
Update now – How to Install OnePlus 5 OxygenOS 4.5.10 Right Now!
How to Boot OnePlus 5 Recovery Mode
Now that you have been able to boot OnePlus 5 Bootloader mode, it is far too easy to get into the recovery mode from there. All you have to do is, tap either of the volume keys until you see "Recovery mode" on the top. Then just press the Power button to confirm and enter recovery, stock or TWRP, whichever might be installed on your device.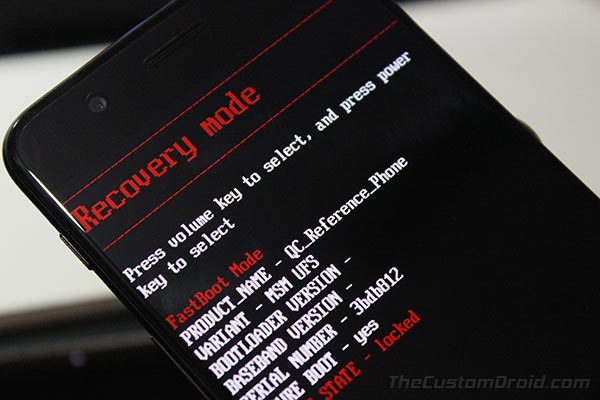 Another simple way to boot OnePlus 5 Recovery mode is by using the ADB command. So again, if you're performing a process using ADB while your device is connected to the PC, then all you need to do is enter the following command in the Command Prompt/Terminal:
adb reboot recovery
Important: Note that ADB commands only work while your device is booted into OS. They won't work in bootloader mode. For that, you would need fastboot.
So now you know how to boot OnePlus 5 Bootloader mode and recovery mode without much hassle. We dearly hope that the article has proved to be helpful. If you have any suggestions; drop a comment below.