Today, we bring with us, the easiest way to customize Android Oreo NavBar without the need of Root. The instructions below will help you succeed in it by making use of Substratum theme engine on Oreo.
With time, more and more OEMs have moved ahead and started using on-screen navigation buttons on their devices, instead of the generic capacitative hardware buttons. It was quite obvious that on-screen NavBar is more efficient, and could be customized easily, compared to the hardware counterpart. It has also taken out any possibilities of a hardware damage since we are navigating all times and any hardware component has a lifespan.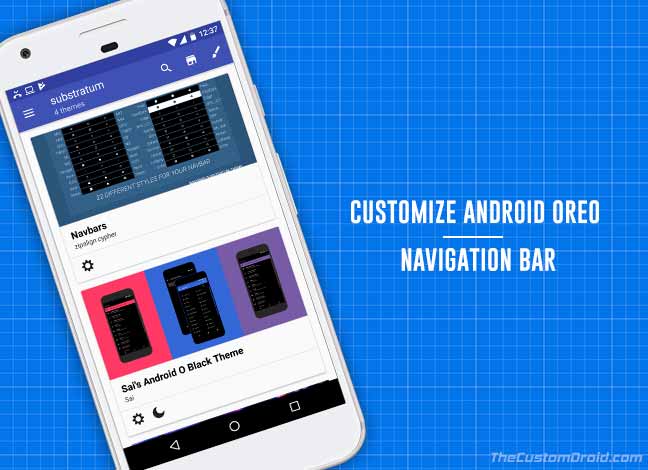 Yes, a few weeks earlier we came up with a tutorial that would allow you to do the same (Yes, without root), but the method could be a struggle for beginner users. But it still works flawlessly. However, we will be doing it once again. But this time, we will use a rather simpler and more innovative approach to customize Android Oreo NavBar.
We also recently saw Substratum and its Andromeda add-on providing support for rootless Oreo devices. Which means you can now install custom themes or other visual modifications using the Overlays Manager Service (OMS) that is baked right into Oreo. This opens a lot of possibilities for the developers to take advantage of the feature. And provide much more and easier customization methods for the users.
So let us not waste any more time and head towards the instructions.
Customize Android Oreo NavBar without Root
Just like we used substratum to add Blob Emojis on WhatsApp and Telegram, we will be Customizing Android Oreo NavBar pretty easily using the Substratum Navbars app. Before we proceed to the instructions, we will preassume that you have already setup your Android Oreo device to be used with Substratum. If not, follow this link to do it now.
The Substratum Navbar app offers 22 different NavBar styles including those from Nougat, S8, Edge, Pixel, etc. The app has been developed by XDA member – zipalign. We duly appreciate his hard work and his idea to bring this fantastic Substratum Overlay theme to us.
Instructions
To start with, download and install the Substratum Navbars theme that is available on Google Play.
Then open the "substratum" app on your Oreo device. In case it is not opening, it means that Andromeda is not binding properly to Substratum and doesn't have the privileges. So make sure that you have properly set it up.
Now browse through the list of installed Substratum themes and select "Navbars".


Installing Substratum Navbars Theme on Android Oreo

To customize Android Oreo NavBar, in the Overlay Manager, you will see the "System UI Navigation" overlay card. Press the drop-down menu and select the NavBar design of your choice.
Make sure that you select the overlay by toggling it ON.
Then tap on the pink paint-roller icon on the bottom-right and select "Build & Enable"
The overlay installation will proceed. Once it finishes, you will instantly see the change.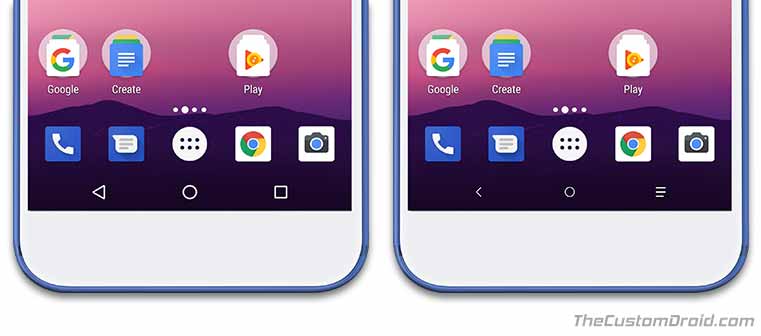 Enjoy the new NavBar design on your device without Root!
It was easy to customize Android Oreo NavBar, right? Yes, we feel the same. Substratum has brought enormous possibilities to Android Oreo and you we will be seeing more from it in the coming days. Stay tuned and we will keep you updated with more tutorials!
Check out more in Android Oreo:
If you have any problem setting up Substratum or using this theme, then just let us know using the comments.