Nokia 8.1 which was released in December last year is now receiving the official Android 10 update with V4.15B build number. The announcement was first made by Juho Sarvikas (CPO, HMD Global) on Twitter. The update is rolling out over-the-air already. However, if you have not yet received it, then you download the OTA package from here and follow the instructions to manually install Nokia 8.1 Android 10 OTA update right now.
Table of Contents
What's new in Android 10 for Nokia 8.1? – Changes and Features
Being a part of Google's Android One program, the Nokia 8.1 was officially the part of Android Q Beta program, and is now the first Android phone from HMD Global to get the stable Android 10 update officially.
Since this update is a major one, Android 10 update for Nokia 8.1 brings a lot of new features, changes, and improvements to the table. The major ones have been listed and explained in the pointers below:
Live Captions: Automatically captions any media (Video, audio, or podcasts) playing on your phone. The best part is that this new feature can work even without an internet connection (mobile data or WiFi).
Sound Amplifier: As the name suggests, this new feature serves the purpose of amplifying/boosting the audio experience on your phone while headphones are connected. It does so by boosting the quiet and reducing the loud sounds for immersive audio listening experience, especially when in loud environments. There's also a Noise Reduction feature to reduce unwanted or distracted noises.
Smart Reply: This feature was introduced back with Android Pie, but was only limited to showing suggestions regarding the text. With Android 10, the Smart Reply feature is now equipped to suggest actions as well.
System-wide Dark Theme: This is one of the top major features of Android 10. Turning on Dark Theme will change the complete UI of the system to true black colors, which not only makes it easier to look at the screen in low-light environments, but also saves the battery. Almost all Google apps are supported by this feature, including Gmail, Messages, Chrome, Phone, and more.
Improved Gesture Navigation: Google first introduced gesture-based navigation in Android Pie last year. Since then, it has improvised a lot. With Android 10, Google has introduced a more intuitive gesture navigation system which makes navigating around the system much simpler yet effective, while saving you some space at the bottom of the screen.
Privacy Controls: Google has focused a lot of users' privacy in Android 10 by providing a dedicated section to adjust different types of permissions (Location, storage, etc) for individual apps.
If you want to know more about Android 10 and details about the new features, then consider visiting the official website. It's also worth noting that this update comes with August 2019 security patches. Since the October 2019 patch is already available for many other OEM devices, we do expect HMD to soon push an incremental update for the same.
Our fellow publisher (NokiaPowerUser.com) has also covered a hands-on/first impression video of the Nokia 8.1 running Android 10. Kudos to them!
Like we mentioned earlier, the update is already rolling out over-the-air. The OTA weighs about 1.4 GB, or 1448.7 MB to be precise, and comes as V4.15B. According to several reports from Nokia subreddit, it is already available for users in India and Europe. However, it could take some time before it reaches out to all the users in different countries (regions) and markets.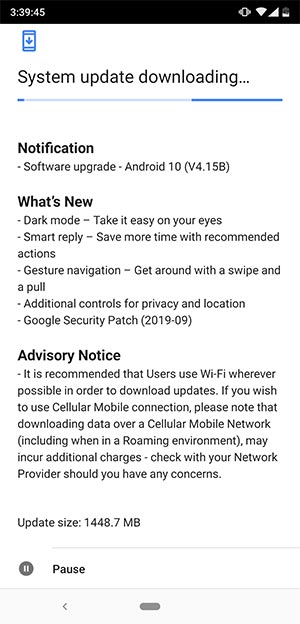 So, if you're eager on upgrading right now, then you can download Nokia 8.1 Android 10 OTA package (zip file) from below and install it manually. This could be done either by using a simple dialer code within the OS, or by sideloading the OTA zip using stock recovery.
Before You Begin
Make sure that you fulfill all the requirements stated below in order to manually install Nokia 8.1 Android 10 OTA Update.
Although updating using the instructions below will not wipe any data stored on the phone, we still strongly suggest that you take a full backup of your data, including that on the internal storage. This shall help safeguard your data in case anything goes wrong.
Enable USB Debugging on your Nokia 8.1 in the phone's settings.
Download the latest Android SDK platform-tools package from here and extract it to a suitable location on your PC. Example: 'C:\platform-tools' on Windows PC or '/user/Documents/platform-tools' on macOS/Linux PC.
Ensure that your phone is charged to a sufficient battery level to avoid any sudden shutdowns during the middle of the update process.
Download Nokia 8.1 Android 10 OTA Package
Update x2 (10 November 2019): October 2019 security update based on Android 10 is now rolling out for Nokia 8.1. The download link for the incremental OTA zip has been added below.
Update: Apparently, it seems like the OTA package is only compatible with the 'PNX_Sprout' version of the Nokia 8.1. If you have the 'gsi_sdm660_64' version, then this method and the provided file will not work for you.
That being said, if you have 'gsi_sdm660_64' version of the Nokia 8.1 (You can check that by going to the stock recovery) and have received the Android 10 OTA update, we kindly request you to capture the OTA's URL by following the steps here. If you succeed in capturing, please share the URL with us, so that other users who haven't been able to update automatically can force-upgrade their phone too. Thanks!
Currently, we could only get hands on the Android 10 OTA package (zip file) for Nokia 8.1 Indian variant. The file will fail to install if you have European (TA-1128) or any other variant. When we have hands-on the OTA zip file for the European variant, we will update this post with the corresponding download link.
Android Pie > V4.15B (Full Update): Click to download

Rename the file to "PNX-415B-0-00WW-B03-update.zip"

V4.15B > 4.15C (Incremental; October 2019 update): Click to download

Rename the file to "PNX-415C-0-00WW-B03-update.zip"
Make sure to rename the downloaded OTA package before proceeding.
A huge thanks to Reddit user aha7sh for sharing the link!
How to Manually Install Nokia 8.1 Android 10 OTA Update
First, download Nokia 8.1 Android 10 OTA package on your PC.
Copy the downloaded OTA zip file to the folder on the PC where the ADB and Fastboot binaries are present (e.g. C:/adb)
Hold the 'Shift' key and right-click on an empty space inside the folder.
Select 'Open PowerShell window here' from the contextual menu.
Next, power off your Nokia 8.1 completely.
Hold the Volume Up and Power button simultaneously until the phone vibrates.
When the 'No command' screen appears, hold the Power button and tap the Volume Up key once to enter the stock recovery.

Highlight 'Apply update from ADB' using the Volume keys and press the Power button to select it.
Enter the below command to ensure that your phone is successfully being detected by ADB:

.\adb devices

Finally, execute the following command to install Nokia 8.1 Android 10 OTA update:

.\adb sideload PNX-415B-0-00WW-B03-update.zip

When the installation finishes, select 'Reboot system now'.
Your Nokia 8.1 should reboot into the upgraded OS with September 2019 security patch. If you face any unusual lags or bugs after installing the OTA, we suggest you to perform a factory reset, either from within the Settings menu or via the stock recovery.
Google officially introduced Android 10 last month, and HMD has done a good job rolling out the update quickly. According to the roadmap provided by Juho Sarvikas, the Nokia 9 Pureview and Nokia 7.1 (Now available; OTA download and instructions here) should be next in line to receive Android 10 update, followed by Nokia 6.1/6.1 Plus and Nokia 7 Plus.
So, this was our guide on how to manually install Android 10 OTA update on Nokia 8.1. Go ahead and enjoy all the latest features on your phone now. Don't forget to share your opinion with us about what you like or dislike about this update. If you have any questions regarding this update, let us know through the comments.