Through this post, you can download the latest and best Google Camera Ports for Xiaomi Mi A3 running Android 10 and Android Pie. These ports are based on Google Camera app v8.0.101, v7.6.008, v7.4.014, v7.3.018, v7.0.009, and v6.2.030. Further, you will also learn how to install the GCam port on your phone and import the config XML file for the best camera settings.
The Xiaomi Mi A3 is the third iteration of Xiaomi's Android One series and a worthy successor to Mi A2/A2 Lite. When it comes to the camera, the phone features a powerful triple camera setup on the rear, with a 48-megapixel primary lens, an 8-megapixel ultra-wide lens, and a 2-megapixel depth lens for AI Portrait Mode. But even with all that decent camera hardware, the stock camera on the Mi A3 fails to do complete justice when it comes to photo quality.
Well, that's exactly where the Google Camera Port (Also known as "GCam Port" or "GCam Mod") comes into play. Installing Google Camera on your Xiaomi Mi A3 can significantly improve the overall camera quality and also allows you to use Pixel-specific camera features like Astrophotography mode, Portrait mode, Night Sight, HDR+, and much more. So, if you're really looking forward to giving a nice boost to your phone's camera experience, then you should give it a try.
Table of Contents
Download Xiaomi Mi A3 Google Camera Port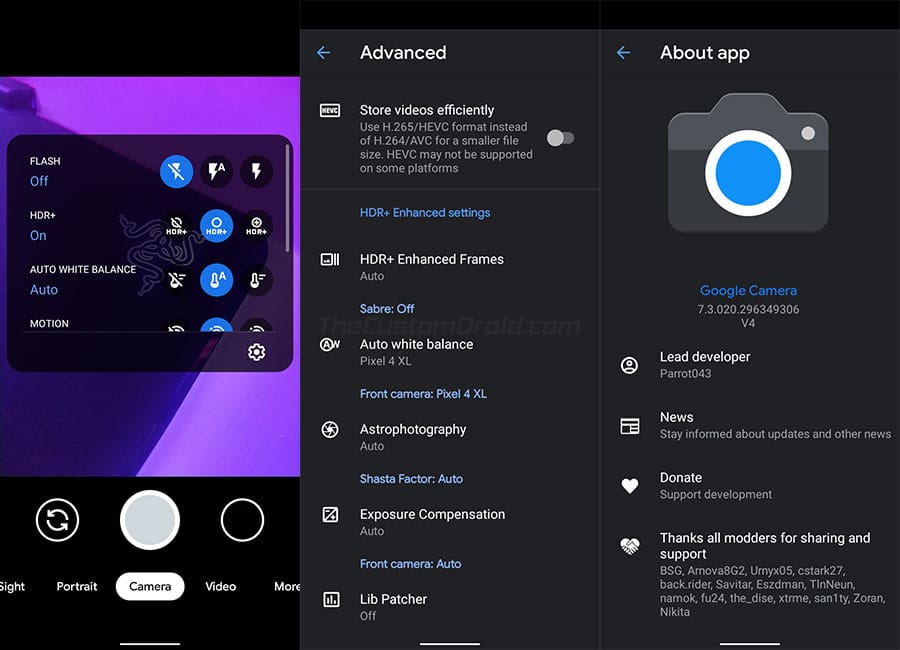 After trying ports from many different developers including Arnova8G2, Parrot043, san1ty, and more, we have finally found the best ones that are stable enough for daily use. Some of these were also recommended by other Mi A3 users over at this XDA thread.
Almost all major camera features, including Night Sight, Portrait Mode, Astrophotography Mode, etc are fully working in these ports. A few of these also support switching to the wide-angle lens but would require you to root your Mi A3 and set SELinux as Permissive. We recommend that you try every available port to decide which one works the best on your phone.
Below, you will find the links to download the APK files of the Google Camera Ports for your Xiaomi Mi A3, provided by various developers. These ports have been listed in decreasing order of the Google camera version, so the latest version is at the top, while the older version at the bottom of the downloads list. All of these GCam ports support Mi A3 running Android 10 and Android Pie.
Important Notes:
The most stable ports for the Mi A3 are from developers Parrot043, Nikita, tigr, and Wichaya.
Google Camera v8.0 ports by Arnova and BSG are in their initial development phase. So expect to see some bugs.
Ports from Parrot043 are based on the latest Google Camera v7.6 and offer the latest Pixel camera features like Astrophotography mode, Night Sight, etc.
Ports by tigr are based on Google Camera v7.2 and offer the same features, but more extensive controls.
When switching or updating ports, make sure to clear the Google Camera app's data and cache via the settings before installing another port.
XML Config files for most 7.x ports should be located in <internal storage>/GCam/Configs7, unless otherwise stated.
Google Camera 8.0.101 Port by Arnova8G2
Google Camera 8.0.018 Port by BSG
Google Camera 7.6.008 Port by Parrot043
Google Camera v7.4.021 Port by tigr (trCamera)
Google Camera 7.4.014 Port by Nikita
Google Camera v7.3.018 Port by Wichaya
Google Camera v7.3.018 Port by Urnyx05
Google Camera 6.2 Ports
Google Camera 6.1 Ports
Download Google Camera port APK and XML config file (if supported) for your Mi A3.
Open a file manager app on your phone.
Navigate to the folder where the APK  was downloaded.
Tap on the GCam port APK file to initiate the installation.
You may be prompted to allow the installation of apps from third-party sources.

Tap on "Settings" and turn ON the "Allow from this source" toggle.
Select 'Install' to install the Google Camera Port APK on your Xiaomi Mi A3.

Once installed, go to the app drawer and launch the camera app.
Grant it the required permissions when prompted.
Note: If you plan on installing a different port or updating to a newer version of the current port, then make sure to wipe the app's data via the settings.
Import Config XML in Google Camera
A few ports might support the ability to load/import XML config files (like Parrot043's Google Camera 7.0 Port, HyperCam, trCamera, etc). If you have installed one of these ports, then you can quickly load the predefined camera settings.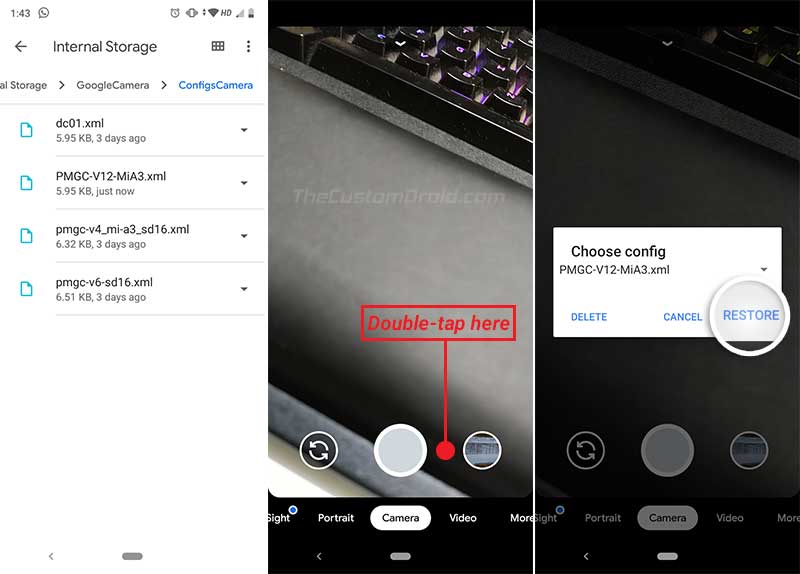 To do so, simply download the config file and copy it to /GCam/Configs7 folder for GCam 7+ ports or /GCam/Configs folder for GCam 6.x ports (Create the folders if not already present). Then open the camera app and tap on the empty space near the shutter button. Finally, select the config XML file and tap on the 'Restore' button.
That's it! Now that you have installed the Google Camera app on your Mi A3, go ahead and check out all the Pixel camera features like Night Sight, HDR+, Portrait Mode, and Astrophotography Mode. We will keep this page updated as the latest ports are released by the respective developers.
Some of the ports and their configuration files were sourced from the Mi A3 Telegram group. A huge thanks to everybody there!