Xiaomi is now rolling out August 2020 security update for the Mi A1 with "V11.0.24.0.PDHMIXM" build number. Through this post, you can download the latest Xiaomi Mi A1 Android Pie August 2020 update and learn how to manually install it to upgrade your phone right now. This could be easily done by flashing the fastboot ROM or TWRP flashable zip.
The Mi A1 has received monthly security updates and major Android upgrades pretty much on time (Sometimes with loads of bugs…cough!). This has only been made possible because the phone is a part of Google's Android One program. Its successors, the Mi A2 and Mi A2 Lite have already been upgraded to Android 10.
Table of Contents
Android Pie August 2020 Update for Xiaomi Mi A1 – Changelog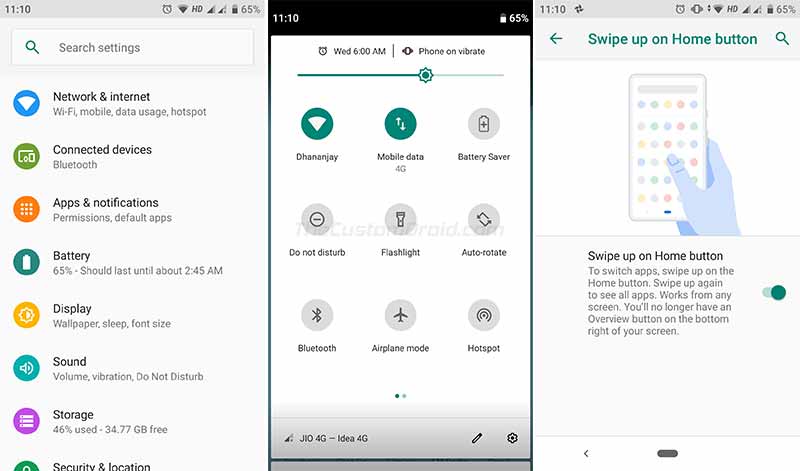 Although it would be hard for the Mi A1 to get Android 10 since it has already received two major Android upgrades, however, the company is still constantly releasing monthly security updates for the phone based on Android 9 Pie. And this month's update is no different.
Xiaomi Mi A1 August 2020 update is now rolling out to the users over-the-air. The OTA update weighs just about 80.72 MB and according to the OTA notification, the only major change brought by this update is the August 2020 security patch. It has further been mentioned that this update also improves the phone's stability and performance. Of course, since the update is based on Android Pie, it carries all the standard features like revamped settings menu, Quick Settings toggles, notifications, Digital Wellbeing, and more.
Although the update has been rolled out globally, it could take some time before it actually reaches your phone. In that case, you may choose to manually install this latest update on your phone, the instructions for which have been provided in detail below.
Before you move to the instructions for the manual installation, make sure to check for the OTA notification on your device. To do that, go to 'Settings' > 'System' > 'System updates'. If your phone is rooted with Magisk, it's possible to install the OTA update (See instructions here) without having to do anything manually. However, if you are using TWRP, then the easiest way is to just follow the instructions below.
Download Xiaomi Mi A1 Android Pie Firmware
The Android Pie firmware for Xiaomi Mi A1 is available in two different types of files. The first is a flashable Recovery ROM that can be flashed via TWRP. And the second is a fastboot ROM, that can be flashed to the phone by using the Mi Flash tool.
Make sure to download the firmware file according to the method you'd choose to install it.
August 2020 Security Update (V10.0.24.0.PDHMIXM)
July 2020 Security Update (V10.0.23.0.PDHMIXM)
June 2020 Security Update (V10.0.22.0.PDHMIXM)
May 2020 Security Update (V10.0.21.0.PDHMIXM)
April 2020 Security Update (V10.0.20.0.PDHMIXM)
March 2020 Security Update (V10.0.19.0.PDHMIXM)
February 2020 Security Update (V10.0.18.0.PDHMIXM)
January 2020 Security Update (V10.0.17.0.PDHMIXM)
December 2019 Security Update (V10.0.16.0.PDHMIXM)
November 2019 Security Update (V10.0.15.0.PDHMIXM)
October 2019 Security Update (V10.0.14.0.PDHMIXM)
September 2019 Security Update (V10.0.13.0.PDHMIXM)
August 2019 Security Update (V10.0.12.0.PDHMIXM)
July 2019 Security Update (V10.0.11.0.PDHMIXM)
June 2019 Security Update (V10.0.10.0.PDHMIXM)
May 2019 Security Update (V10.0.9.0.PDHMIXM)
April 2019 Security Update (V10.0.8.0.PDHMIXM)
January 2019 Security Update (V10.0.4.0.PDHMIXM)
Instructions to Manually Install Latest Android Pie Update on Xiaomi Mi A1
Installing the latest update on your Mi A1 can be carried out via two different methods/ways. You will need to choose the method that's most suitable for your phone's current state.
If your phone has an older stock Oreo or Pie firmware installed, then it's best to use Method 1. It is also very useful if you have a custom ROM installed and want to restore the stock firmware on your phone.
The second method is for those who have TWRP recovery installed on their Mi A1 and wish to keep using it even after the update.
Method 1: Flashing Fastboot ROM
Download Mi A1 Android Pie V10.0.24.0 fastboot ROM on your PC.
Extract the content of the downloaded file to a suitable location on the PC (E.g. C:\MIUI).
Power off your Xiaomi Mi A1 completely.
Hold the Volume Down + Power buttons simultaneously to enter Fastboot Mode.

Connect your phone to the PC.
Next, download the latest Mi Flash tool and extract the downloaded zip file on the PC.
Open the extracted folder (MiFlash2017-7-20-0) and double-click on 'XiaoMiFlash.exe' to run the tool.
Click on the 'refresh' button and make sure that the tool detects the Mi A1 correctly.
Once it does, click on 'select' button and select the extracted folder where the Fastboot ROM is present (E.g. C:\MIUI\tissot_images_V10.0.24.0.PDHMIXM_9.0).

Next, select the 'Save user data' option at the bottom of the MiFlash tool window
Finally, click on the 'flash' button to install Xiaomi Mi A1 Android Pie Update using MiFlash tool on your Xiaomi device

Once complete, the tool window shall show the "success" message and the device will reboot automatically

You may disconnect the phone from the PC.
The update will be automatically installed on your phone without wiping the internal storage. And after the installation is complete, your phone will reboot and you can start exploring Android Pie on Mi A1.
Method 2: Using TWRP Flashable zip
Download Mi A1 Android Pie V10.0.24.0 TWRP flashable zip
Connect the phone to the PC using the USB cable
Transfer the downloaded zip file to the phone's storage
Once transferred, disconnect the phone and power it off completely
Press the Volume Up and Power button simultaneously to enter TWRP recovery
(Optional): If you're using a custom ROM, go to 'Wipe' -> 'Advanced Wipe' and wipe the 'Cache', 'Dalvik/ART Cache', 'Data' and 'System' partitions.

In TWRP, tap on the 'Install' button
Navigate the internal storage and select the Android Pie TWRP flashable zip file

Finally, swipe the button on the screen to install Xiaomi Mi A1 Android Pie update
When the flashing process is finished, press the 'Reboot System' button
When your phone boots, it shall be running the stable Android Pie V10.0.24.0 firmware with August 2020 Security Patch. You can now go ahead and enjoy all the Pie features on your phone. If you have any questions regarding the steps in this guide, then make sure to comment below.