Samsung is now rolling out stable Android Pie-based One UI update for the Galaxy S9/S9+, much sooner than we expected. Here's how you can download and manually install Samsung Galaxy S9/S9+ Android Pie update manually. This could be easily done by flashing the latest Android Pie firmware using Odin or sideload the OTA package using stock recovery.
Android Pie is quickly getting released for several OEM devices. Samsung recently started beta testing for the Galaxy S9/S9+ and Note 9 via the official One UI Beta Program. Even the Galaxy S8 and Note 8 users have had the chance to install the One UI Beta build.
Android Pie update for the Galaxy S9/S9+ was expected to be rolled out in January 2019, but it seems Samsung has already released the update ahead of the planned schedule. The news broke in yesterday from SamMobile when two of their readers (one with Android Oreo and other with One UI beta installed) received the OTA notification of the Android Pie update.
The stable Android Pie-based One UI update comes with build number G960FXXU2CSA2 and G965FXXU2CSA2 for the Galaxy S9 and S9+ Exynos variants, respectively. For the Snapdragon Galaxy S9 and S9+, it is G960USQU3CSAB and G965USQU3CSAB respectively. It has already started rolling out to the users in Europe, including Italy, Germany, and Switzerland. You can also force-check for the update by going to 'Settings' > 'System Updates'.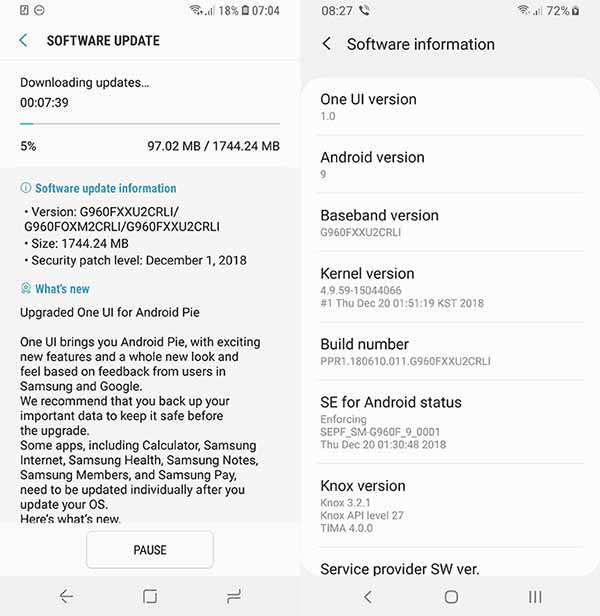 Since the update will be available gradually, it can take some time before it reaches each and every user. However, if you're keen on getting your hands dirty, then you can follow the instructions below to manually install Samsung Galaxy S9/S9+ Android Pie Update. All you need to do is flash the available Android Pie-based One UI firmware using Odin. The method will work regardless if you have One UI Beta or latest Android Oreo firmware installed.
Updated on 11 February 2019: Android Pie (One UI) Odin firmware for Snapdragon Galaxy S9/S9+ is now available. Corresponding OTA packages from BRK2-to-CSAB are also available for download.
One UI is also available for:
Table of Contents
Android Pie (One UI) Update for Samsung Galaxy S9/S9+ – Changelog
Samsung's One UI on Galaxy S9/S9+ is definitely a big upgrade, not only does it brings Android Pie features to the device but also the complete overhaul of Samsung's Android skin. The OTA update weighs 1744.24 MB, which is ordinary considering how massive the update is. It also carries the latest December 2018 security patches.
According to the release notes published by Samsung, the following is the full changelog for the Galaxy S9:
One UI
Content, settings, and other information have been reorganized to keep you focused on the task at hand.
Interactive elements have been moved to the bottom of the screen so they're always within reach.
New designs and features such as Night mode help keep your eyes comfortable.
Notifications
You can reply to messages directly in the notification panel.
Image thumbnails are included in message notifications.
In an app's notification settings, tap the switch once to turn on or off all the notifications in a category.
Samsung Keyboard
New Unicode 11.0 emojis are available.
New adaptive theme changes your keyboard look based on the colors of the surrounding app.
Floating keyboard is available in all apps and has a new size and transparency settings.
You can set a custom touch and hold delay.
Device care (formerly Device maintenance)
Performance modes are streamlined and integrated into power saving modes.
The Edge panel for device maintenance is discontinued.
Always On Display
New clock styles have been added, including the option to show a calendar with your schedule.
Charging information has been added to let you know how much time is remaining until fully charged.
You can show Always On Display whenever the screen is off, or you can set it to show for 30 seconds when you tap the screen.
Settings
Menus have been reorganized to make settings easier to find.
Samsung DeX
Continue using your phone while DeX is being displayed on a monitor or TV.Use Samsung DeX with supported HDMI adapters. No need for a DeX Station.
Bixby
Bixby is all new, with a range of improvements and new features.
Swipe left from the main Bixby screen to explore the latest features and supported apps.
You can control the Bixby key in settings to decide what happens when you press or double press.
Phone
You can now sort your call history by incoming and outgoing calls.
Your call history can include up to 2000 entries (increased from 500 entries).
Contacts
The new drawer menu makes it easier to manage contacts from various accounts.
Camera
The new Scene optimizer automatically enhances the camera's color settings to fit the scene.
Gallery
Photo Editor Pro's editing tools have been added to Gallery, so you can make all your edits and touchups without leaving the app.
My Files
The new storage analysis tool has been added to help you monitor your storage usage and save space.
You can now show or hide items on the My Files Home screen.
Samsung Health
Your daily step count will be shown in the notification panel. To hide it, press and hold the notification, then turn off Current steps.
Other improvements and changes
Turn on the screen automatically whenever you pick up your phone using the Lift to wake feature.
Access Kids Home on the quick panel.
Call stickers has been discontinued.
HEIF images are now supported.
As you can see, the changelog is quite massive and brings a lot of major and minor changes to the OS. With One UI on Samsung Galaxy S9/S9+, the company is focusing highly on one-handed usage and dark mode across the complete interface. Always-On Display now has new clock styles and also supports the calendar info.
Likewise, there are several improvements and feature-additions to almost all sections of the software.
Prerequisites
Take a complete backup of all your data on the phone including the internal storage. You can also follow our Android backup guide for this purpose.
Charge your Galaxy S9/S9+ to a sufficient battery level. This shall help avoid any sudden shutdowns during the update process.
Make sure that you install Samsung USB drivers on your PC
Download Odin package and extract it on the PC
Download Galaxy S9/S9+ Android Pie (One UI) Firmware
Odin Firmware
The Android Pie Odin firmware files provided here are uploaded by XDA Senior Members geri005, jaeck and suyash1629. The credits go to them, so make sure that you visit the official XDA threads (1, 2, and 3) and press the thank button.
The quickest way to download the latest Android Pie Odin flashable firmware for the following Samsung Galaxy S9/S9+ models/variants is through the Frija or SamFirm downloader tools.
SM-G960F (Exynos)
SM-G960U (Snapdragon)
SM-G960U1 (Snapdragon)
SM-G9600 (Snapdragon)
SM-G965F (Exynos)
SM-G965U (Snapdragon)
SM-G965U1 (Snapdragon)
SM-G9650 (Snapdragon)
OTA Package (Snapdragon only)
You can also install Android Pie update on your Galaxy S9/S9+ is using the stock recovery. The OTA was captured and provided by XDA Senior Member suyash1629. Your Snapdragon Galaxy S9/S9+ with model number G960U and G965U should be on BRK2 firmware to be able to install this.
Samsung Galaxy S9 (G960U/U1 – Snapdragon):
Samsung Galaxy S9 Plus (G965U/U1 – Snapdragon):
How to Install Samsung Galaxy S9/S9+ Android Pie Update
You can update your Galaxy S9/S9+ to Android Pie using two different methods. The first method will guide you to flash the Pie firmware using Odin Flash Tool, but it is only limited to the Exynos variants for now. The second method will help you update your phone by manually installing the OTA package via stock recovery, which is for the Snapdragon variant.
Method 1: Using Odin
Download Galaxy S9/S9+ Android Pie (One UI) firmware
Extract the downloaded firmware file on the PC
Power off your phone completely
Hold the Volume Down, Bixby, and Power buttons together until you see the warning screen
On the warning screen, press the Volume Up button to enter Download Mode on your Galaxy S9/S9+

Connect your phone to the PC using the USB cable
Open the folder where the Odin 3.13.1 zip file was extracted
Double-click on 'Odin3 3.13.1.exe' file to run the Odin tool

The 'ID:COM' port should light up ensuring that your phone is successfully detected by the tool
Now, click on the 'BL' button in Odin and select the firmware file starting with 'BL_G960FXXU2CSA2' for S9 and 'BL_G965FXXU2CSA2' for the S9+.
Do the same for 'AP', 'CP', and 'CSC' and select the corresponding firmware files.

In the case of 'CSC', make sure to select the 'HOME_CSC'.

Once all the files have been selected, click on the 'Options' tab in Odin

Make sure that 'Auto Reboot' and 'F.Reset Time' have been checked
Finally, click on the 'Start' button to install Samsung Galaxy S9/S9+ Android Pie Update
After the installation finishes, you shall see the 'PASS!' message in the Odin tool window and your Galaxy S9/S9+ should reboot into the updated OS.
Method 2: Using OTA
Once you have made sure that your phone is on the required firmware, you can follow the steps below to sideload the OTA and manually install Samsung Galaxy Galaxy S9/S9+ Android Pie Update.
Download Android Pie-based One UI OTA package for your Snapdragon Galaxy S9/S9+
Connect your phone to the PC
Copy the downloaded OTA package to the root of the SD card (external storage). By 'Root', we mean outside all the folders
Disconnect the device and power it off completely
Hold the Volume Up, Bixby, and Power buttons together to enter stock recovery mode on your Galaxy S9/S9+
Release the buttons when you see a blue screen with the Android logo

In stock recovery, use the Volume buttons to highlight "Apply update from SD card" and select the option using the Power button
Navigate to the SD card and select the Android Pie-based One UI OTA update package
Finally, select "Yes" to install Samsung Galaxy S9/S9+ Android Pie Update
When the sideloading process finishes, select the "Reboot system now" option.
In case you do not have an external SD card, you can also alternatively install the OTA using ADB Sideload. Although not mandatory, we strongly recommend that you perform a factory reset from the stock recovery or via the device settings. This shall avoid any unexpected issues after upgrading. Note that factory resetting will wipe all your data including the internal storage.
So, you have just been able to download and install Samsung Galaxy S9/S9+ Android Pie (One UI) update. If you have any questions regarding the process, make sure to drop a comment below.