Android Pie-based One UI Beta for Galaxy Note 8 is now available. In this post, we will guide you on how to manually install One UI Beta on Samsung Galaxy Note 8 Snapdragon and Exynos variants. This could be easily done by sideloading the One UI OTA package via stock recovery.
Samsung has been long known for its bloated stock firmware, ever since TouchWiz to Samsung Experience. With Android Pie, Samsung has finally decided to rethink its stock skin by completely redesigning the user interface and focusing on features that actually would come in handy to the users.
The new OEM skin is about two major feats – (1) One-handed usage for taller displays and (2) a dark interface with a fancy Night Mode. Unlike SE, One UI brings features that are truly useful to the users and are not gimmicks that one would use and forget. The screenshots below will help you get a better idea of the visual changes. Thanks to Max Weinbach from XDA for the screenshots!
Samsung has already started rolling out stable Android Pie update (One UI) for the Galaxy S9/S9+ and Galaxy Note 9. Meanwhile, the Galaxy S8 and S8+ have had access to One UI Beta builds, so that users can try the new Samsung skin before it is out for the public. Following the same, beta builds of One UI for Galaxy Note 8 is now available as well. It is available for the Snapdragon (N950U) and Exynos (N950F) variants.
One UI Beta is also available for:
Table of Contents
How to Opt for One UI Beta?
According to a recent report from SamMobile, official One UI beta for the Samsung Galaxy Note 8 is now available in UK and South Korea. It should soon be available for the rest of the regions too. If you're keen on testing Android Pie-based One UI Beta on your Note 8, you can opt for the official beta program by following the instructions below.
First, install the Samsung Members app on your Note 8 from the Play Store or the Galaxy Apps store.
Once installed, open the app and log in with your ID.
After you have successfully logged in, go to the 'Notices' section of the Samsung Members app.
Then tap on "One UI Beta Program Registration".
Once you have successfully signed up, go to Settings > Software updates to download and install One UI beta on Galaxy Note 8.
If you have opted for the beta program and have still not received the update, OR you want to get your hands dirty, then you can simply follow the instructions below to sideload the OTA and manually install One UI Beta on Samsung Galaxy Note 8.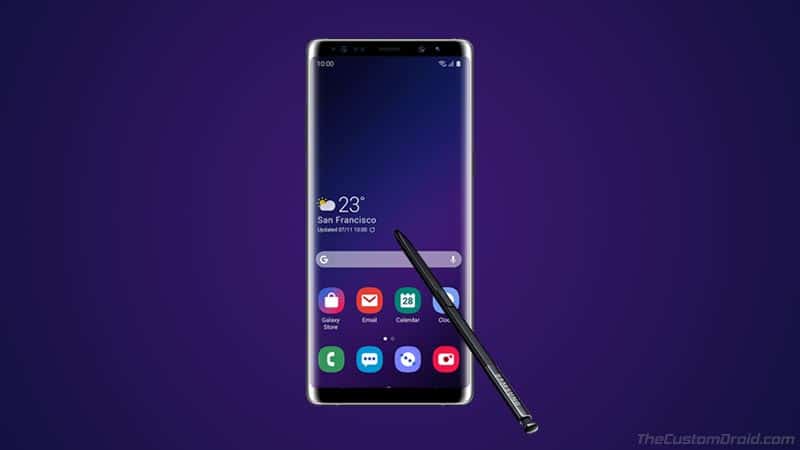 Prerequisites
Please make sure to take a full backup of all your data on the phone. We also have a detailed guide on how to back up different types of data on Android phones.
Sideloading OTAs or flashing firmware via Odin does not trip the KNOX counter, so stay out of worries.
You must install Android SDK platform-tools on your PC. For reference, we will mention "C:\adb", which is the folder where the ADB/fastboot binaries are extracted on the PC.
Important: In order to sideload the One UI Beta OTA package, your Samsung Galaxy Note 8 should be running Android Oreo firmware with CSA3/CRK1 build number for Exynos and Snapdragon variants respectively.
Download links for the CSA3/CRK1 firmware can be found on SamMobile and you can flash it using our tutorial.
Download Galaxy Note 8 One UI Beta OTA
For now, official Android Pie-based One UI Beta is only available for Exynos Galaxy Note 8. The OTA package was captured by Abhijeet from SamMobile and shared/uploaded by XDA Senior Member henklbr on this XDA thread. The sole credit goes to them!
For the Snapdragon (SM-N950U), only closed Beta builds of One UI are available. It is highly likely that the official beta build will soon be captured for this variant too.
Samsung Galaxy Note 8 (Exynos – N950F)
Samsung Galaxy Note 8 (Snapdragon – N950U/U1/W)
How to Install One UI Beta on Samsung Galaxy Note 8?
Once you have made sure that your phone is on the required CRK1 firmware, you can follow the steps below to sideload the OTA and manually install One UI Beta on Galaxy Note 8.
Download the One UI Beta OTA package for your Galaxy Note 8
Connect your phone to the PC
Copy the downloaded OTA package (update.zip) to the root of the SD card (external storage). By 'Root', we mean outside all the folders.
Disconnect the device and power it off completely
Boot your Galaxy Note 8 into stock recovery mode by holding the Volume Up, Bixby, and Power buttons together
Release the buttons when you see a blue screen with the Android logo

In stock recovery, use the Volume buttons to highlight "Apply update from SD card" and select the option using the Power button
Navigate to the SD card and select the One UI OTA update package (update.zip)
Finally, select "Yes" to install One UI Beta on Samsung Galaxy Note 8
When the installation finishes, select the "Reboot system now" option.
Your phone should now boot into the OS. We would also strongly recommend you to do a factory reset via the device settings or stock recovery. This shall help prevent any unusual behavior after updating.
If in any case the 'Apply update from SD card' method doesn't work for you, you can also install the OTA via ADB Sideload.
From what we know (Thanks to the folks over at XDA), Samsung's new One UI skin offers a complete redesign of the UI, taking bits of Samsung Experience and mixing it up with stock Android Pie. And two major highlights of it are – Improved One-handed use and System-wide dark theme. We finally think that Samsung is moving up in the right direction with the user interface and focusing on what their users actually want. What do you think? Do share your opinion with us via the comments.
So you have just been able to install Android Pie-based One UI Beta on Samsung Galaxy Note 8. If you have any questions regarding the update process, leave a comment below.