Have you been able to update your Mi A1 to Oreo yet? If not, then follow this guide to easily install Xiaomi Mi A1 January update based on Android 8.0 Oreo.
During the past year, Xiaomi has gained immense popularity in the global smartphone market. It launched a few record-breaking smartphones like Redmi Note 4 that suited an average user's pocket, and still provided exceptional performance. 2017 was also the first time that Xiaomi stepped into the Android One game with the Mi A1. The phone while offering the powerful hardware is backed with regular software updates and a close-AOSP experience. Indeed, it is also the first device in the manufacturer lineup that has received Android Oreo support. If you still haven't been able to update, then the instructions below will help you install Xiaomi Mi A1 January update.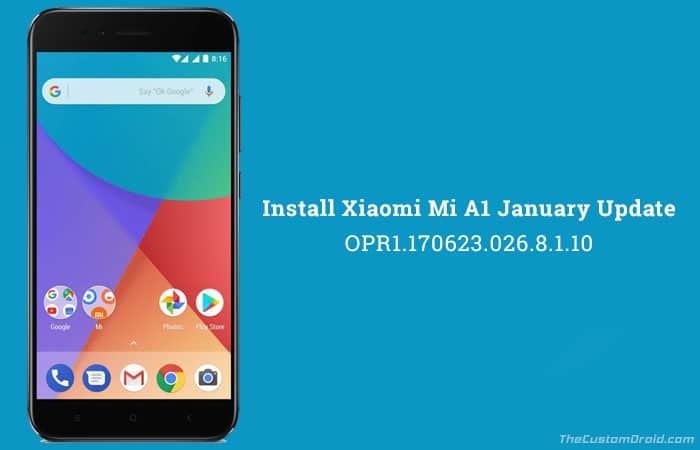 Table of Contents
Install Xiaomi Mi A1 January Update based on Android 8.0 Oreo (N2G47H.8.1.10)
The Mi A1 Android Oreo update finally started rolling out this New Year. Unfortunately, it was recently stated that the OTA update has been put on hold due to some major software bug(s). The major issue was with the dialer app hanging, disabling users from making calls. There's already a workaround available for the specific issue.
The manufacturer recently started pushing the OTA update to the users, after almost a week of waiting. So if you would still like to update your phone, then the steps below will help you get through and install Xiaomi Mi A1 January update. The new build is labeled OPR1.170623.026.8.1.10.
This new firmware brings in several major bug fixes to the system, to help improve the overall performance and functionality of the device.
GPS icon stuck
DND volume UI problem
Ambient notifications can now be interacted with
Fingerprint swipe gesture UI is now enabled
Bluetooth battery drainage
Phone app freeze/delay
Audio quality for video recording
Wrong rapid charging message
SIM is HD capable icon
App is running in background notification
The rollout is now in progress to all the Mi A1 units worldwide. But it could take a bit of time before it finally arrives on your phone.
We got our hands on the official OTA package, but sideloading it eventually failed. This was thoroughly tested on my personal device and also by several other volunteers at XDA. It seems like an issue with the stock recovery itself. Well, whatever be the case, we dug in deeper and you can now install Xiaomi Mi A1 January update using two different methods.
Prerequisites
Before you install Xiaomi Mi A1 January update 8.1.10, make sure to fulfill the requirements stated below.
Your phone must have an unlocked bootloader.
Take a complete backup of your Mi A1. This will prevent any data loss situation during or after the flashing process. We suggest that you follow our guide on how to backup Android devices.
The process will completely restore the stock firmware on your phone.
Charge your Mi A1 to 50-60% battery level to avoid any shutdowns during the process.
How to Manually Install Xiaomi Mi A1 January Update
We have gathered two different methods to help you install Xiaomi Mi A1 January Update.
The first method is to use a simple tool developed by XDA senior member – JamFlux. He has provided the stock Oreo firmware in a Fastboot flashable format. XDA senior member – sooti has also published a TWRP flash-able zip of the stock firmware, which is also pre-rooted with Magisk 15.3.
Note that you will not loose any data on the internal storage irrespective of the method you choose.
Method 1: Using A-One Tool
This method is fairly easy and completely automated.
Download Xiaomi Mi A1 Android Oreo firmware: Mi-A1-OPR1.170623.026.8.1.10-beta.7z
Extract the contents of the downloaded file using an archive tool like 7zip.
The extracted folder should be 'MiA1-Tool-Flasher'. All the files you need to install Xiaomi Mi A1 January update are inside this folder.
Now, boot your Mi A1 into Fastboot mode:

Power down completely.
Press and hold the Volume Down + Power buttons simultaneously until you see the Fastboot screen.

Once your device is in Fastboot mode, connect it to the PC using the USB cable.
Next, open the 'MiA1-Tool-Flasher' folder and run the 'ROM-Flasher.bat' file by double-clicking on it.
A command prompt window will open up on your PC screen with the following options.

Now, to finally install Xiaomi Mi A1 January Update, enter the 1/2/3, depending on the option you choose.
Once done, your device will reboot automatically.
When your device boots, go through the on-screen instructions and set it up.
Method 2: Install TWRP Flash-able Zip
For users who have TWRP installed on their device can use the provided flash-able ROM to install Xiaomi Mi A1 January update.
Download the TWRP flash-able package for Mi A1: tissot_100108_stock.zip
Connect your device to the PC and enable 'Transfer files' mod.
Copy the downloaded ROM zip to your phone's internal storage.
Disconnect the device.
Boot your Xiaomi Mi A1 into TWRP recovery by pressing the Volume Up + Power button simultaneously.
In TWRP, go to the 'Install' menu.

Navigate to the internal storage and select the 'tissot_100108_stock.zip' file.

Once the file is selected, swipe the button on the screen to install Xiaomi Mi A1 January update.

When the flashing process is complete, hit the 'Reboot System' button.
Method 3: Install Android Oreo Fastboot ROM on Xiaomi Mi A1
Another convenient method to install Xiaomi Mi A1 January Update is by flashing the available Fastboot ROM. The manufacturer recently pushed the latest OPR1.170623.026.8.1.10 build to its servers. Users can download this Fastboot image and flash it using the MiFlash tool.
Download Mi A1 Android Oreo Fastboot ROM: tissot_images_8.1.10_20180110.0000.00_8.0_8ea503201b.tgz
Once downloaded, you can use our detailed guide on how to install MIUI Fastboot ROM on Xiaomi Phones.
When your phone boots, you will be able to enjoy a much more stable software. It seems like Xiaomi really needs to work out the stock recovery so that users wouldn't have to go through the trouble of manually installing updates using unofficial method(s).
So there you have it! You have just been able to install Xiaomi Mi A1 January update. If you have any questions, leave them down in the comments section.