Looking for a decent ROM for your Android One device? Check out this list of best custom ROMs for Xiaomi Mi A1 based on Android Pie.
Xiaomi made its entrance to the Android One platform for the first time, when it announced the Mi A1 back in 2017. The OEM normally runs it's own heavily-modified MIUI software on all of its devices. However, that changed with the Mi A1. Being part of the Android One initiative, the device runs the stock Android operating system without any of the extra bloats. The phone practically mixed the commendable Xiaomi hardware and build quality, with the Google-powered software. It initially came with Android 7.1.2 Nougat and can now be updated to Android 9 Pie.
While the stock firmware is best at providing a stable software experience, it could be a downfall for those expecting heavy customizations. In that case, a user may simply opt for a custom ROM, which will not only bring the latest Android version but a long list of third-party features along with it. If you've already explored the custom ROMs ground, you'd be surprised to see the number of custom ROMs available for the device. And choosing from this list is pretty time-consuming.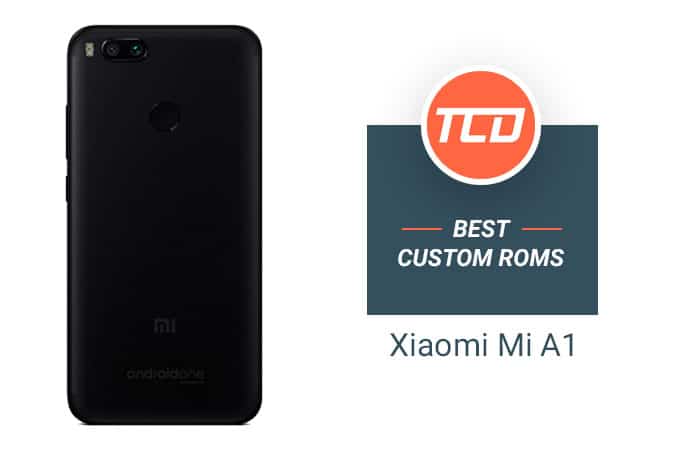 Table of Contents
List of Best Custom ROMs for Xiaomi Mi A1
The search for finding the best custom ROM for your Mi A1 could be endless. Considering the amount of third-party firmware we have for a specific device, it is quite difficult to choose and install just one. That's because each ROM differs from the other on basis of a few aspects, like features, performance, battery life, and user feedback. It's not easy to find a custom ROM that creates a proper balance between all. Or you might just favor features over performance/battery, or vice-versa. Well, whichever case it may be, the list of best custom ROMs for Xiaomi Mi A1 based on Android Pie will help you choose the one for you.
1. AOSP Extended 6.2 ROM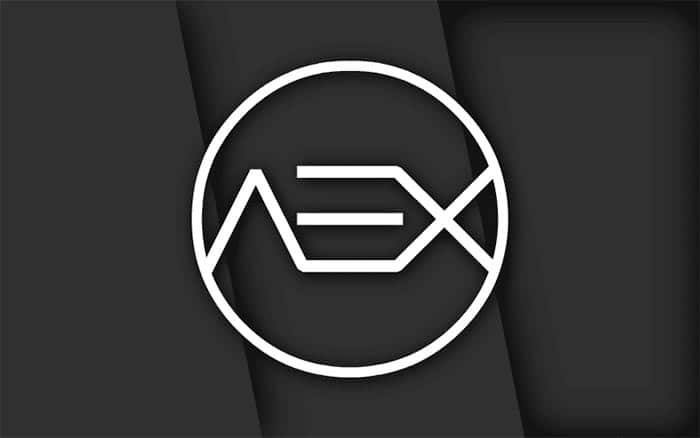 It is one of the most popular custom ROMs based on Android 9 Pie. AOSPExtended aims at delivering a feature-full experience with extensive UI customization options.
The 'AOSP' moniker in the ROM's name already indicates that is based on the stock Android AOSP code. But with that, it also brings a list of additional features picked from other major custom ROMs like Dirty Unicorns, OmniROM, etc. This naturally doesn't mean that the ROM will bring each and every feature from other ROMs. But only the major ones that would allow the users to customize the device according to their wish. To add, it also supports Substratum Theme Engine, rootless-ly. Which means you can tweak the UI with a ton of themes available on the Play Store.
AOSPExtended is one of the best custom ROMs for Xiaomi Mi A1 based on Android Pie. It packs in a lot of customization options right into the device settings for the ease-of-access. Of which, a few major ones are listed below.
OmniROM's QS Header Background
MicroG Project support
Expanded Desktop
Custom gestures
Power menu customizations
Advanced ambient display
Wakelock blocker
AEXPapers – Default AOSP Extended wallpapers
Paranoid Android Pie Controls
The project for the Mi A1 is maintained by XDA Recognized Contributor ishubhamsingh. The team officially supports the device and provides builds that are updated monthly with massive new features and bug fixes. For discussions and more information, visit the official XDA thread.
Download AOSP Extended 6.2 ROM for Xiaomi Mi A1
2. Resurrection Remix 7.0 ROM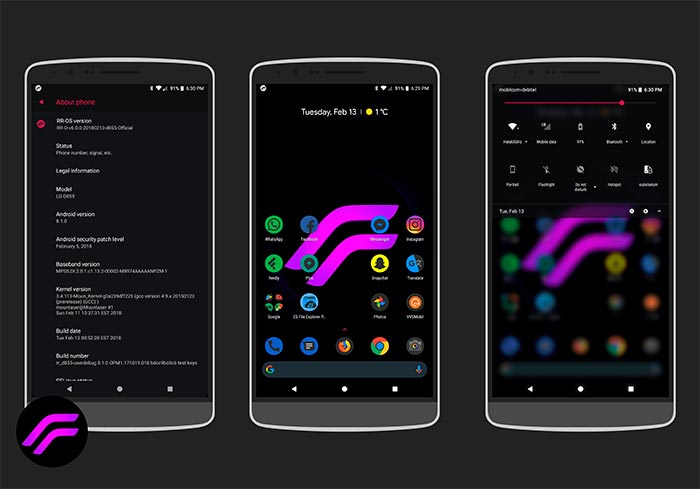 The second in our list of best custom ROMs for Xiaomi Mi A1 is Ressurection Remix v7.0. It has a considerably large user-base and is known for bringing Android 9 Pie to a lot of devices, unofficially.
RR is known best for its ability to create a perfect blend between performance and latest features. It has been around ever since 2012 when the first build was released based on Android ICS. Initially, Resurrection Remix was built on top of the CyanogenMod code. It was later than in 2016 when it moved to the Google AOSP source code. During all these years, the ROM has evolved exponentially and is now one of the most renowned custom ROMs available for Android devices.
The ROM offers a dedicated space for a plethora of customization options. These range from the status bar, navbar, quick settings, to lock screen and gestures. The performance and battery life are a resultant of Moun Kernel, that compliments as the stock kernel on RR ROM. Some of the major features of Resurrection Remix 7.0 include:
Trebuchet Launcher
RR Configurations
Customizable Recents Styles
OmniSwitch
Advanced reboot menu
System UI Tuner
Live Display
The ROM also includes an inbuilt OTA updater to keep your device updated to the latest version at all times. The project is handled by XDA Recognized Developer mountaser halak. Visit the official XDA thread for more information and discussion.
Download Ressurection Remix 7.0 for Xiaomi Mi A1
3. crDroid 5.0 ROM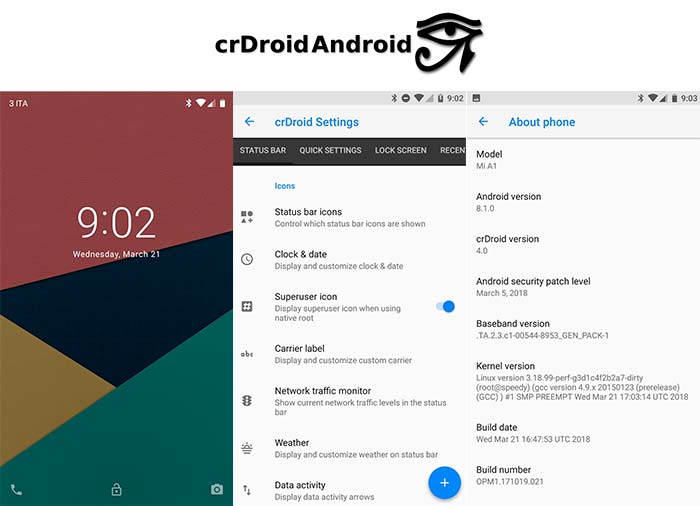 One of the most underrated ROM in the current development scene is 'crDroid'. Well, of course, there's no bling-bling or modified interface like other ROMs. But there's something about crDroid that makes it exceptional. The ROM is all about stability, performance, and battery. crDroid comes with Camera2 API enabled and includes Google Camera 6.1 Port. Since it is based on the LineageOS 16.0 code, you can expect some similarities in terms of customization options. These include options to tweak quick settings, status bar, navbar, lock screen, etc. The complete list of ROM features could be found here.
Along with that, you shall be able to enjoy all the standard Android 9 Pie features including gesture navigation, revamped Quick Settings, Notifications Panel, Settings, and much more.
For those who'd prefer stability and performance over everything else, should definitely give a try to crDroid 5.0 ROM. The project is being handled by XDA senior member Nickinfinity. You can visit the official XDA thread and check how the users are favoring the ROM for its unquestionable performance and battery life.
Download crDroid 5.0 ROM for Xiaomi Mi A1
4. LineageOS 16.0 ROM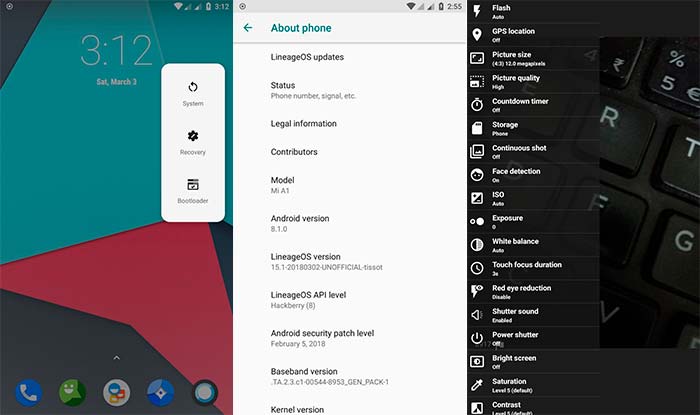 The third in our list of best custom ROMs for Xiaomi Mi A1 is LineageOS 16.0, which is again based on Android Pie.
CyanogenMod, now rebranded as LineageOS is one of the oldest and most popular custom ROM for Android. The official release of the latest version was made a month ago. Being based on Android 9 Pie, it brings all the standard OS features. But there's a lot more to add. LineageOS has been known for being full of customization options, and it won't disappoint you on that. Below is the list of few major features that LineageOS will serve you with.
NavBar tuner
Custom performance profiles
Privacy Guard
Scrambled PIN layout
LineageOS apps like Snap Camera, Eleven Music Player, Audio FX and more.
LineageOS 16.0 for the Mi A1 is brought to the users by XDA Recognized Developer flex1911. Even though the ROM is unofficially ported to the Mi A1, it still is completely stable and free from any major issues. Users who have already installed the ROM are highly in favor of the lasting battery life and performance. You can also visit the official XDA thread for changelog and direct support from the developer.
Download LineageOS 16.0 for Xiaomi Mi A1
5. Android Pie Generic System Image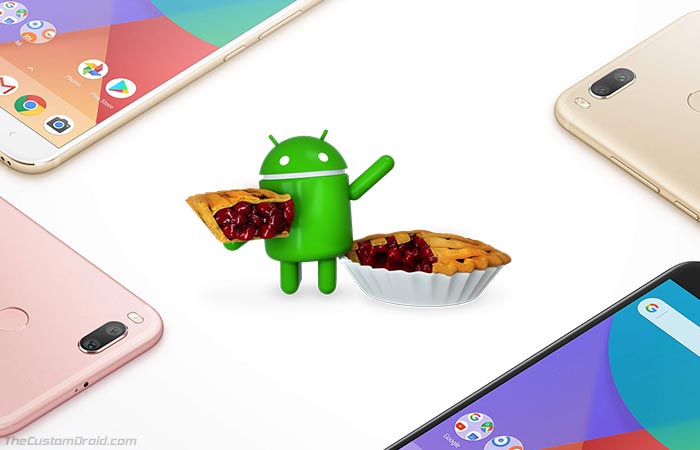 This is essentially not a custom ROM, but a Generic System Image based on Android 9 Pie AOSP code. If you're a fan of lean software, no gimmicks, and absolute performance and stability, then you should install Android Pie Generic System Image on your Xiaomi Mi A1.
According to the developer there are two issues with this ROM. First, the WiFi Hotspot functionality doesn't work, however, there's a workaround for it. Secondly, screen-casting may not work but you can test it on your own after installing the GSI. Other than that, everything else seems to work without any hiccups.
Unlike the traditional method of flashing a ROM, installing this Generic System Image on your Mi A1 will follow a specific set of instructions:
Use latest CosmicDan Treble-compliant TWRP: Download link
Re-partition to Treble layout
Flash vendor.img, system.img and a Treble supported kernel (like eXtreme Kernel)
Wipe data if coming from any other ROM
Flash Rom (No need for gapps, do not flash them, they are included!)
Reboot and wait for setup wizard to come up (may take 2-3 minutes)
Boot into and flash latest Magisk 18.0
Reboot
After setup is done install ims.apk for VoLTE
It is one of the best custom ROMs for Xiaomi Mi A1 based on Android Pie users who are looking for utter stability and performance without any customization options. The ROM is developed and maintained by XDA Recognized Developer sooti. You can also visit the official XDA thread for direct support and discussions.
Download Android Pie Generic System Image for Xiaomi Mi A1
6. Pixel Experience ROM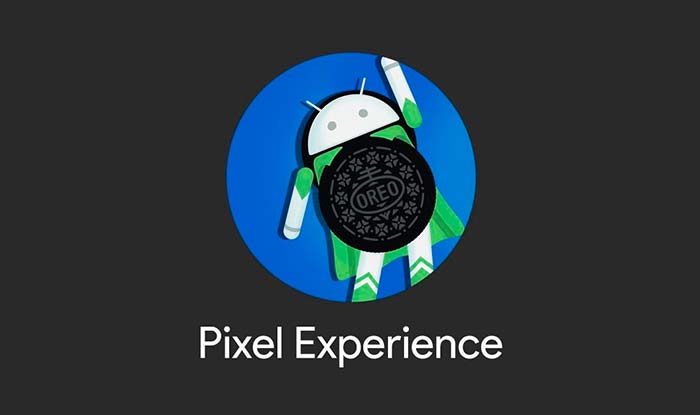 Pixel Experience ROM is best known for bringing Android Pie ports for low-range devices. It wasn't much later that the ROM started evolving in all major aspects and constantly adding support for various OEM devices. The ROM is currently based on Android Pie, packed with GApps, and all the Pixel-specific goodies. These include the Pixel 3 Launcher, wallpapers, icons, Google Product Sans fonts, boot animation and more. Pixel Experience is free of any additional features or customization options.
This ROM has been ported to the Mi A1 by XDA senior member abhinavagrd_1129. If you ever wished to get the Pixel-like look on your Mi A1, then 'Pixel Experience' can certainly be your go-to ROM. According to the users who have already installed the ROM, the battery life is fantastic and the Pixel-specific apps and features just make it better. For discussion, submitting bugs, or changelogs refer to the official XDA thread.
Download Pixel Experience ROM for Xiaomi Mi A1
7. Pixys-OS ROM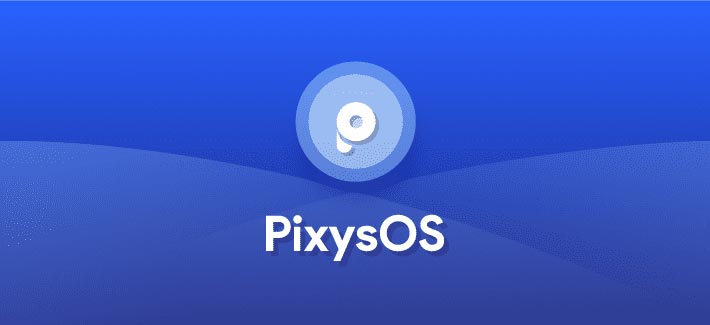 Pixys-OS is one of the best custom ROMs for Xiaomi Mi A1, based on Android Pie. The ROM brings a limited amount of features, but only the ones that will come really handy. Like Pixel Experience, Pixys-OS also adds Google Pixel specific features like charging animations, Pixel ringtones, and more. There are also options to switch between Pie and Oreo Recent Apps screen.
Overall, Pixys-OS is decent offering and is clean with a small amount of useful features. Pixys-OS for the Mi A1 is being maintained unofficially by XDA Senior Member amarbajpai. For any discussions, bug reporting or changelogs, refer to the official XDA thread.
Download Pixys-OS ROM for Xiaomi Mi A1
Conclusion
Picking one from the list of best custom ROMs for Xiaomi Mi A1 is highly subjective and depends on the user's demand. Some might prefer heavy customizations over the stability, while others would only look for a perfect stable replacement for the stock firmware. We have listed two pointers below to make the decision-making process easier for you.
For stability, performance, and battery -> crDroid, Android Pie GSI, Pixel Experience, and Pixys-OS
For extensive features and customizations -> Resurrection Remix, AOSP Extended, and LineageOS 16.0
This list will be updated once we find more ROMs for the device. So don't forget to bookmark this post and keep your device updated at all times. Once you have installed your favorite ROM, you can optionally root is using Magisk or SuperSU.
So this was our list of best custom ROMs for Xiaomi Mi A1 based on Android Pie. We hope it would help you choose the best one according to your usage. If you feel that we missed a ROM, then share with us through the comments. Don't forget to mention how it could bring uniqueness to the device.