XDA Developer topjohnwu has released stable Magisk 17.2 with excessive obfuscation, a new communication scheme, updated Resetprop and more. You can now download Magisk 17.2 and Magisk Manager 6.0.0. The complete list of changes and installations instructions are provided below.
If you've ever associated yourself with the rooting scene, you shall definitely have heard of 'Magisk'. It started as a utility for adding features to rooted phones, somewhat similar to the infamous Xposed Framework. However, Magisk had an upper hand as it allowed modifications systemlessly. It was later that Magisk developed as a self-efficient root solution. From that moment on, it has become the go-to utility for rooting Android phones, which offers several other features like hiding root from certain apps, checking SafetyNet status, installing modules to add features and more. Today, the developer announced the major Magisk 17.2 update that comes with several changes and fixes.
Table of Contents
Magisk 17.2 & Magisk Manager 6.0.0 – Changelog
On 31st August, developer topjohnwu tweeted and hinted at an upcoming major update for Magisk. And so it came to be true on 1st September, that is yesterday when he pushed the new Magisk 17.0 update for its users. It wasn't much later that the release was halted due to a bootloop issue caused due to incompatible Magisk database. The issue was faced by users who upgraded directly from v16.0 to v17.0, which caused the daemon to crash. The developer, however, was quick enough to roll out a hotfix release.
Update (21 September 2018): You can now download Magisk 17.2 and Magisk Manager 6.0.0 with excessive obfuscation, a new communication scheme, updated Resetprop and more. Check out the complete changelog below before you install it.
The first major change is in regards to the support for A/B partition devices. According to the developer, some changes in the Pixel OTA engine prevented Magisk from being installed on the inactive slot. This new Magisk 17.1 update fixes the issue completely, thus providing better support for A/B partition phones. The new version also adds proper support for Android Pie. So, those of you running Pie on your device officially or unofficially can now root it using Magisk.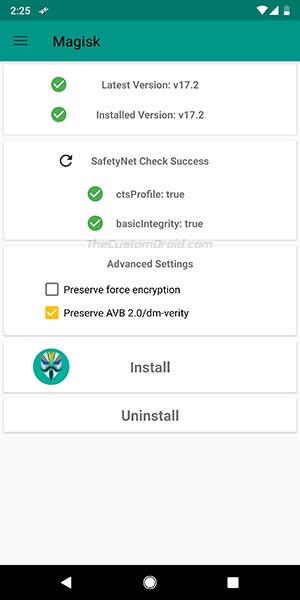 Also, on the previous release, the SafetyNet check resulted in an 'Invalid response' error. Which was because Google depreciated the old API. The new API is now being used by Magisk, which shall fix this problem. Topjohnwu also talked about the new release cycle. According to which, each major version bump (v16.0 -> 17.0) will be provided on the 'Stable Channel' and any minor version bumps  (v17.0 -> v17.1) will be on the 'Beta Channel'. To add further, Magisk 17.1 now supports Samsung Galaxy S9, S9+, and Note 9 completely.
The complete changelog for Magisk 17.2 and Magisk Manager 6.0.0 is listed below. We have quoted all these from the original XDA thread.
Magisk 17.2
[ResetProp] Update to AOSP upstream to support serialized system properties
[MagiskInit] Randomize Magisk service names to prevent detection (e.g. FGO)
[MagiskSU] New communication scheme to communicate with Magisk Manager
Magisk Manager 6.0.0
Update to latest AndroidX support library
Fix crashes when online repos contain incomplete metadata
Optimize BootSigner to use as little memory as possible, prevent OutOfMemoryError
Support new communication scheme between Magisk v17.2 and Magisk Manager
Enable excessive obfuscation to prevent APK analysis root detections (still not 100% obfuscated due to backward compatibility with the stable channel)
Magisk 17.1
[General] Bring back the feature install to an inactive slot for OTAs on A/B devices
[Script] Remove system based root in addon.d
[Script] Add proper addon.d-v2 for preserving Magisk on custom ROMs on A/B devices
[Script] Enable KEEPVERITY when the device is using system_root_image
[Script] Add hex patch to remove Samsung defex in new Oreo kernels
[Daemon] Support non-ext4 filesystems for mirrors (system/vendor)
[MagiskSU] Make pts sockets always run in dev_pts secontext, providing all terminal emulator root shell the same power as adb shells
[MagiskHide] Kill all processes with the same UID of the target to workaround OOS embryo optimization
[MagiskInit] Move all SE policy patches pre-init to prevent Pixel 2 (XL) boot service breakdown
Magisk Manager 5.9.1
No more on boot notifications
Support new mechanism for installing to inactive slot for OTAs on A/B devices
Fix restore Magisk Manager settings on Android P
Verify existing file checksums to prevent unnecessary re-downloads
Update SNET extension to use new Google API, fix "Invalid Response" errors
Move fingerprint settings to magisk database to prevent the settings to be easily removed
Fingerprint settings are now guarded with fingerprint authentications before it can get changed
Prevent any files to be downloaded to /sdcard/MagiskManager
The developer has made many major improvements and changes in this new update for a better experience for rooted users. We duly appreciate his hard work and the time he has devoted to the community. You can now move down towards the next section to download Magisk 17.2 and Magisk Manager 6.0.0 APK right now.
Download Magisk 17.2 (Magisk Manager 6.0.0)
Magisk 17.3 is now available. Full changelog, download link, and instructions could be found here.
Old releases:
The new stable version has been provided as a flashable ZIP, that could be installed via TWRP or other custom recoveries such as RedWolf Recovery Project. The Magisk Manager APK is also provided should you wish to update it manually.
How to Install Magisk 17.2?
Installing Magisk on Android is easy, even if you're going to do it for the first time. To do so, there are two different methods – (1) Flashing Magisk 17.2 ZIP via TWRP recovery or (2) By patching the stock boot image and flashing it via fastboot. The second method could look a bit confusing at first but works flawlessly if you have the correct boot image corresponding to the firmware installed on your phone. You can either extract the stock firmware file to get the stock boot image or use try downloading it from firmware.mobi.
Before everything, we strongly recommend you to take a full backup of all your data on the device. This shall prevent any data loss situation should any issue arise after the installation. Further, for method 2, you must also install the required Android platform-tools on the PC.
— How to Install Magisk Universal Systemless Interface
In case you already have the previous version installed, then you can simply update Magisk 17.2 via the simple set of instructions below.
How to Update Magisk 17.2?
Open 'Magisk Manager'.
Press the menu icon on the top-left.
Select 'Settings' from the menu.
Scroll down to 'Update Settings' section.
Tap on 'Update Channel' and select 'Stable'.

Go back to the Magisk Manager main screen and swipe down to refresh.
Tap on the 'Update Magisk' button.
Select 'Install' > 'Direct Install'.

The installer will automatically install Magisk 17.2 and update it.
When finished, press the 'Reboot' button.
Additional Instructions
According to the developer, upgrading from v16.0 to v17.0 caused Magisk daemon to crash. So, if you have upgraded directly from v16.0 to v17.0 then your phone might get stuck in a bootloop. If that happens, simply download and flash the uninstaller ZIP to remove Magisk and then flash Magisk 17.2 ZIP file via TWRP recovery.
When the phone boots, it shall be running the latest Magisk 17.2 with Magisk Manager 6.0.0 installed. You can go ahead and check the SafetyNet status and it should no more return the 'Invalid response' error. Users with A/B partition devices such as the Google Pixel, Mi A2, etc should now have a better chance of receiving OTA updates while preserving Magisk.
Now that your phone is rooted, you can also install root-enabled apps, use mods like ViPER4Android/Dolby Atmos, hide root from apps like Pokemon Go, and install Magisk Modules to enable extra features on your phone. We highly value the efforts of topjohnwu for making it possible for enthusiasts like customization to a whole new level.
So, you have just been able to download Magisk 17.2 and install/update it. If you have any questions, please leave them down in the comments.