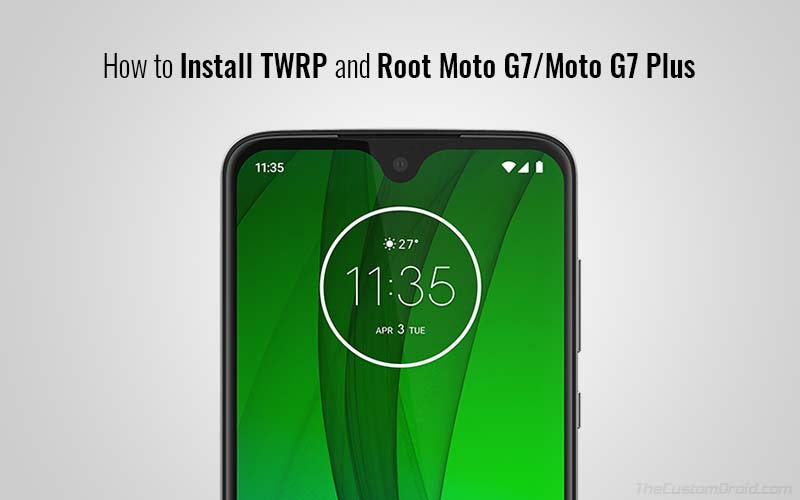 Official TWRP for Moto G7 and Moto G7 Plus is now available. Through this post, you'll learn how to install TWRP and root Moto G7/Moto G7 Plus using Magisk.
This year, Motorola too dipped its fingers into the notch scene with its latest G series devices. Both the Motorola Moto G7 and Moto G7 Plus were launched earlier this year, featuring a waterdrop notch with quite an affordable price tag.
While the phones may definitely be a value for the buck, but Motorola is long known for irregular and delayed support when it comes to software updates. Also, the stock firmware that comes pre-installed on these phones isn't a stronghold when it comes to customization. It is all but basically stock AOSP software with Motorola's proprietary apps sitting atop.
Well, in either case, you might want to install a custom ROM on your Moto G7 device. This will not only give you a plethora of options to customize the software but also help you keep your phone updated with the latest Android security patch. But in order to do that, you must first install a custom recovery like TWRP on your Moto G7/Moto G7 Plus. Furthermore, if you'd like, you can also root your phone using Magisk, that certainly has its own perks. For starters, you can install Modules to add more  features to the software or use MagiskHide to hide root from certain apps that might detect it.
Important Note: The bootloader on the Moto G7 (river) only comes installed on the active slot. So, DO NOT SWITCH SLOTS until you flash the "copy-partitions-AB.zip" file. This file will automatically install a copy of the bootloader from the active slot (say "a") to the inactive slot (say "b"). The instructions for the same have been listed in rooting instructions towards the end of this tutorial.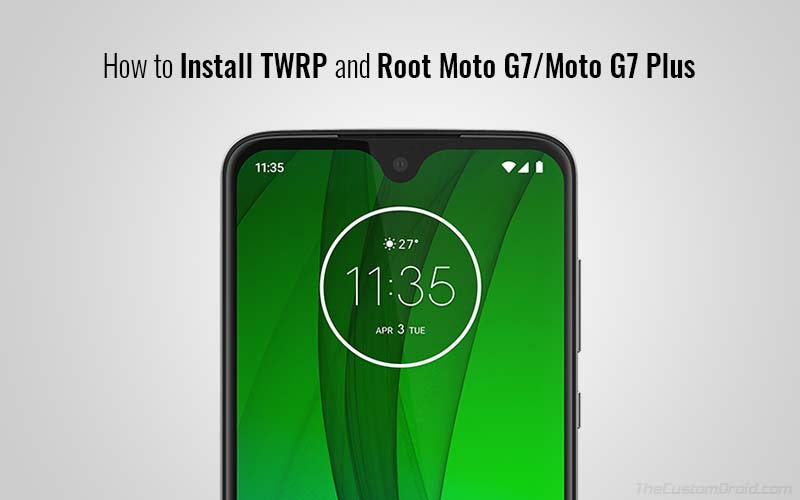 Warning and Disclaimer
Installing TWRP and rooting is not for the faint of hearts. Make sure that you fully understand the risks involved and the instructions in this guide before you read ahead.
TheCustomDroid.com or any of its members shall not be held liable for any damage caused to your Motorola Moto G7 or Moto G7 Plus during or after performing the instructions listed here.
Requirements
Before you head over to the instructions to install TWRP recovery and root Moto G7/G7 Plus, make sure that you fulfill all the requirement stated below.
Take a complete backup of all your data stored on the phone. Although the process of installing TWRP and rooting the phone will not wipe any data, we still strongly recommend taking a backup in case anything goes wrong.
In order to perform any instructions below, you must first unlock the bootloader of your Moto G7/G7 Plus. You can follow our guide on how to do it. Note that unlocking the bootloader wipes all the data stored on the phone, including the internal storage. So, we cannot emphasize more on how important it is to backup all the data.
Download and install Android SDK platform-tools (ADB and Fastboot) on your PC. You can alternatively use the Minimal ADB and Fastboot tool.
Also, install Motorola USB drivers on your PC.
Charge your Moto G7 device to a sufficient battery level to avoid it from shutting down during the process.
Download the TWRP recovery image for your device, Magisk installer zip, and copy-partitions-AB.zip (Only for Moto G7 with codename "river") files. Transfer all these files to your phone's internal storage.

Note: One of our readers (Mark) informed us that TWRP on the Moto G7 (river) does not support encryption properly on the latest firmware. In such a case, transfer the all the said files to the external storage (Micro-SD card) and follow the instructions accordingly.
Downloads
We will try our best to keep the download links up-to-date with the latest TWRP builds. However, we suggest that you always make sure that you check for the latest version for Moto G7 (river) here and Moto G7 Plus (lake) here.
How to Install TWRP Recovery on Moto G7/Moto G7 Plus
Since the Moto G7 series support the new A/B partition scheme, installing TWRP on it is a two-step process. First, you will need to temporarily boot the TWRP recovery image using fastboot and then flash the recovery image using the 'Install Recovery Ramdisk' option. Just follow the instructions below.
Download the TWRP recovery image for your Moto G7/Moto G7 Plus.
Copy the download image file to the folder where the ADB and Fastboot binaries are installed (e.g. C:\adb).
Hold the SHIFT key and right-click on an empty space inside the folder.
Now, power off your Moto G7 device completely.
Hold the Volume Down and Power buttons together to boot your phone into Bootloader Mode.
Connect your phone to the PC using the USB cable.
Enter the following command in the PowerShell window to confirm that your phone is being detected over fastboot:

fastboot devices

The output should be a device ID. If it doesn't show any devices connected, then make sure that you have installed the appropriate USB drivers on your PC.
Now, enter the command below to temporarily boot TWRP:
Your phone should now enter into TWRP recovery mode.
Tap on the 'Install Recovery Ramdisk' option.
Navigate to the phone's internal storage and select the TWRP recovery image file.

Finally, swipe the button to permanently install TWRP on Moto G7/Moto G7 Plus.
Once the file has been flashed, go back to the TWRP main menu. Do not reboot your phone into the system yet. Permanently installing TWRP modifies the boot partition and will trigger DM-Verity when the device boots. And thus it will cause a bootloop.
To fix this, head to the next section to flash the Magisk installer zip to root Moto G7/Moto G7 Plus and disable DM-Verity subsequently.
How to Root Moto G7/Moto G7 Plus using Magisk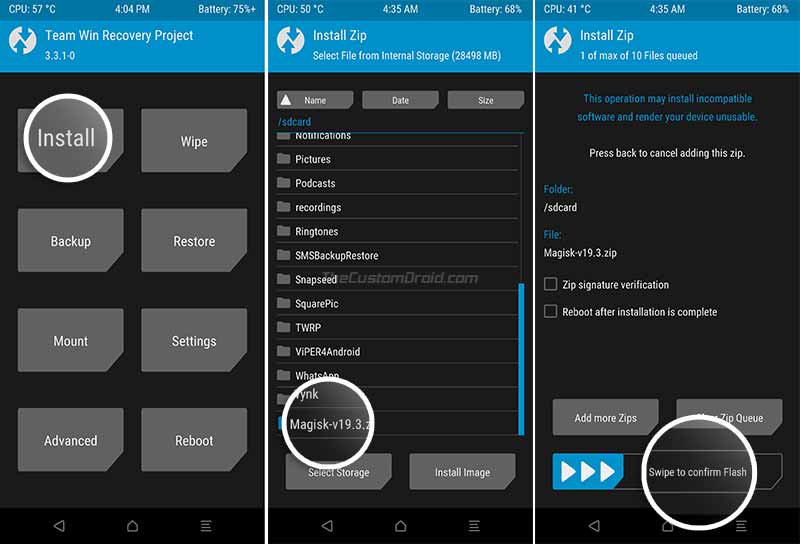 Select the 'Install' button in TWRP recovery.
Navigate to the directory where the Magisk installer zip file was transferred.
Select the "Magisk-v19.4.zip" file.
Tap on the "Add more Zips" button and select the "copy-partitions-AB.zip" file to add it to the flashing queue.
Then swipe the 'Swipe to Confirm Flash' button to flash the files and root Moto G7/Moto G7 Plus using Magisk.
Finally, tap on the 'Reboot System' button to reboot your phone.
Your Moto G7/G7 Plus should now be rooted using Magisk. You can go ahead and launch the Magisk Manager app. You can use it to manage superuser permissions for apps that require root, install modules for additional features, or use MagiskHide to hide root from certain root-detecting apps. With root access, you can further install modes like Dolby Atmos and ViPER4Android on your Moto G7 device to ramp up the device's audio experience.
There you go! This was our comprehensive guide on how to install TWRP and root Moto G7/Moto G7 Plus. If you face any issues while performing the procedure, then you can let us know by commenting below.